Top 12 Warm Dishes To Beat Vancouver's Wet Weather
Vancouver is notorious for its rain. And when it rains, good, soul-warming food can be your best remedy to combat the cold. Here are my top 12 picks for the best warm dishes to beat the rainy day blues.
warm dishes 1 of 12: Hi Genki's Ebi Katsu Curry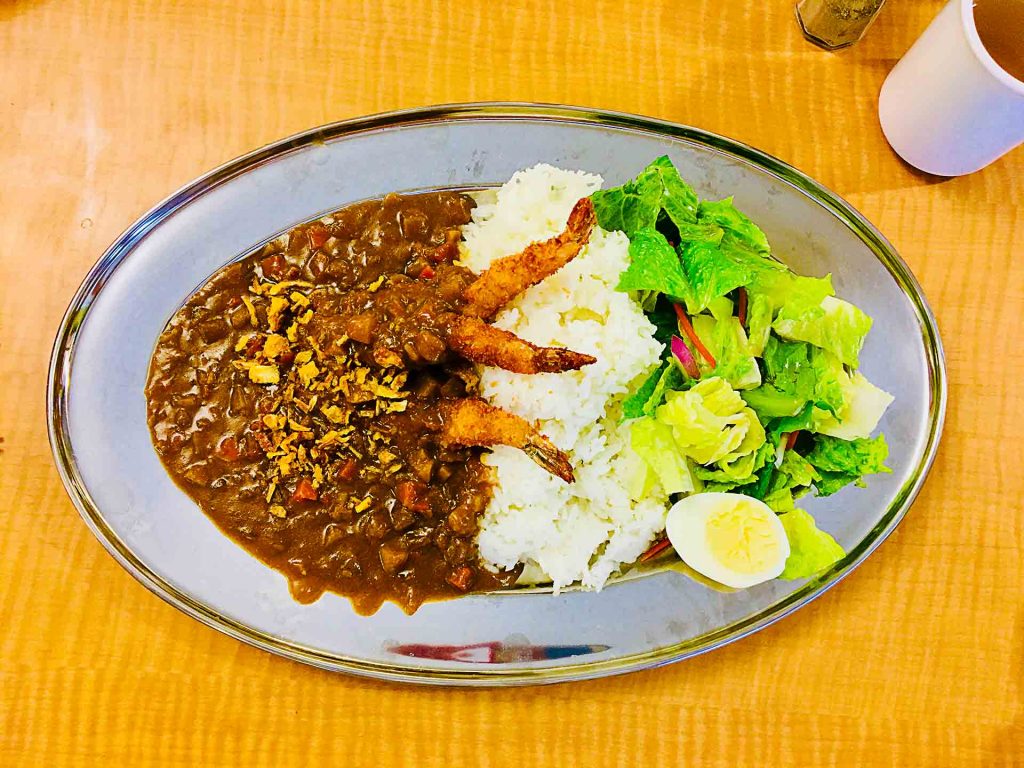 Curry has a magical way of satisfying your appetite, especially on a cold winter day. One place that does curry right is Hi Genki, a Japanese restaurant hidden inside a seniors' home. Their homestyle Ebi Katsu Curry is just the right meal when you're feeling chilly. Three golden-brown deep-fried prawns are complemented by a blanket of comforting curry with carrots, onions, and potatoes. If that's not enough, you'll also get fluffy white rice, half a boiled egg, and a bed of romaine lettuce on the side. This generous dish of curry will satisfy any big appetite and warm up any cold soul.
warm dishes 2 of 12: CHAU Veggie Express's Golden Temple Soup
Whether or not you're a vegetarian, you'll find comfort in CHAU Veggie Express's selection of soups and bowls. We already told you about CHAU's Midnight Swim Bowl. But, my pick for a cold, rainy Vancouver day is CHAU's Golden Temple Soup. The soul-warming highlight of this dish is undoubtedly the turmeric coconut curry broth. Rich, creamy, and the colour of sunshine, this broth will make you forget about the downpour outside. Organic tofu bean curd and hearty root vegetables add substance, while kale and seasonal veggies bring a boost of nutrients. Bonus: You can pick up a jar of CHAU's turmeric coconut curry broth from their in-store freezer for some at-home comfort.
warm dishes 3 of 12: Chocolate Arts' Hot Chocolate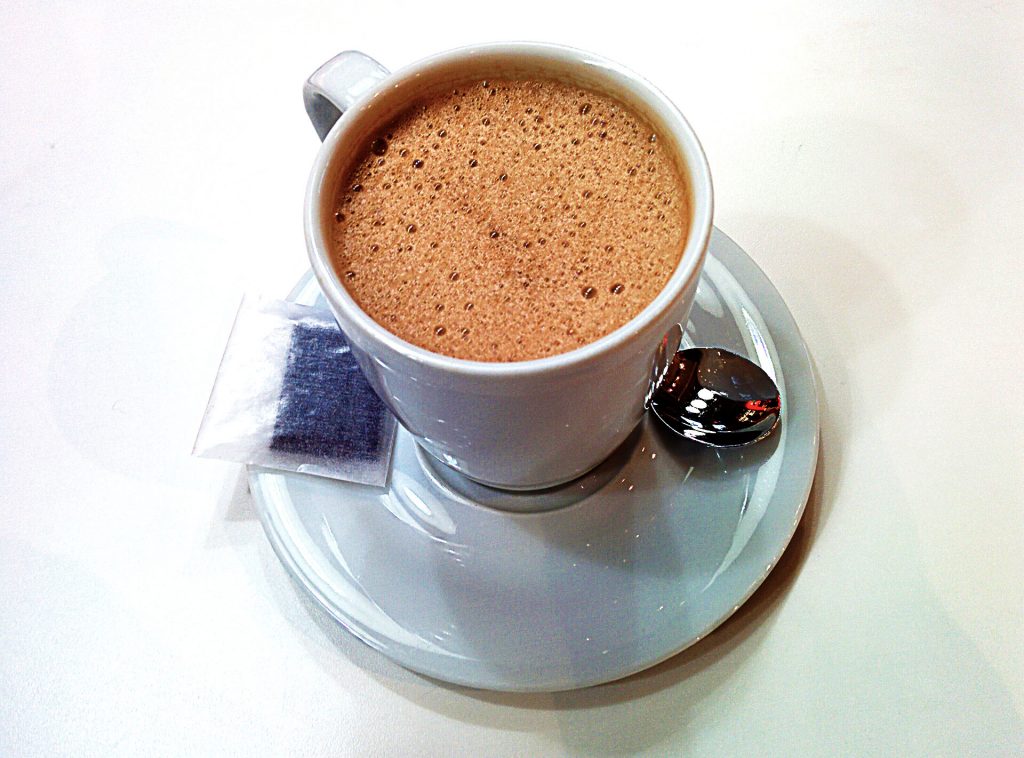 When the weather outside is frightful, a mug of hot chocolate is more than delightful. Go gourmet with your next hot chocolate with a visit to Chocolate Arts in Kits. This independent confectioner handcrafts chocolate in small batches, and also offers artisanal hot chocolate made from their own special house blend of semi-sweet or bittersweet hot chocolate. If you're a cocoa purist, opt for the bittersweet chocolate for a rich chocolate flavour that's not too sweet. Take a cup of this soothing hot chocolate to go to melt away the chill in your bones.
warm dishes 4 of 12: The Red Wagon's Grilled Cheese and Smokey Tomato Soup
If you're like me, you grew up with grilled cheese sandwiches and Campbell's tomato soup as lunch staples. Maybe it's the nostalgia, but this combo also warms me up and cheers me up when the weather is less than desirable. One of the best warm dishes in Vancouver I've had is the Grilled Cheese and Smokey Tomato Soup from the Red Wagon Restaurant. A serious step up from my childhood lunches, the adult-friendly grilled cheese features two slices of grilled brioche oozing with cheddar, Swiss, and goat cheese. The sharp cheddar contrasts with the mild Swiss and creamy goat cheese, while the grilled brioche is the most buttery, heavenly bread I've ever tasted. The lightly creamy and smokey tomato soup not only warms you up, but also pairs perfectly with the sandwich. And if you're craving something meatier, try the Red Wagon's Crisp Pork Belly Sandwich.
Warm dishes 5 of 12: Fat Mao's Southern Thai Beef Laksa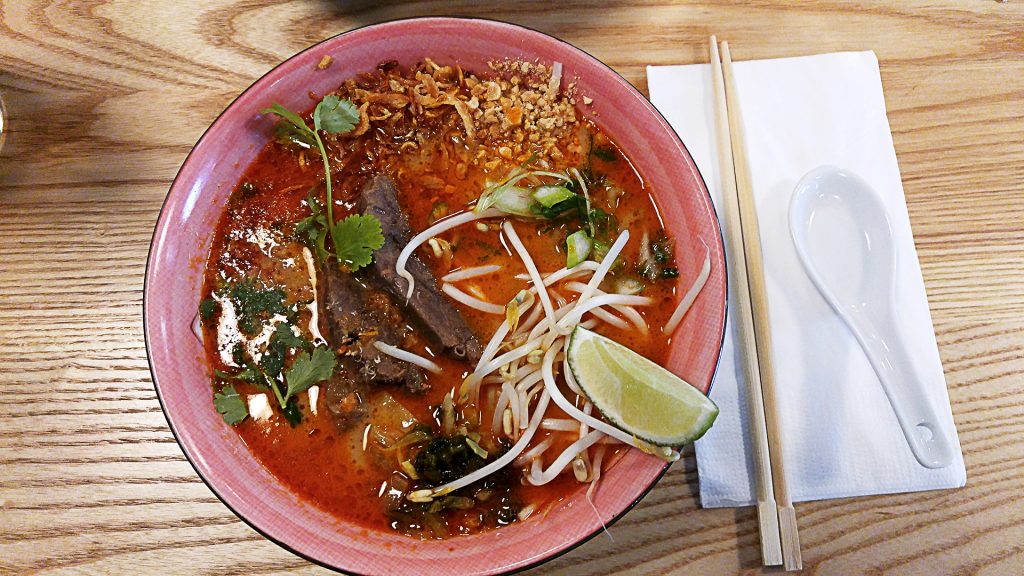 The heat from spicy warm dishes can often transport me to a warmer climate. And Fat Mao's Southern Thai Beef Laksa does just that. Unlike its Malaysian counterpart, this Thai-style laksa features a coconut-free broth that's intensely rich and perfectly spicy — ideal for any rainy day. Slurp up the firm, chewy noodles, and devour the succulent beef shin for a taste of Thailand. Peanuts, dried shrimp, bean sprouts, and a wedge of lime round off this spicy concoction. Aromatic and flavourful, this spicy beef laksa will surely warm you up, and maybe even make you sweat a little.
warm dishes 6 of 12: Song Huong's Pho Dac Biet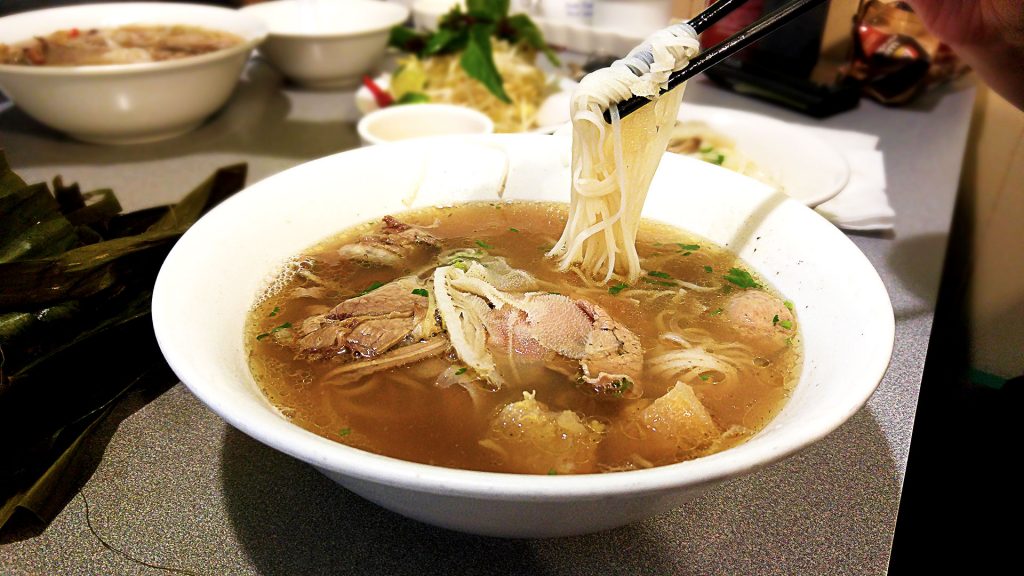 Pho is another one of my go-to warm dishes when it's wet and miserable outside. There are tons of Vietnamese restaurants in Vancouver, but one hidden gem is Song Huong in the Grandview neighbourhood. A meat-lover's paradise, their house special Pho Dac Biet features a little bit of everything – rare beef, flank, tendon, tripe, and beef balls. All this meaty goodness swims in a rich, flavourful beef broth with chewy rice noodles that warm you up and fill your belly. And if you're feeling under the weather, squirt a little Sriracha into the broth for an extra kick and a sinus-clearing remedy.
warm dishes 7 of 12: Marutama's Tamago Ramen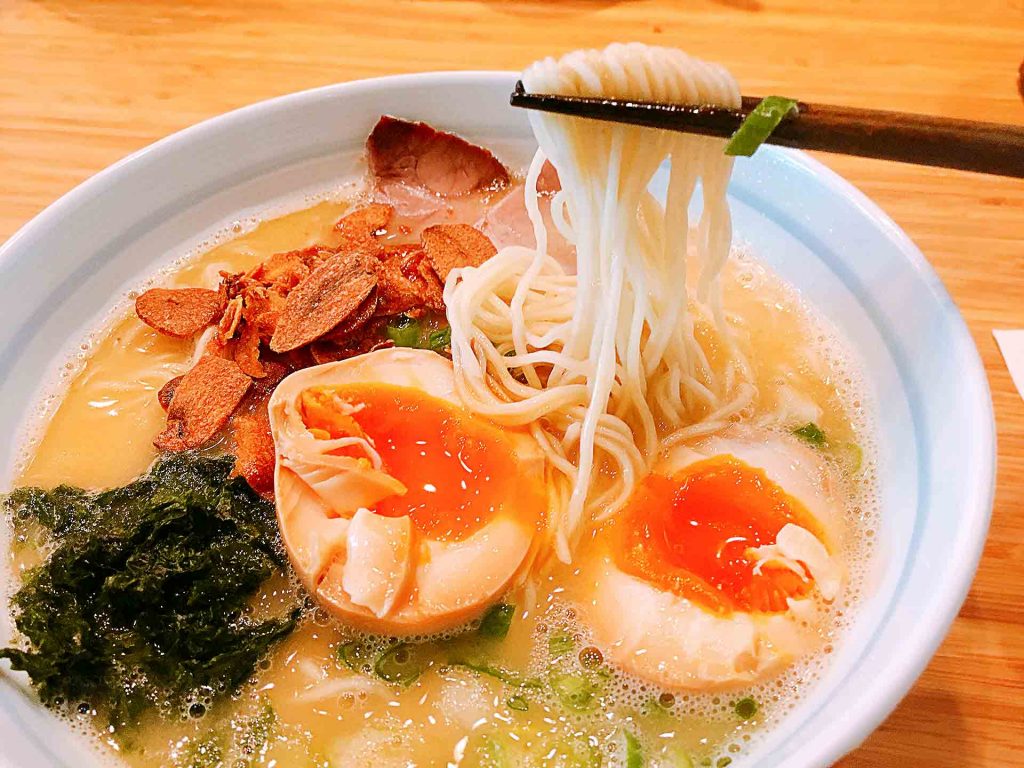 When you're cold and wet down to your toes, there's no better thing than a bowl of steaming hot ramen. The Tamago Ramen from Marutama is especially soothing because it's made with a creamy chicken broth – something the restaurant's known for. Packed with melt-in-your-mouth chasu, a soft-boiled egg, thin ramen noodles, and nori, this hidden gem is my definition of comforting warm dishes. For a bit of a kick, try adding some fried garlic pieces to this ramen.
warm dishes 8 of 12: Figaro Café's Turmeric Latte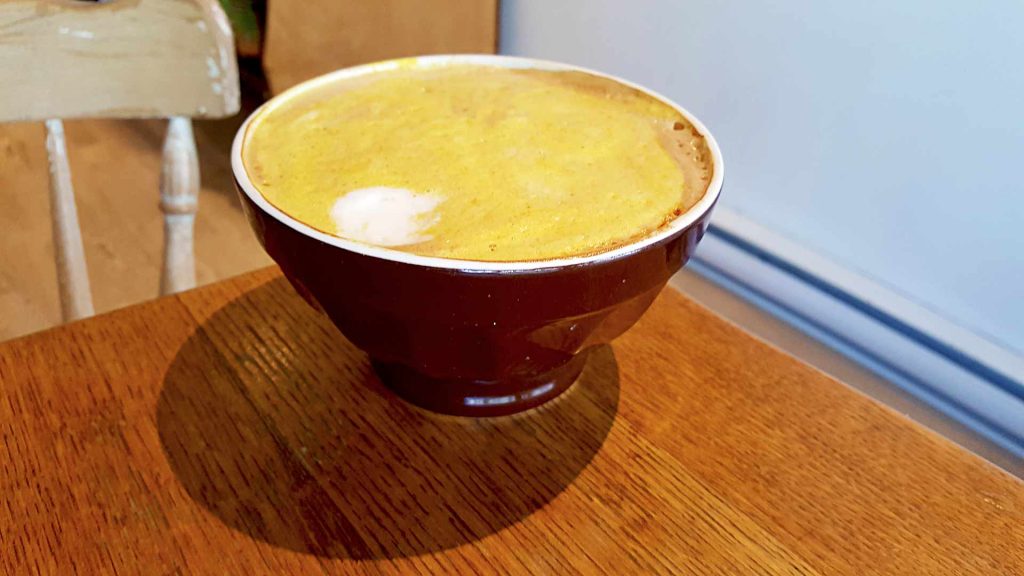 Another hot drink to beat the wet weather is the turmeric latte from Figaro Café + Bakery. Unlike your standard latte, the turmeric latte offers a bitter, savoury twist from the turmeric root. The turmeric blends smoothly with the silky coffee and creamy milk, creating a well-balanced drink that warms the soul. Moreover, turmeric is a natural immune booster and anti-inflammatory agent, making this latte a great drink during cold and flu season.
warm dishes 9 of 12: Medina Café's Coffee Spike
We all know that Medina Café is an amazing brunch spot (have you seen the lineups?). But, did you know you can also get a boozy coffee with your brunch? Perfect as a pick-me-up on an extra-lazy, rainy day, Medina's Coffee Spike can be that hit of energy you need to start your day. This shot of house-infused pecan bourbon with butterscotch liqueur and crème de cacao can be added to any coffee on their menu – even their lavender latte, if you dare.
warm dishes 10 of 12: Hiro Stew House's Szechuan Spicy Sauce Stew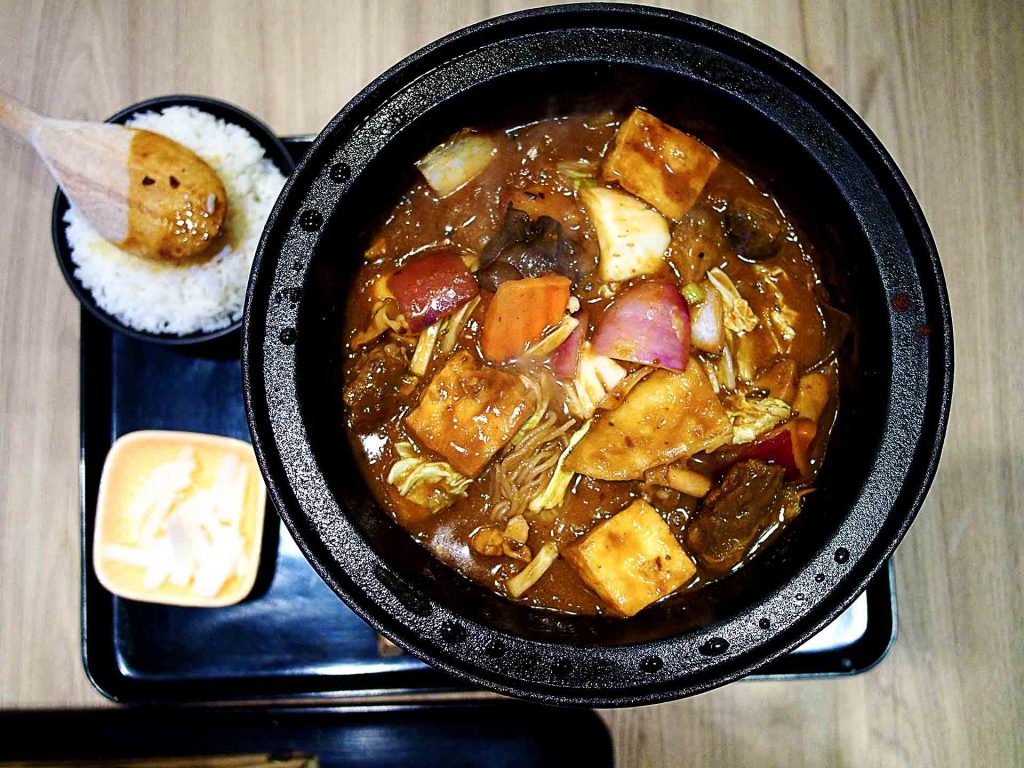 A hearty stew and a bubbling hot pot are two meals you can't go wrong with on a wet, miserable day. Combine these two warm dishes and you've got the Szechuan spicy sauce stew from Hiro's Stew House in Richmond. Filled with a variety of meats and vegetables, this steaming pot of stew has a thick, gravy-like sauce that'll make your lips tingle. The spice kick and warmth from this Szechuan stew make it an ideal meal for any cold day.
warm dishes 11 of 12: Fritz European Fry House's Poutine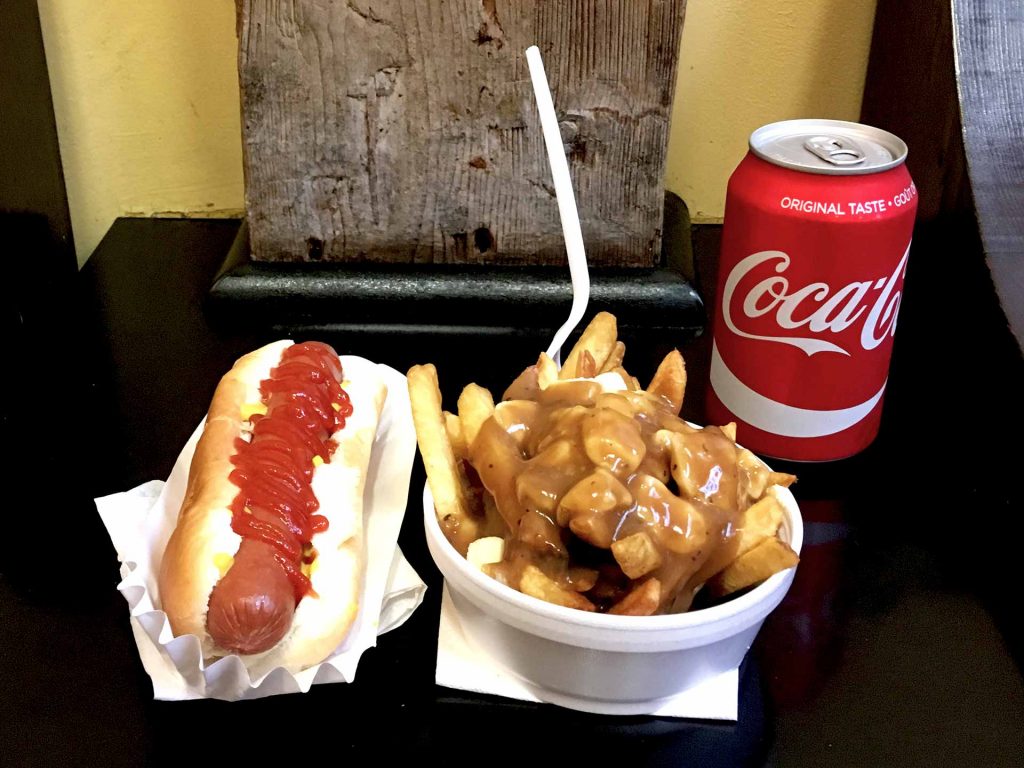 There's something about cheese and gravy that I find just so comforting. So that's why I can't resist the poutine from Fritz European Fry House on a dreary downtown day. Duck into this little hideout on a rainy day and grab a classic poutine – or better yet, the Hot Dog Combo Poutine. The hearty gravy, squeaky but stringy cheese curds, and hand-cut French fries will make you forget about the weather and focus on the task at hand – eating!
warm dishes 12 of 12:Ask for Luigi's Tagliolini Alla Carbonara
When sweater weather hits, I just want to eat hearty, soul-comforting foods – like pasta. And one place that does some of the best pasta in town is Ask for Luigi. This little Italian restaurant in Gastown even serves pasta for brunch. From the brunch menu, don't miss the tagliolini alla carbonara. Topped with a runny poached egg (a brunch staple!), this handmade pasta is hearty, creamy, and just downright delicious.
If reading about these steaming warm dishes hasn't already warmed you up, then getting out there and grabbing one surely will! These hidden dishes are sure to lift your spirits on any cold, wet, and grey day. For more cozy eats check out our Mmmm Comfy Foods section under our Experience tab.