The Veggie Rice Bowl That Will Drown You With Nutrients
As my boots clicked on concrete and Google Maps pointed me to the street across, I wondered why my expectation of a lovely exterior wasn't met. Instead, I saw "CHAU VEGGIEXPRESS" printed on a simple board in large font, beside some seemingly insignificant stores. But I popped in, and oh my, it surprised me! I knew the hype would lead to something good. Please don't always judge a book by its cover!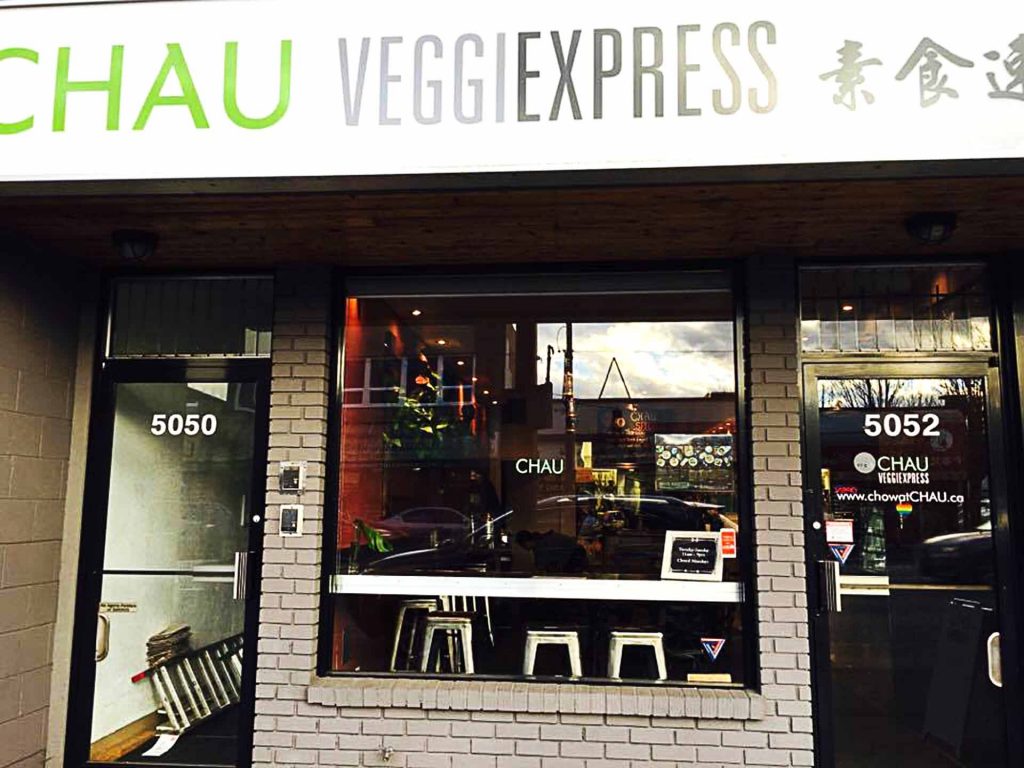 I approached a friendly staff member and, after a few exchanges of words, chose the Midnight Swim Bowl and the Namaste Rolls. Mind you, I've had vegan salad rolls before, so I was really excited to try the Swim Bowl.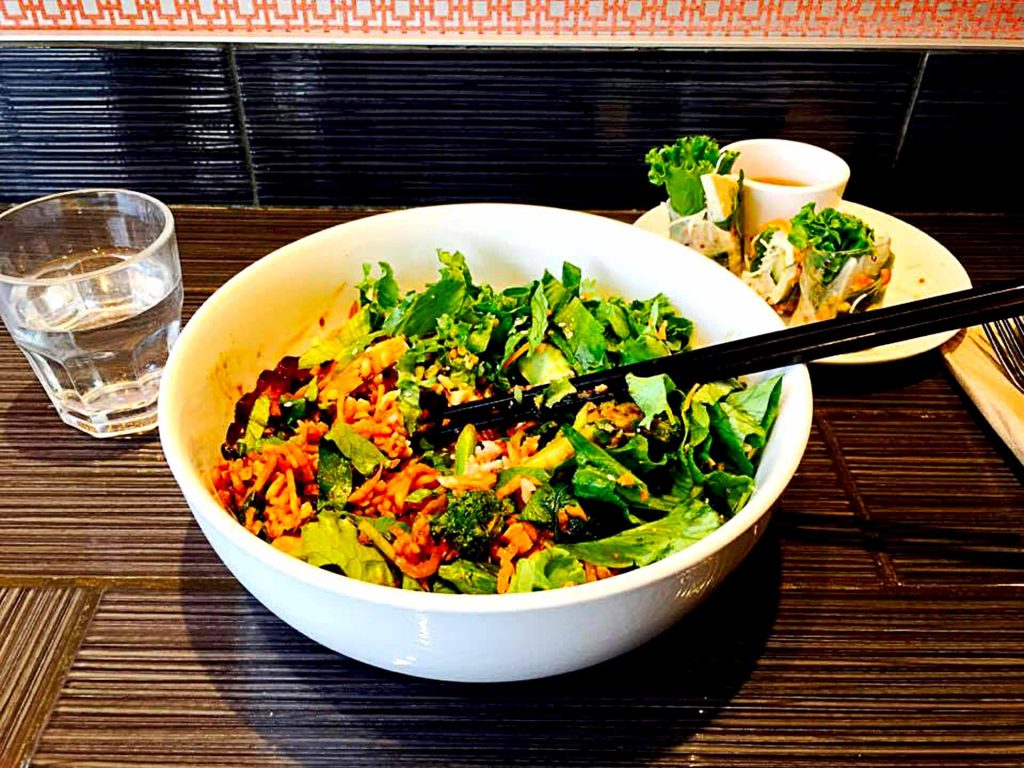 Chau's Midnight Swim Bowl is a beautiful wild rice blend veggie bowl with dark soy mushroom garlic sauce, organic tofu, bean curd, seasonal vegetables, and kale, all cooked in spicy peanut sate. It also has some sunflower seeds, sesame seeds, and roasted peanuts. You can order this without garlic and onion or even gluten free. Being a huge flavour person, I ordered the veggie bowl with the garlic and onion. Unfortunately, some people are allergic, have sensitivities, or can't stand the taste of garlic and onion.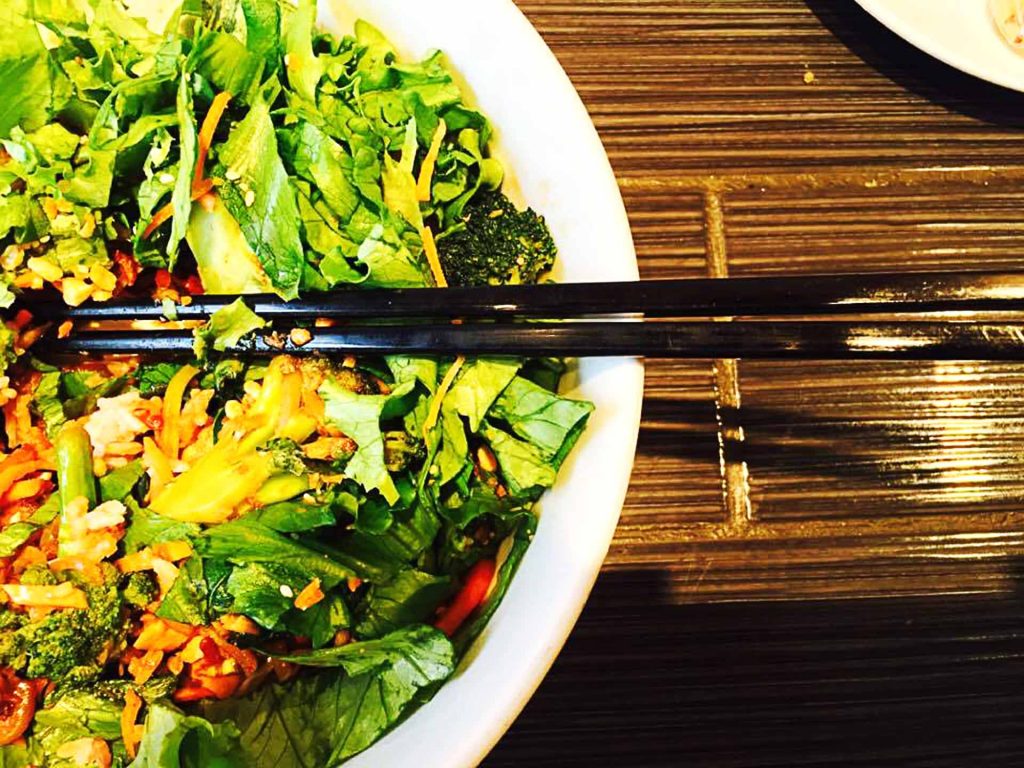 A couple minutes later, I received my food. And oh my, it surprised me, again! My veggie bowl was a big hot bowl with lots of delicious, plant-based food! I knew then my appetizer and main dish were going to fill me up with wholesome happiness. After I chomped and crunched on the light bedding of greens, the rest of the Midnight Swim Bowl was simply as it should've been – perfect.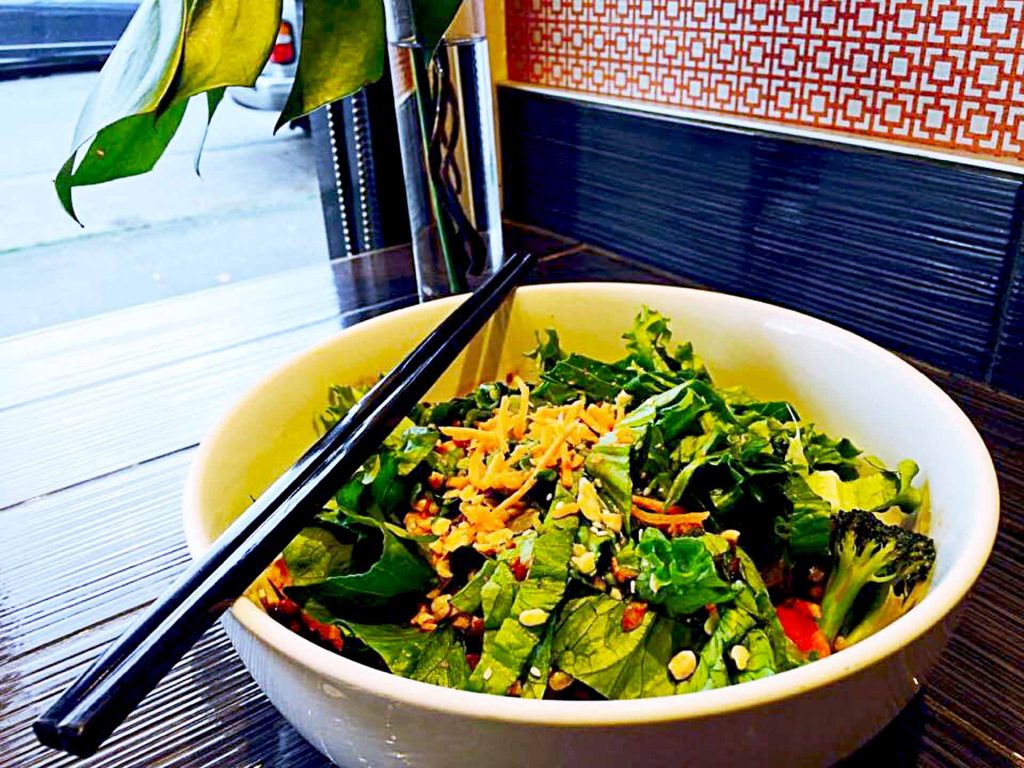 An ideal amount of sate covered the seasonal vegetables (cauliflower, broccoli, and shredded purple cabbage) to elevate their flavour. The mushrooms cooked in soy sauce and garlic added a layer of earthiness and aroma to the bowl. This delicious combination made me enjoy my vegetables a lot more! I also liked the layer of depth and crunch that the peanuts and seeds added to this rice-filled veggie bowl. And unlike other meals I've had in the past, the sate sauce did not overpower the entire meal, nor was it too bland or liquidy.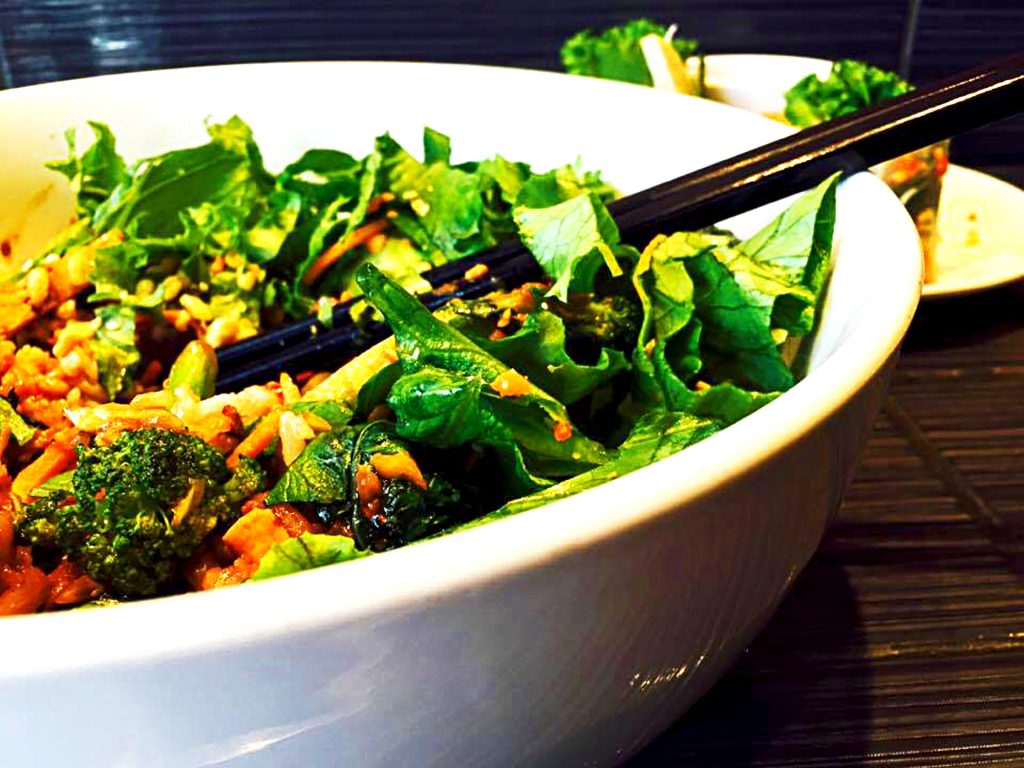 While not spicy, the Midnight Swim Bowl is definitely a hearty dive, given the various textures that your palate will "swim" in, if you will.
I would call this quite the balanced bowl because of the proportions of nutrients. There's good amount of proteins in the tofu, bean curd, and peanuts, not a huge amount of carbohydrates and fat, and a sizeable portion of vegetables. And even though it was quite the satisfying bowl, I didn't leave feeling too stuffed or lethargic.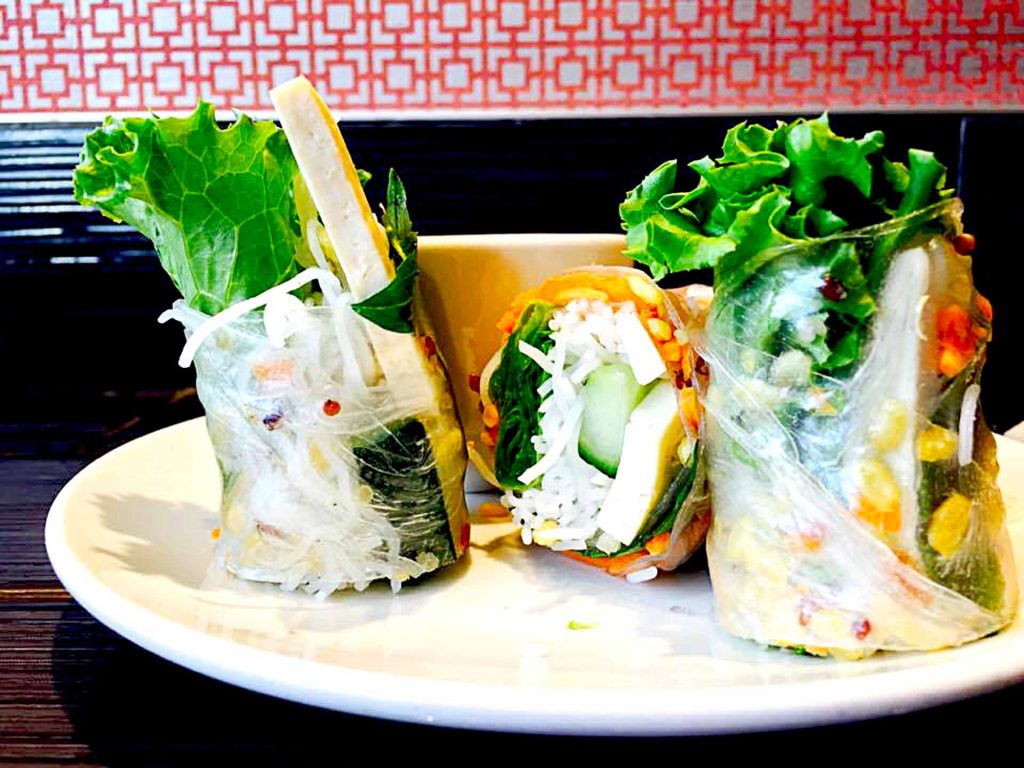 Chau Veggie Express delivered on the fact that they provide vitality and nourishment in their meal. Also, the salad rolls were a delight to munch on, as was the peanut sauce they came with. The two dishes together were quite a filling amount. If I ate it all, I would be slightly overeating, so I happily decided to take home the leftovers.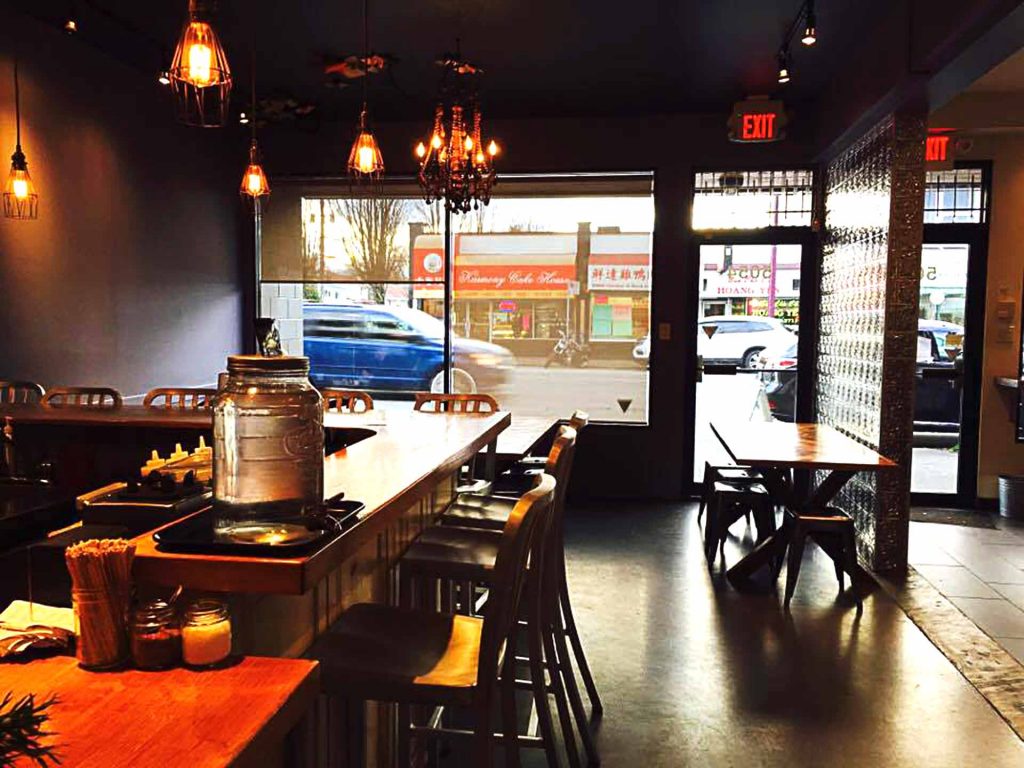 What's even better is that you feel at ease at Chau. The atmosphere is lightly buzzing, friendly, and very Instagram friendly! I loved the wall prints and how airy this restaurant is. You can even come here to work or catch up with a friend while enjoying a vegan Vietnamese coffee or some of their popular drinks and desserts.
I ended on a sweet note by trying Chau Veggie Express's Vegan Chocolate Hazelnut Praline bar. The bar was on the sweeter side, but it was extremely delectable. It's a must try that will probably make you crave vegan sweets more often!
Till then, Chau!
Restaurant: Chau Veggie Express
Featured Dish Name: Midnight Swim Bowl
Dish Type: Rice
Available For: All Day
Dish Price: $12.00
Flavour Profile: Exotic Spices
Served: Hot
Portion Size: Large