The Most Aromatic Laksa Noodles to Hit Hipster Chinatown
Vancouver's Chinatown has rapidly evolved into the new hipster hangout, with bars, cafés, and restaurants taking over former vacancies. Many Asian-influenced establishments have opened up, and one of these restaurants is Fat Mao. "Fat Mao" means "lucky cat" in Chinese, and the restaurant is a modern Asian noodle bar with a focus on Thai, Malaysian, and Chinese noodle dishes.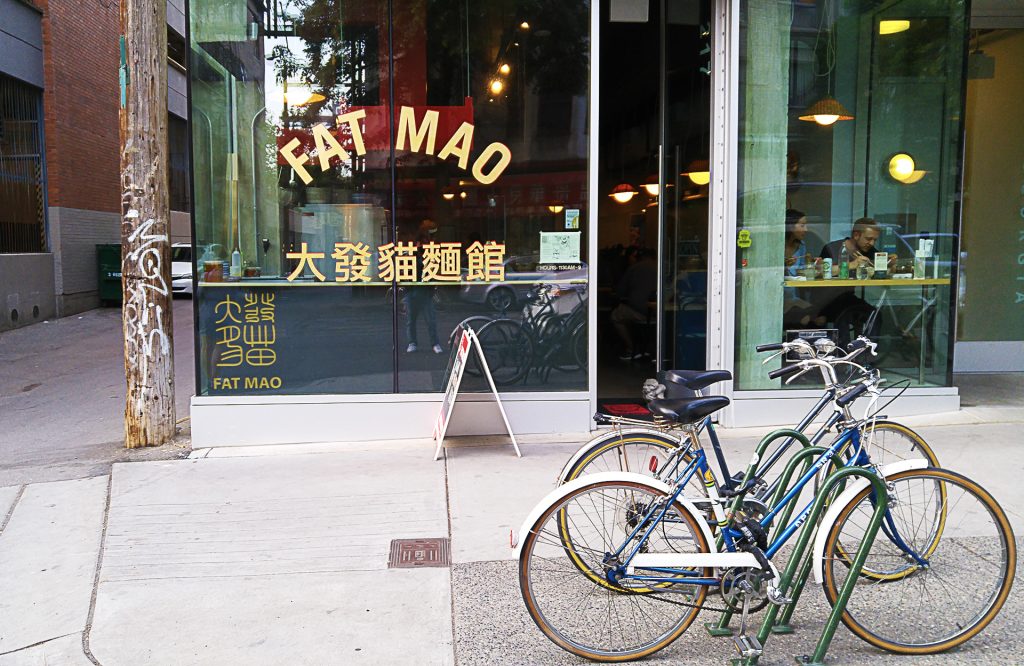 Upon entering Fat Mao, the first thing you may notice are the Chinese mangas placed on the dining tables. If you're a fan of Slam Dunk mangas, you'll enjoy this bit of nostalgia. You can even spend some time reading them while waiting for your food. Look up at the light fixtures and you'll see they resemble Asian conical hats – a very cool integration of Asian-themed props into this Chinese-Western fusion restaurant.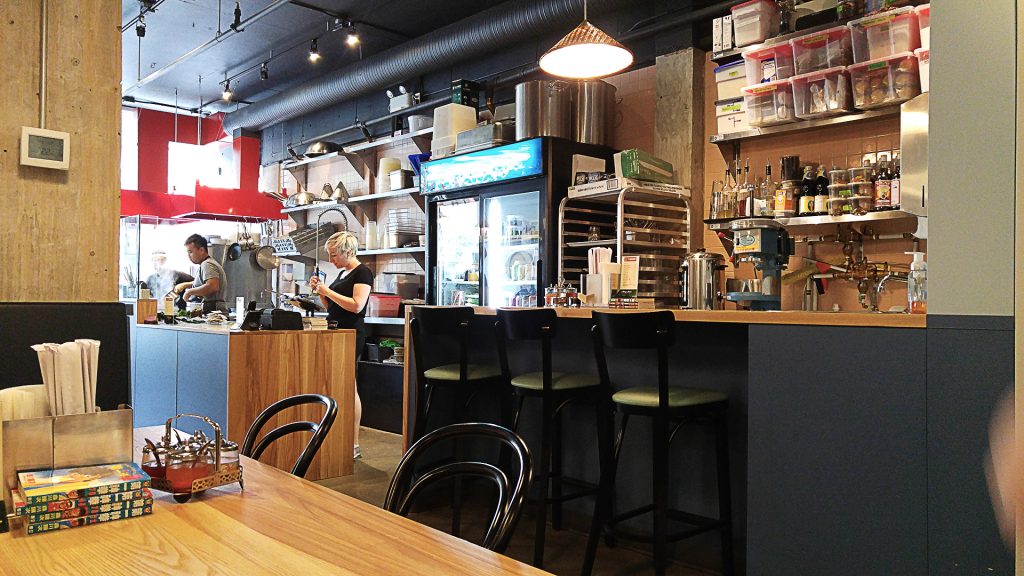 From Fat Mao's fairly humble menu, I opted for the Southern Thai Beef Laksa. To most people, laksa means a noodle dish in a coconut curry soup base. However there are many types of laksa, the two dominant ones being tamarind based or coconut milk based. The Southern Thai Beef Laksa at Fat Mao is made with a spicy southern-style laksa broth that's richer and thicker than other kinds I've tried. It comes with either thin wonton noodles or steamed rice, but the server also gave me the option of thick wonton noodles. I opted for the latter as I like my noodles a little bit thicker and chewy.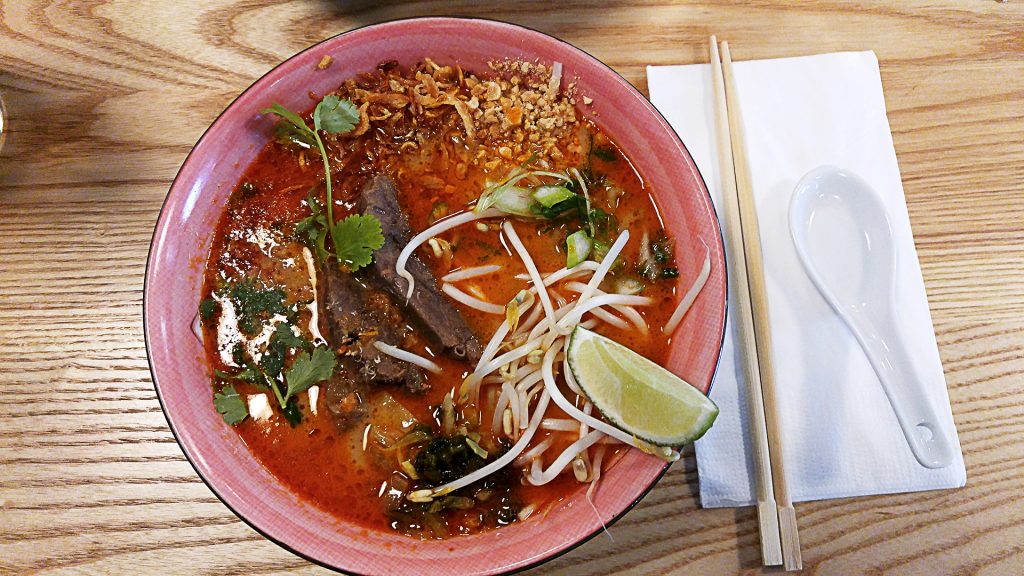 The Southern Thai Beef Laksa contains beef shin, peanuts, and dried shrimp, and comes with a wedge of lime. The broth had a deep, rich flavour that was super savoury. It was spicy but not overpowering, as I was still able to enjoy the broth without breaking out in too much sweat.
The beef shin was very tender and moist, and just melted in my mouth.
I have to say it was a really tasty piece of meat, as I wished they had given me a third piece. (Greedy of me, I know.) The noodles were cooked to my liking, as they were chewy and firm. They complemented the broth and balanced out the dish. At $11.99, this laksa dish was well worth the price.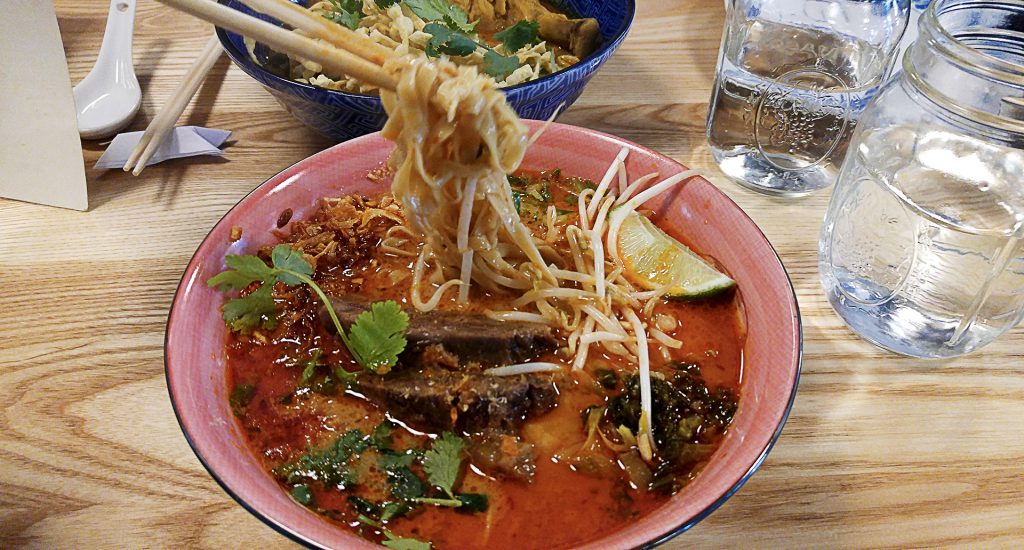 Fat Mao is definitely a hidden gem with great flavours and interesting décor. The servers were friendly and very prompt in getting food to my table. However, for some reason, no one at our table could get any cellphone reception. This could be the way the restaurant is constructed, or the fact that it's on ground level. But, a lack of cellphone reception could be a good thing, as you can enjoy each other's company without the distraction of phones. I would definitely come back to Fat Mao to try more of their food!
Restaurant: Fat Mao Noodles
Featured Dish Name: Southern Thai Beef Laksa
Dish Type: Noodles
Available For: All Day
Dish Price: $11.99
Flavour Profile: Spicy Hot
Served: Hot
Portion Size: Large