The Most Whimsical Pancake-Wrapped Sausage Breakfast
I've heard great things about Jam Café, and when a friend suggested we meet there for brunch, I jumped at the chance. Jam Café is always busy, no matter what day you go on, and this day was no exception. However, once we got in, I instantly forgot about the wait. The atmosphere was cozy and inviting, and the service was prompt and friendly. Once I peered at the menu, the item that jumped out was The Three Pigs. Juicy maple sausages wrapped in deep-fried pancake batter, served with fresh fruit and house-made maple butter. Who could resist?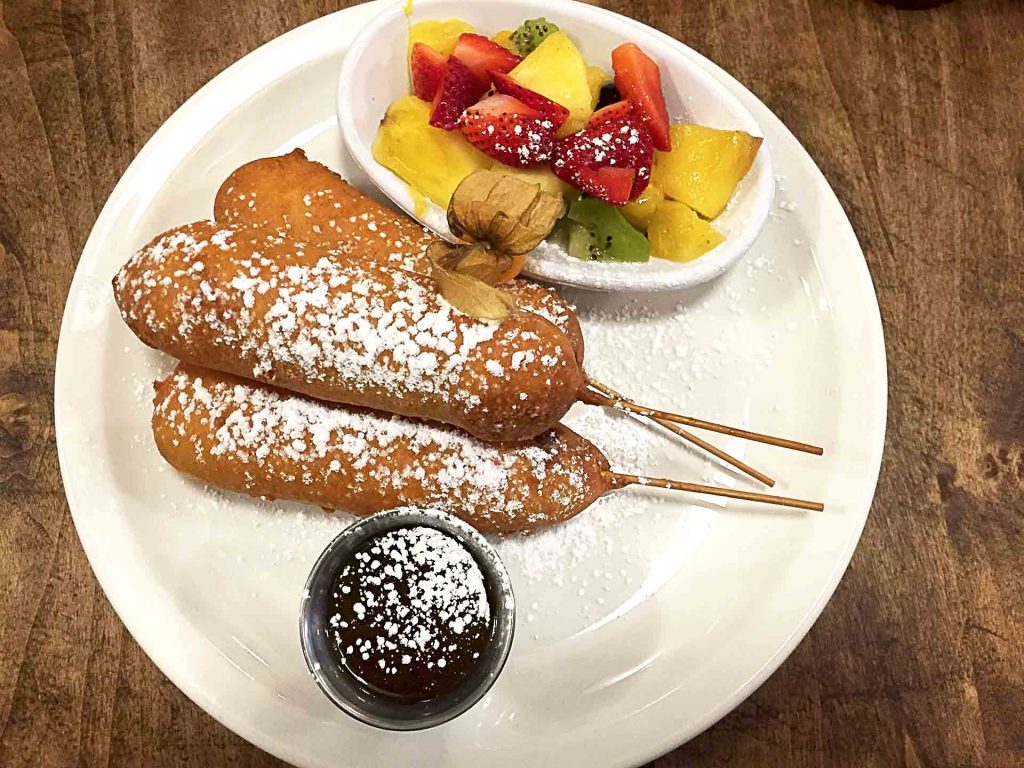 I've never heard of a breakfast-style take on the corn dog, so I was instantly intrigued. I remember enjoying crispy corn dogs at the PNE as a child, and this unique breakfast dish brought me back to those childhood summers. The name also triggered nostalgia, as The Three Little Pigs is a favourite book from my childhood.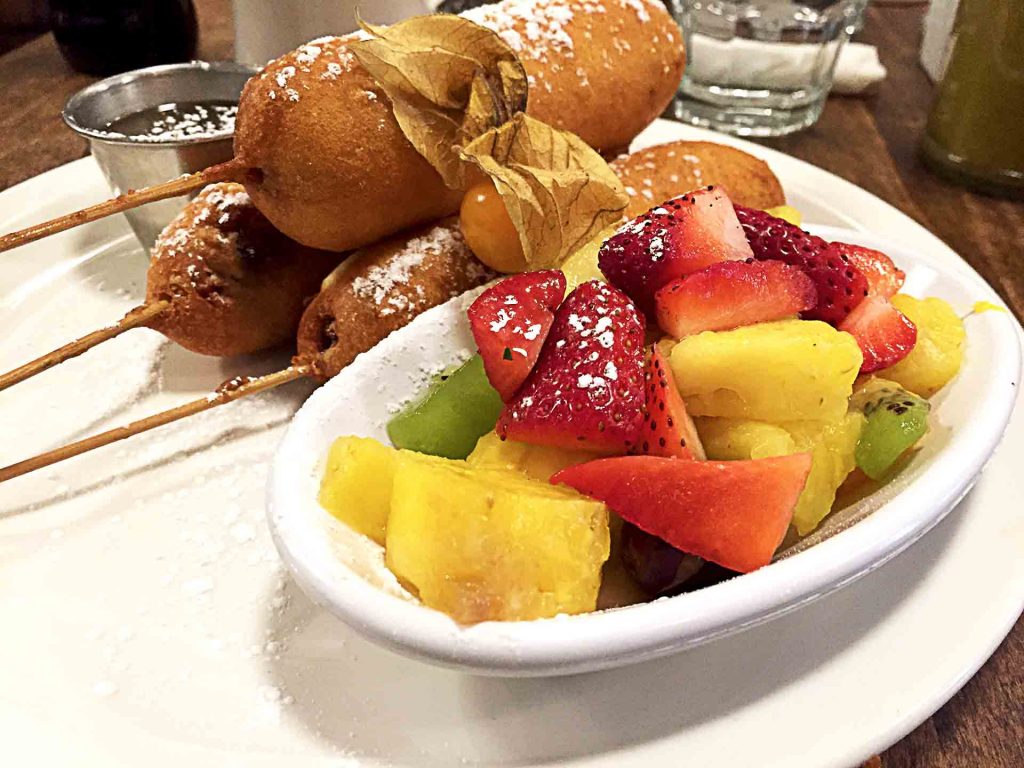 The presentation of The Three Little Pigs was simple, yet grand enough to grab the attention of those sitting around me, who asked what I ordered. Three breakfast corn dogs sat in a line, alongside a variety of colourful fruits and a small bowl of golden maple butter. Powdered sugar generously dusted everything off, and I dug in with excitement.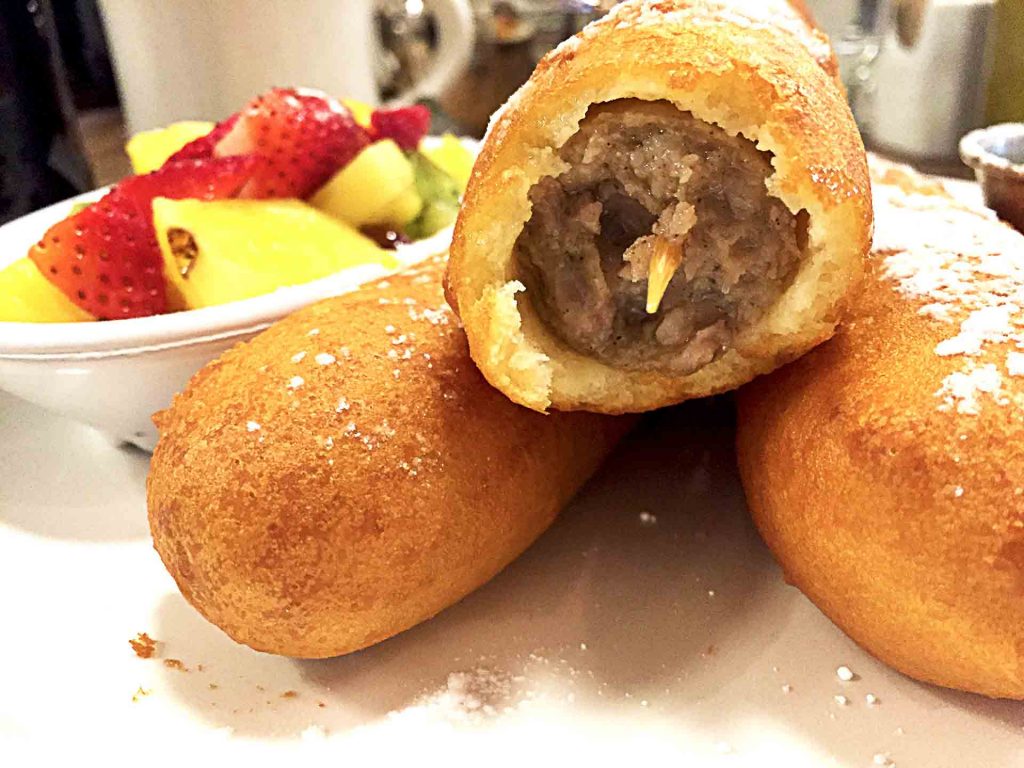 The pancake batter was the first thing I tasted. It was reminiscent of a sugared donut, like the little ones you can get at the PNE. My nostalgic trip continued. The pork sausages were succulent, and full of rich seasoned flavour.
The maple butter was sweet, creamy, and a bit salty, the perfect complement to the savoury sausages. And the fruit was the perfect side dish, freshening up what otherwise would have been quite a heavy meal. With such a large serving size, this dish is definitely worth sharing.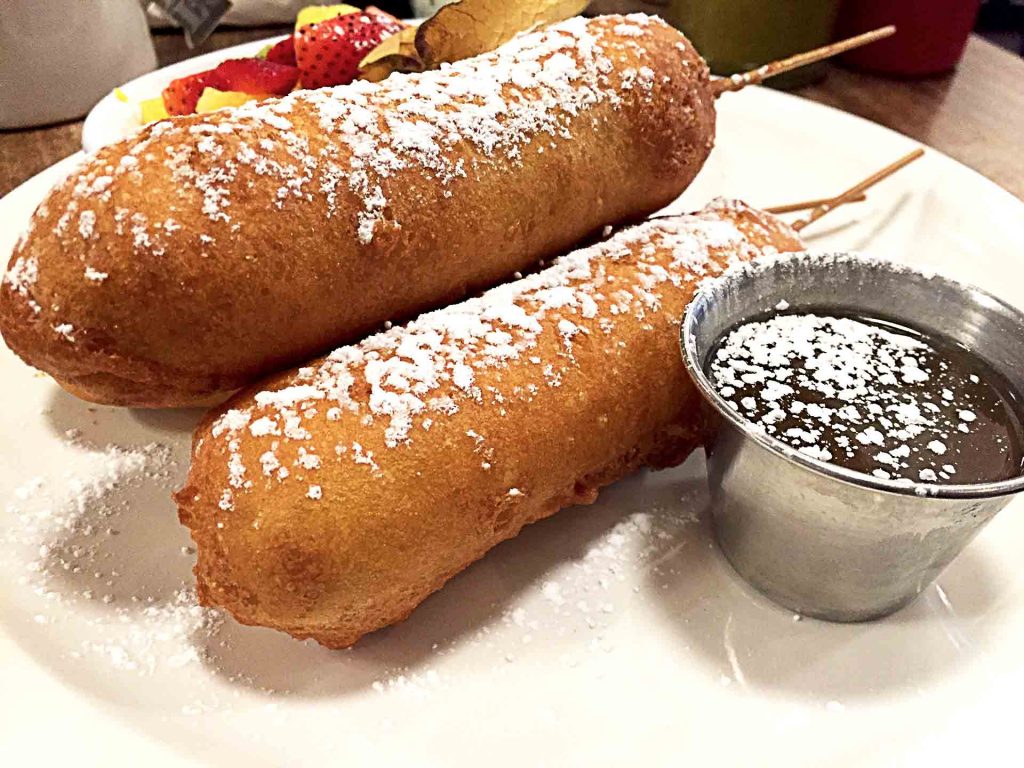 My experience at Jam Café was very pleasant. While the wait to get in was a little long, the quality of service, delectable food, and welcoming atmosphere made it all worth the wait. If you're curious like I was, check out Jam Café for your next brunch date.
Restaurant: Jam Cafe
Featured Dish Name: The Three Pigs
Dish Type: Pancake/Waffle/Crepe
Available For: Brunch
Dish Price: $14.00
Flavour Profile: Sweet
Served: Hot
Portion Size: Large