The Sustainable Seafood Sandwich to Enjoy While People-Watching
The weather had gotten a bit mucky again, and the last thing I felt like doing was making dinner for me and my boyfriend before dashing off to trivia night. My parents had been to The Fish Counter recently, and raved about their halibut dumpling and kimchi special. So of course, we took a mini detour there on our way home!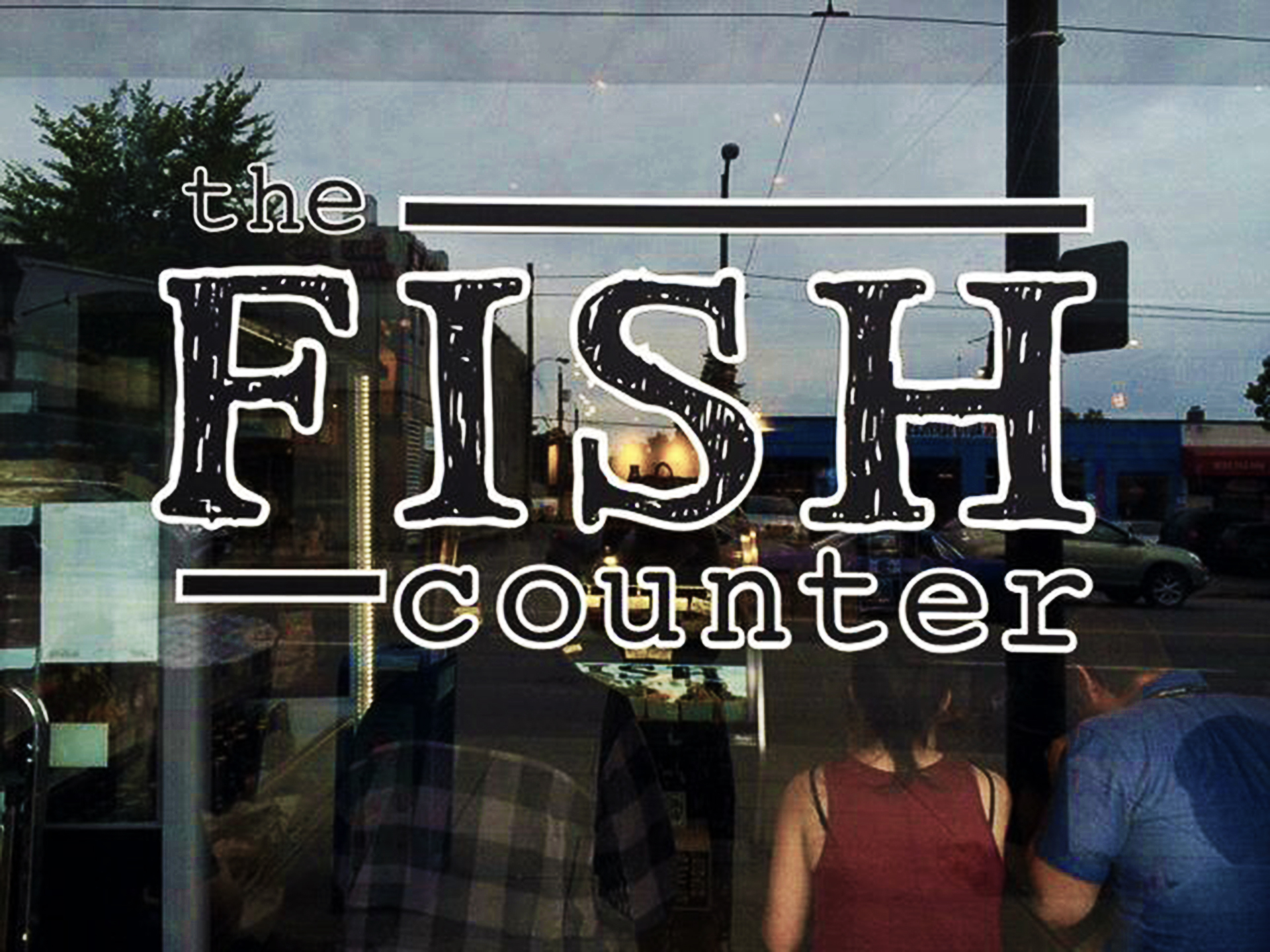 The Fish Counter is on Main Street; you can't miss it. Keep in mind, this isn't a place to go if you're looking to sit down for a relaxed meal. It's one-part seafood store, one-part takeout counter. There's some seating available, but there's also standing room – at a long counter in front of a large open window – ideal for people-watching while you dig into something tasty. We got there just in time; a minute after we came in, the line was out the door.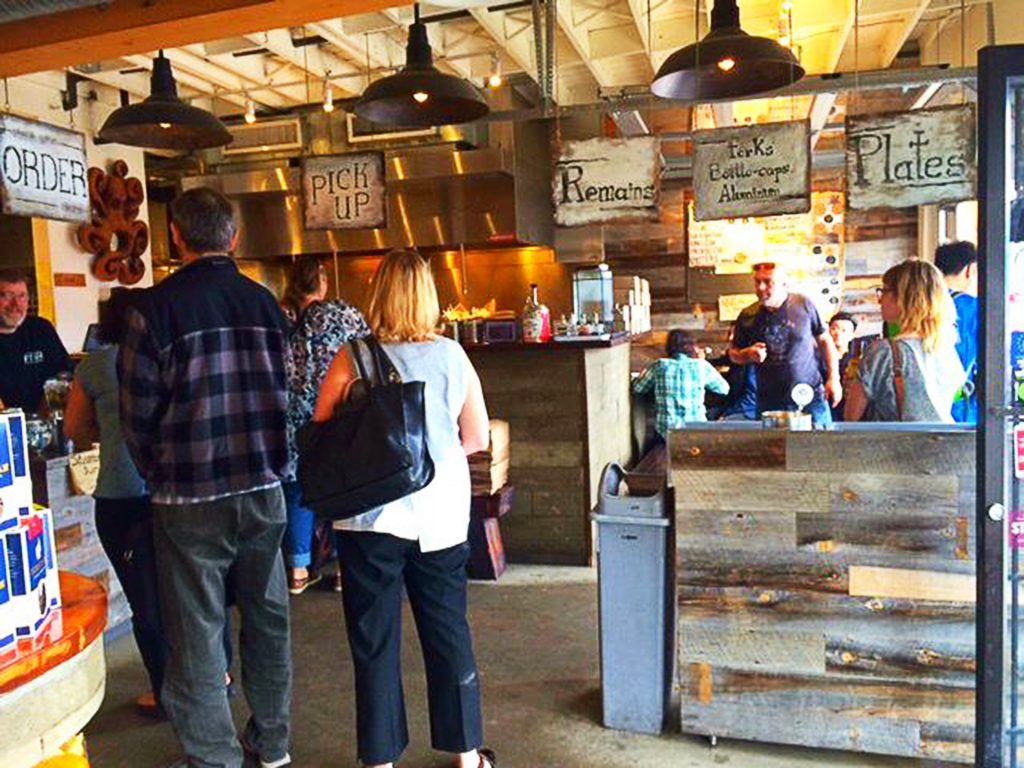 Where The Fish Counter lacks in size, it makes up for in ambience. The décor is nautical themed without being too obvious, with long wooden benches and counters, as well as some benches out front if it gets too busy. Their menu is written on brown parchment paper and tacked to the wall. There are just a few choices, but trust me, you'll want to try them all! A second piece of parchment with the specials is taped to the front counter. To give you an idea of how hard my decision was, they had the infamous halibut dumplings, as well as a tuna melt. The kitchen is open, orders are taken at the counter, and your name is called when your food is ready. If there was ever a time for food envy, this is it!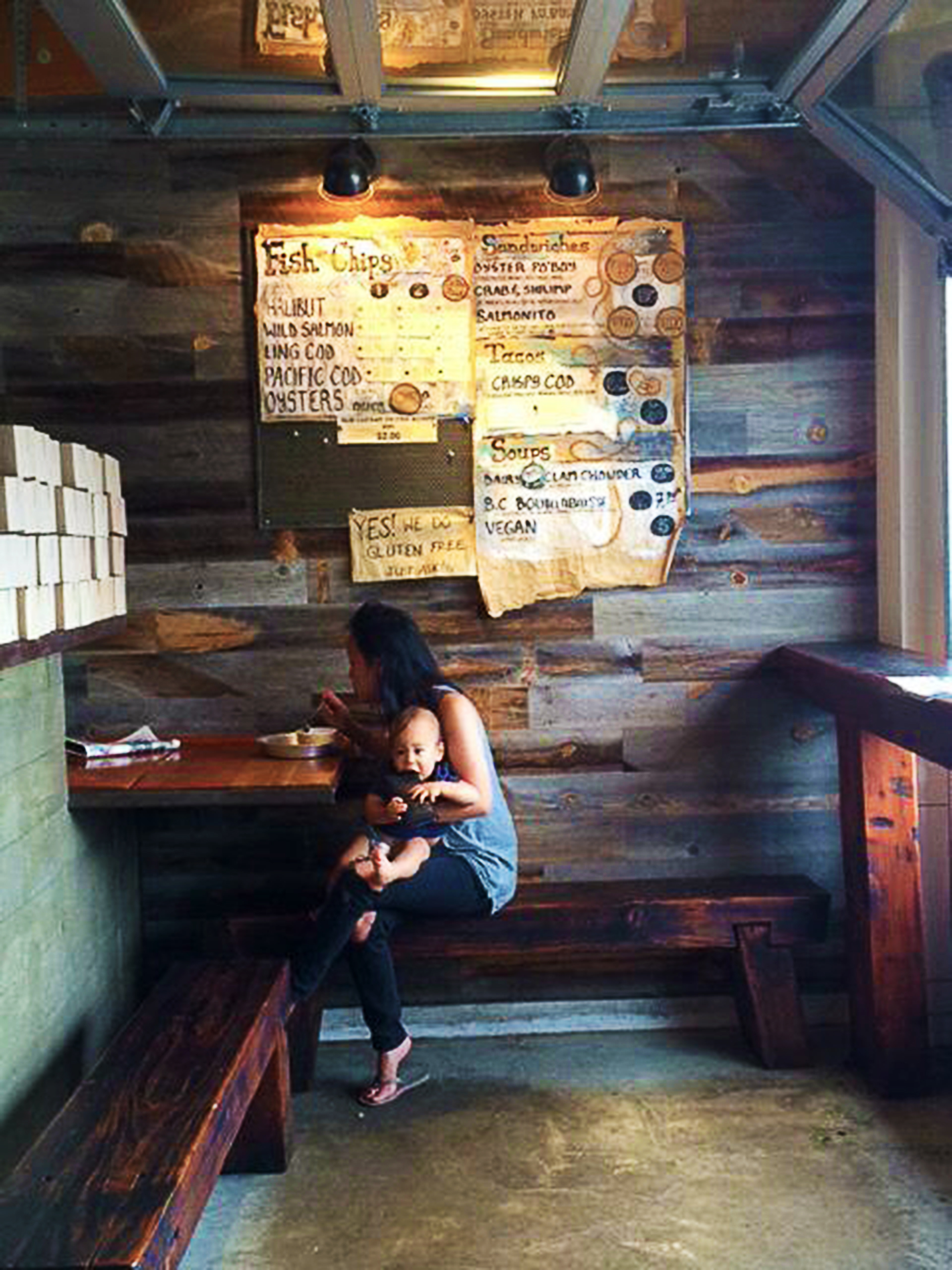 If you have an iffy stomach, The Fish Counter has a gluten-free batter and gluten-free fryer. They also house vegan options for almost everything on the menu, and have a tasty-looking dairy-free clam chowder. And if that isn't enough to come and try this place, you'll be glad to know The Fish Counter is Ocean Wise certified and serves sustainable seafood only.
After a lot of back and forth, I finally settled on the Crab and Shrimp Sandwich. I played with the idea of getting the Fried Oyster Po'Boy, but needed something a little less heavy. Our orders were taken on laminated forms at the counter and passed back to the kitchen immediately. As I waited, my imagination concocted shrimp as the base layer of the sandwich with crab sprinkled on top, but what came out was far from it. Nestled in a fresh white baguette lay two perfectly sized crab and shrimp cakes.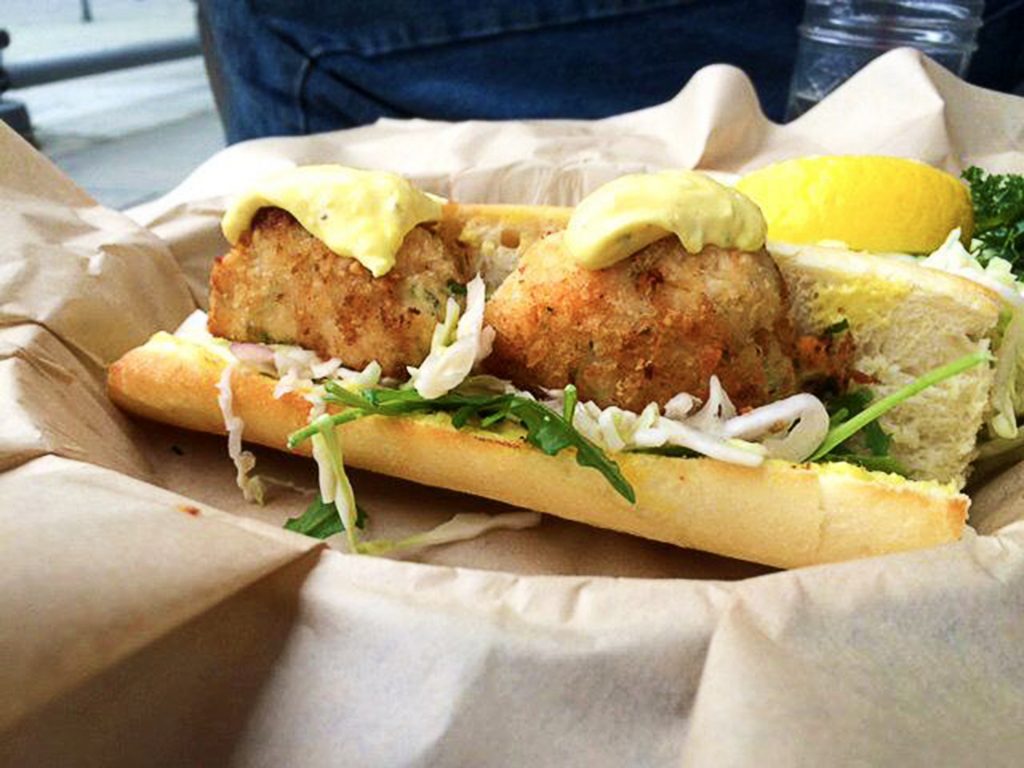 I'm a huge believer that simplicity is of utmost importance when it comes to crab; I love being able to taste the saltiness of fresh seafood. The baguette was lightly toasted, and the crab and shrimp cakes were so big, they were forcing the sandwich open.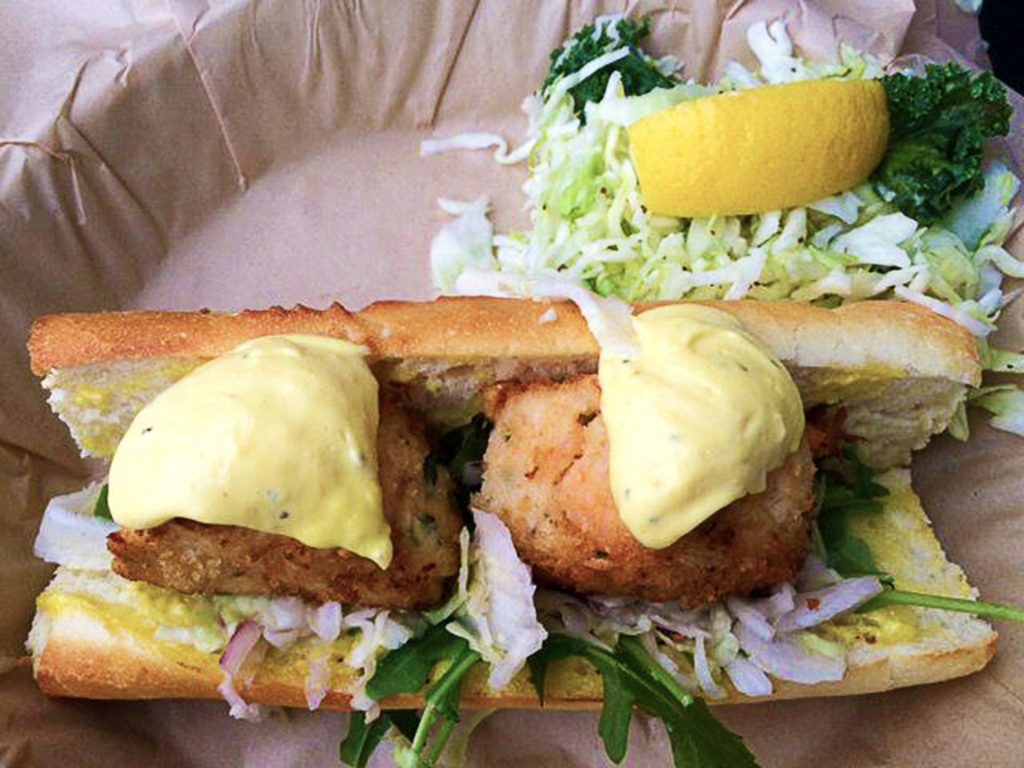 The first thing I could smell was the saffron aioli generously dolloped on top and smeared on the baguette. The cakes were fried lightly enough for a nice crunch, but soft enough to melt in my mouth.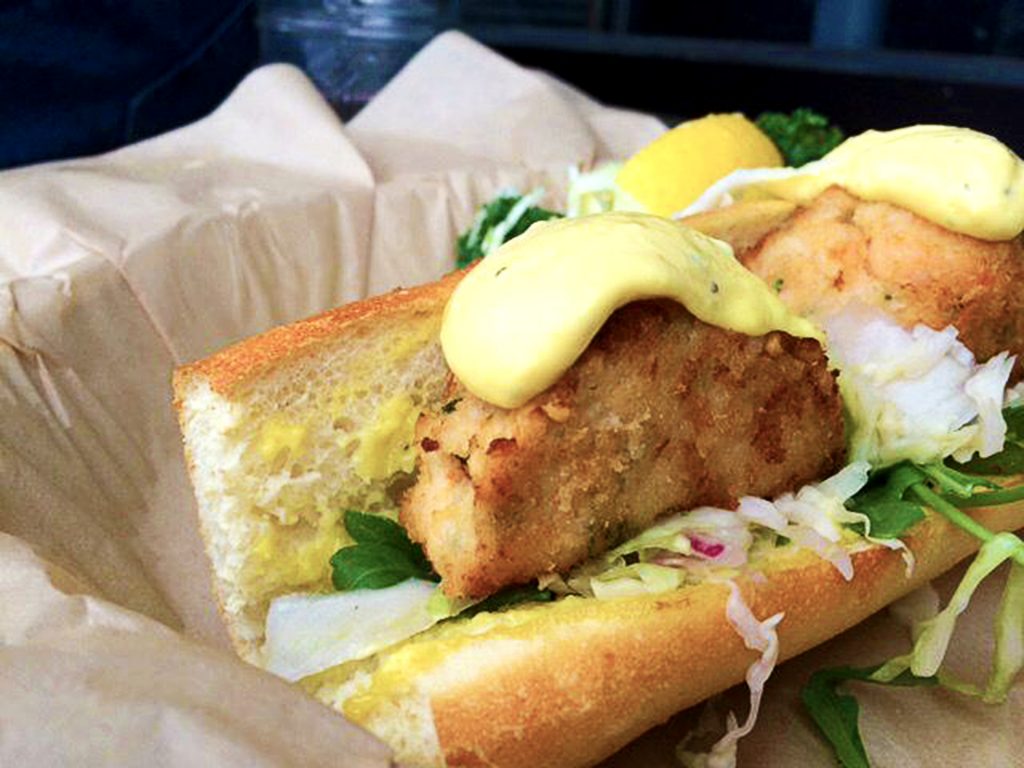 With minimal filler inside, the cakes were stuffed with fresh crab and shrimp meat. The saffron aioli was a warm yellow shade and complemented the seafood wonderfully. The only thing that could've made this sandwich a tad better are chives to add that extra zing!
It's obvious the staff at The Fish Counter love what they do; it's written on their faces. Every staff member was smiling! Even though this isn't your traditional restaurant, they were attentive as could be, with the chef asking us what he could get started for us before we even placed our order. You don't just stand around twiddling your thumbs while you wait, either. There is plenty to look at – sauces, dips, drinks, seafood – even the spot prawn tank. We'll definitely be going back because I absolutely need to try their halibut dumplings next!
Restaurant: The Fish Counter
Featured Dish Name: Crab and Shrimp Sandwich
Dish Type: Burger/Sandwich/Wrap
Available For: All Day
Dish Price: $11.90
Flavour Profile: Savoury
Served: Hot
Portion Size: Large