The Finger-Licking Good Chicken and Waffles to Top Off Your Shopping Spree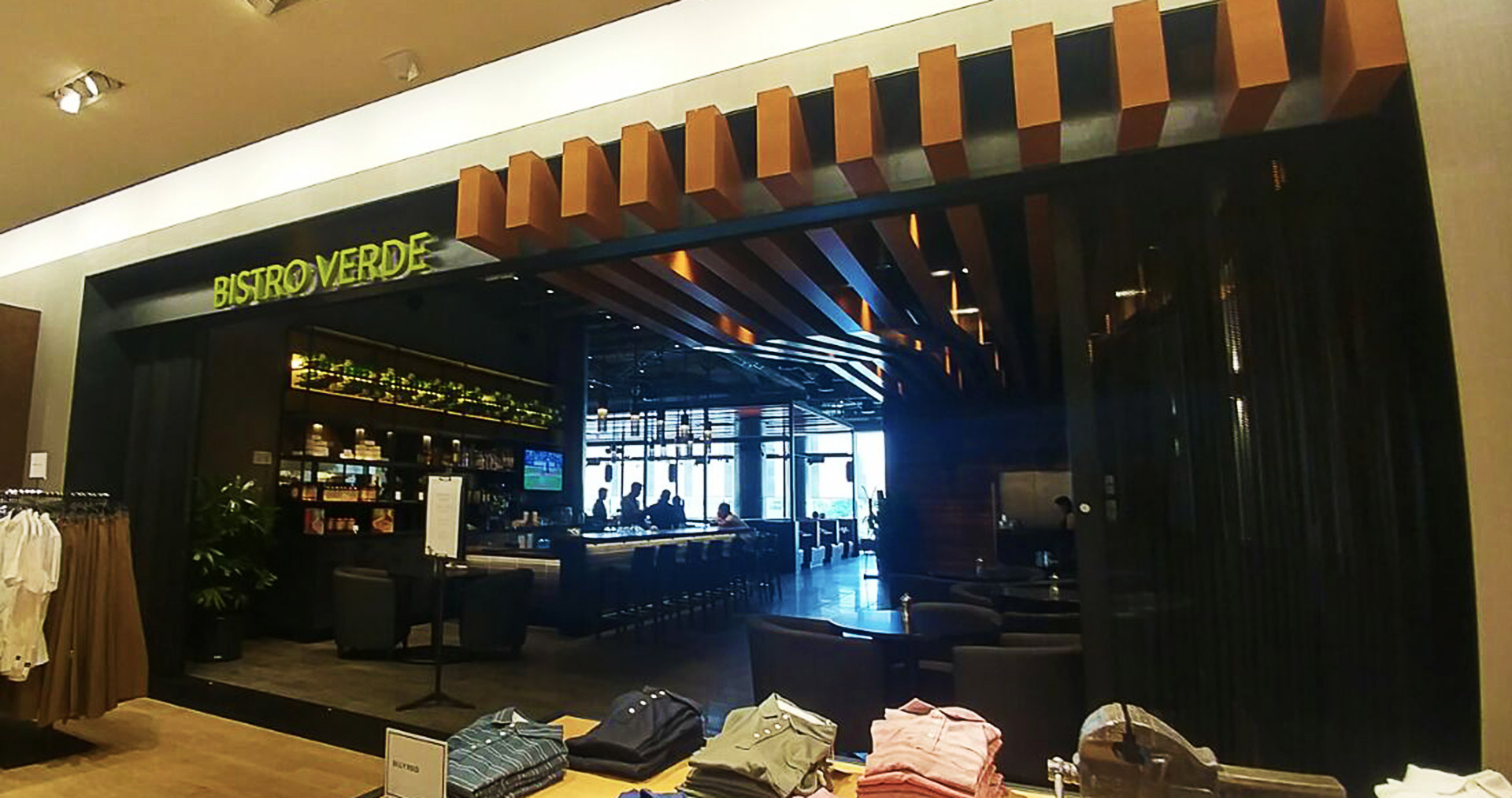 Don't you just love it when department stores have restaurants that you can head to straight after a day of shopping? Nordstrom Pacific Centre offers just that. The department store's contemporary restaurant, Bistro Verde, is located on the third floor and boasts floor-to-ceiling windows overlooking Robson Square and the Vancouver Art Gallery. It's easily accessible by transit and there's paid underground parking conveniently at the mall.
There's nothing better than being able to share your meal in the company of family and friends with a gorgeous view of central Downtown. In addition to the panoramic view, Bistro Verde has a modern, open, and relaxed interior with industrial columns and wood beam ceilings. It's a vibrant meeting spot whether you're taking a break from shopping or having a quick bite or drink after a long day at work. If you want a table by the windows, reservations are definitely recommended.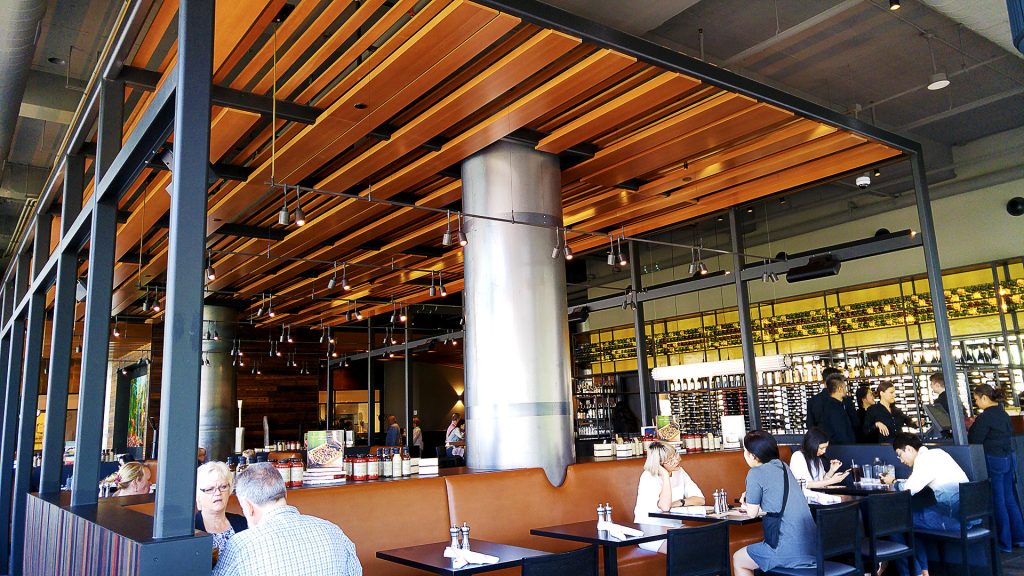 Nordstrom has a reputation of excellent customer service, and you'll definitely experience this at Bistro Verde. On my visit, the hostess was welcoming and the servers were attentive and patient.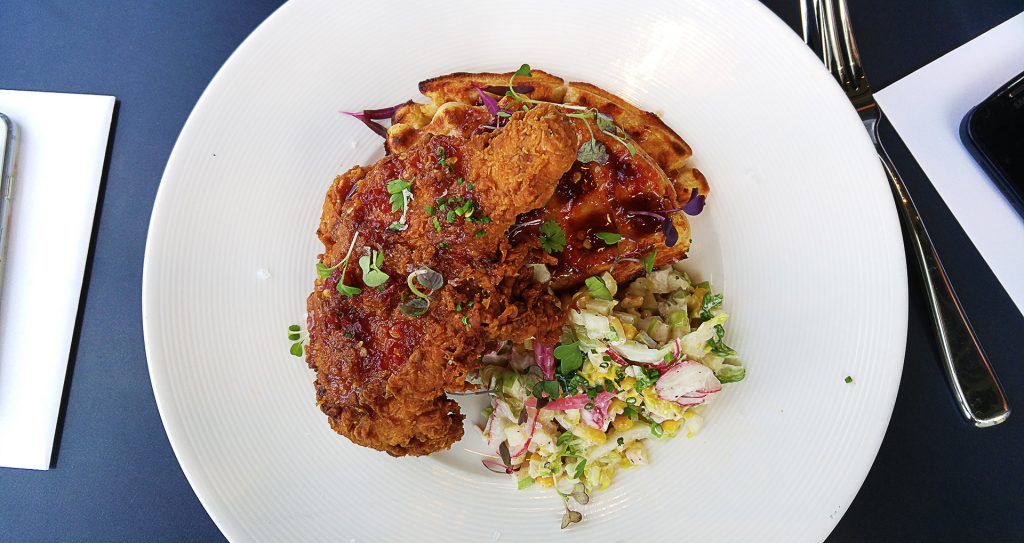 Featuring the freshest local ingredients, Bistro Verde has an extensive and carefully crafted menu. From their summer menu, I decided on their Chicken Waffles. Presentation was on point, from the décor down to the plating of the dishes. One large crispy piece of buttermilk chicken was delicately balanced on top of two triangular waffles. This was accompanied by a side of tangy green apple, corn, purple onion, and cabbage slaw, and was finished off with a drizzle of sweet chilli sauce. That's right – not maple syrup but sweet chilli sauce! The sweet chilli sauce added spiciness to the dish as opposed to the sweetness of syrup. The flavours were all expertly crafted to complement each other.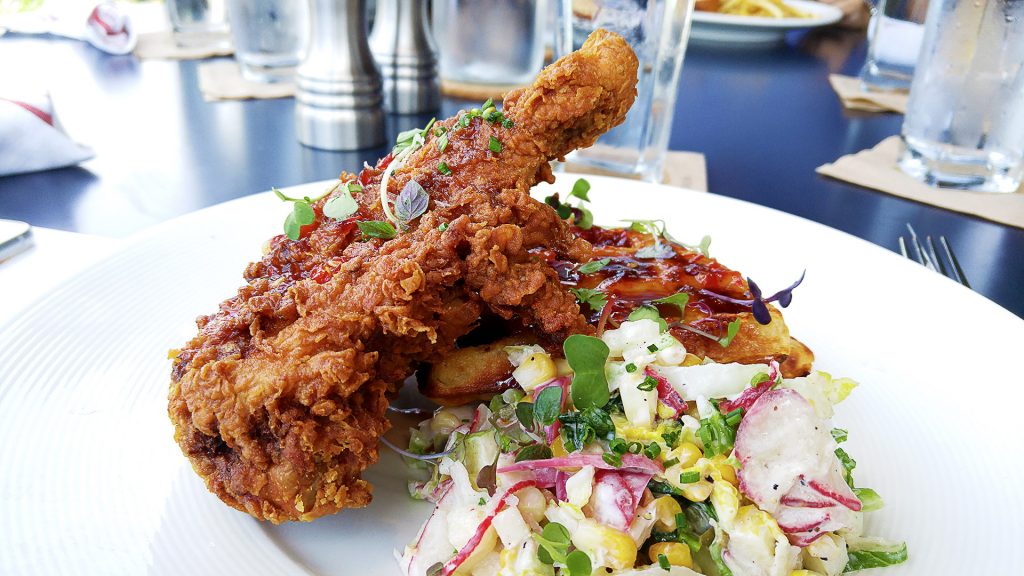 The buttermilk chicken was so delicious that it needs its own paragraph. It was crunchy to bite, moist on the inside, tender, and wonderfully seasoned.
I've always loved fried chicken, and Bistro Verde's take on this comfort-driven dish is mouthwateringly good.
Each piece of the juicy chicken, crispy waffle, crunchy slaw, and sweet chilli sauce created the perfect savoury, sweet, and spicy combo that tantalized my taste buds. This dish is seriously satisfying and dangerously addictive. It's refreshing yet comforting – so much that it needs to be on the regular menu! If you want to try these chicken and waffles, don't wait any longer and visit Bistro Verde before the summer ends.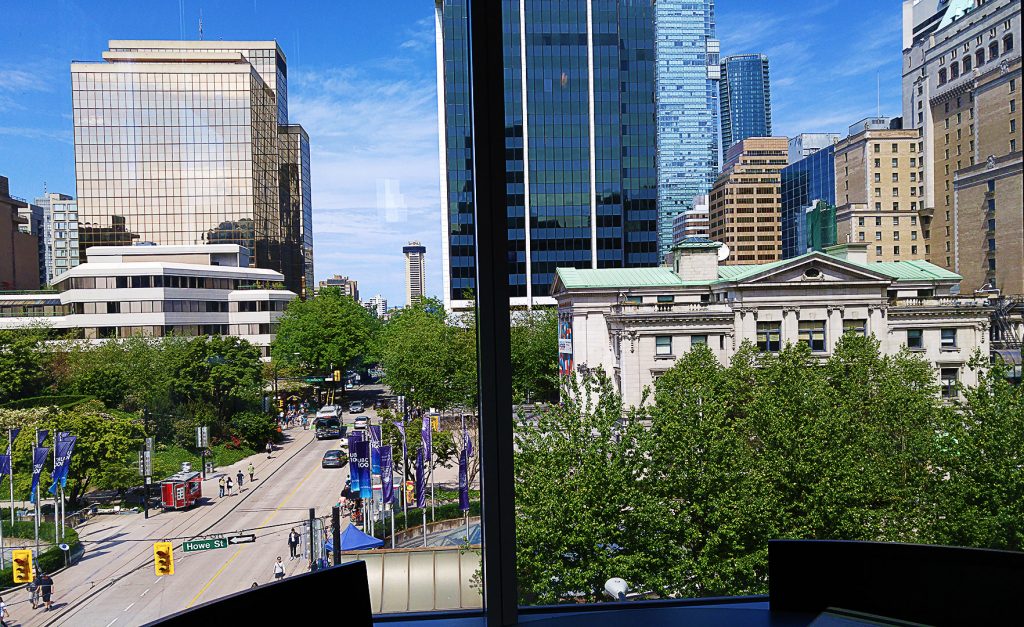 Now, after being pampered by the staff at Bistro Verde with a delicious meal and relaxing view, you'll feel energized again for more shopping. Nordstrom has definitely done their research on how to satisfy a customer's shopping and eating urges.
Restaurant: Bistro Verde
Featured Dish Name: Chicken Waffles
Dish Type: Poultry
Available For: All Day
Dish Price: $18.00
Flavour Profile: Savoury
Served: Hot
Portion Size: Large