The Chilled Beef Noodles to Refresh Your Groggy Day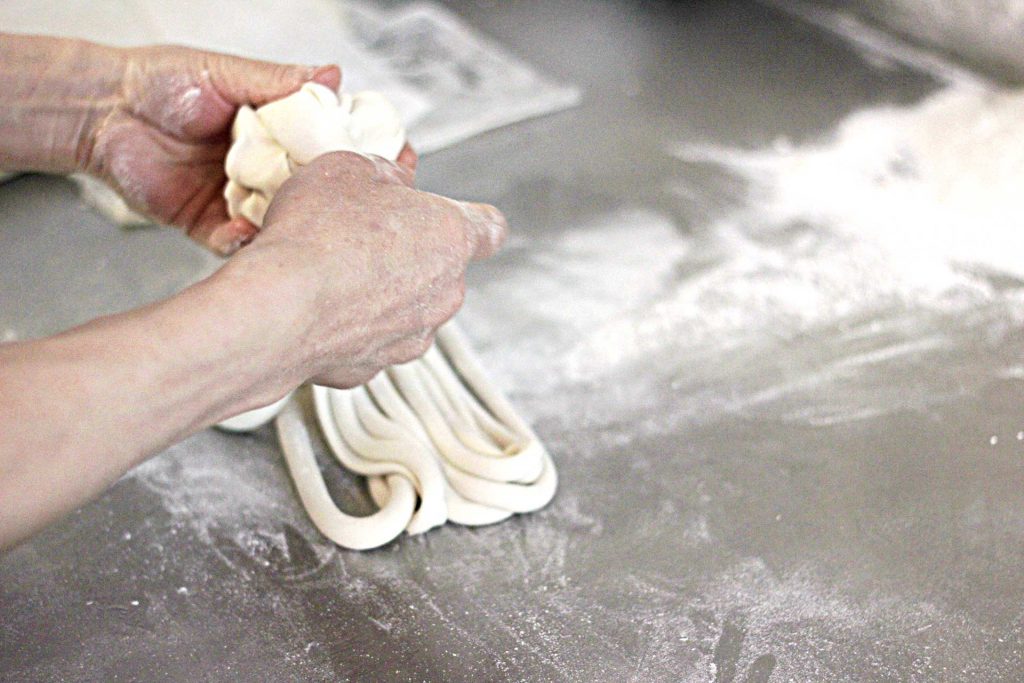 There's a clichéd yet familiar saying within all forms of gastronomy: "You eat with your eyes first." In Asian cuisine, this is usually the case. But one local restaurant, the North Noodle House, brings this general truth to another level by adding an element of vaudevillian performance to your food before it even gets to your plate. Like other restaurants, the North Noodle House offers authentic Northern Chinese food. But its biggest selling point is its truly handmade noodles in all three styles – dragged, cut, and pushed – something that's proudly advertised around the restaurant.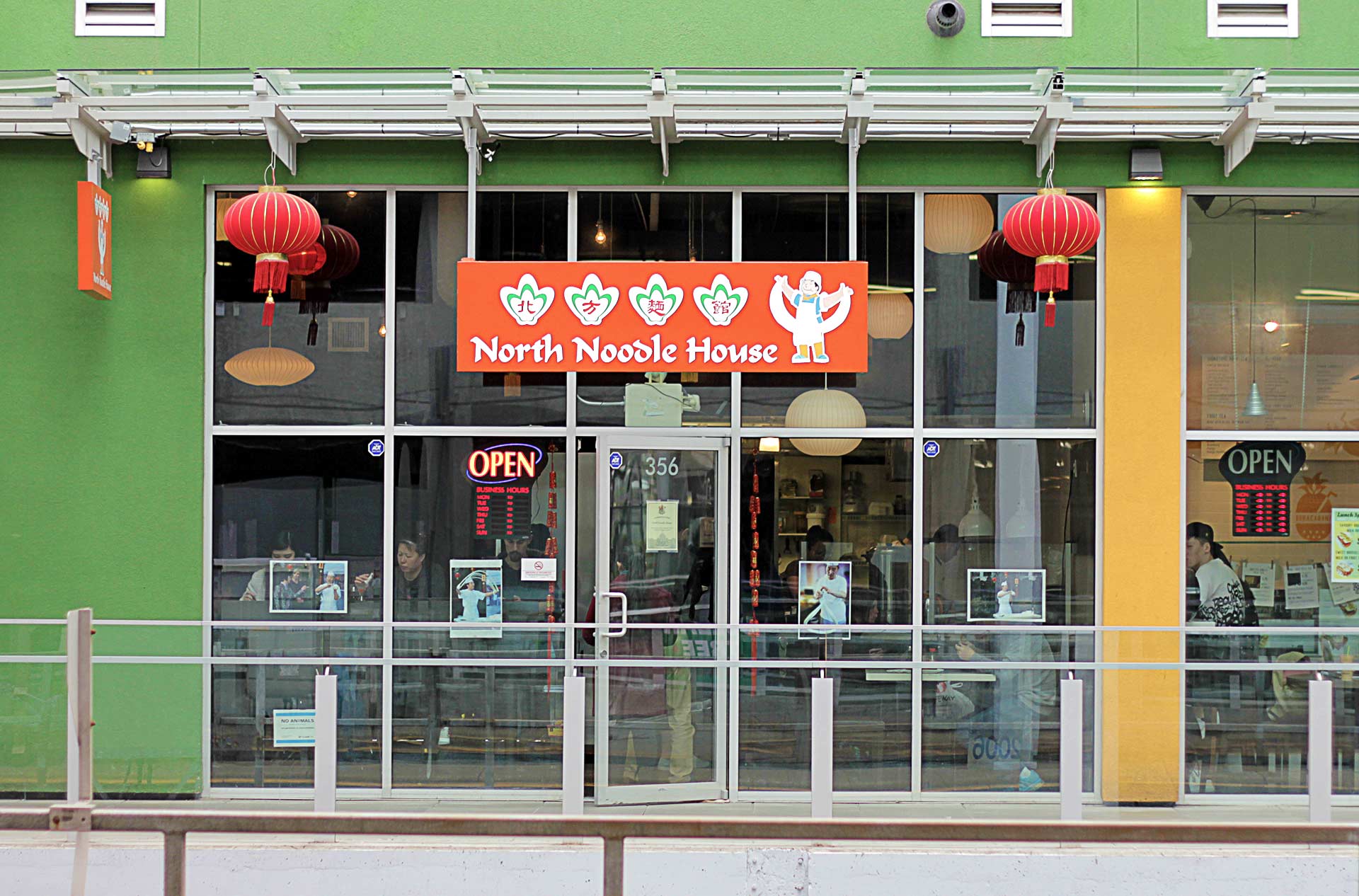 Located within the New Westminster Skytrain station, the North Noodle House is the only location currently operating in B.C. It's a restaurant I often walk past on my commute but never frequented because it was regularly overcrowded with people. On this occasion though, the lines were few and the fragrant smells wafting out of the open wedged door were too enticing to pass up.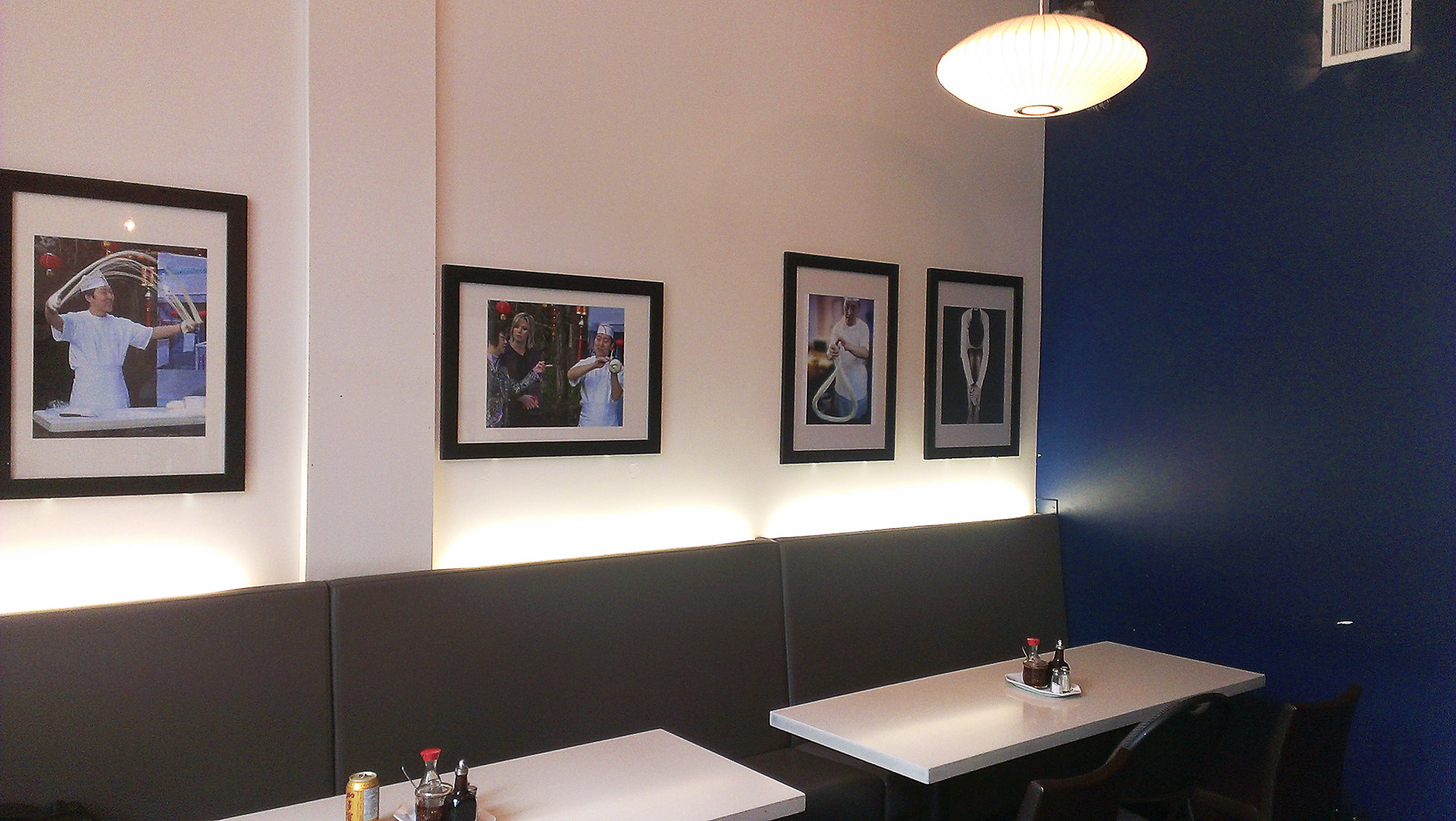 The North Noodle House is small, taking inspiration from both ethnic cafés and minimalistic industrial design. Inside, there are a couple of tables, booths, and high-top bar-style chairs for customers. When there are lots of people waiting to be seated, the atmosphere can feel a bit cramped, but this just makes it easier to strike up a conversation with a stranger.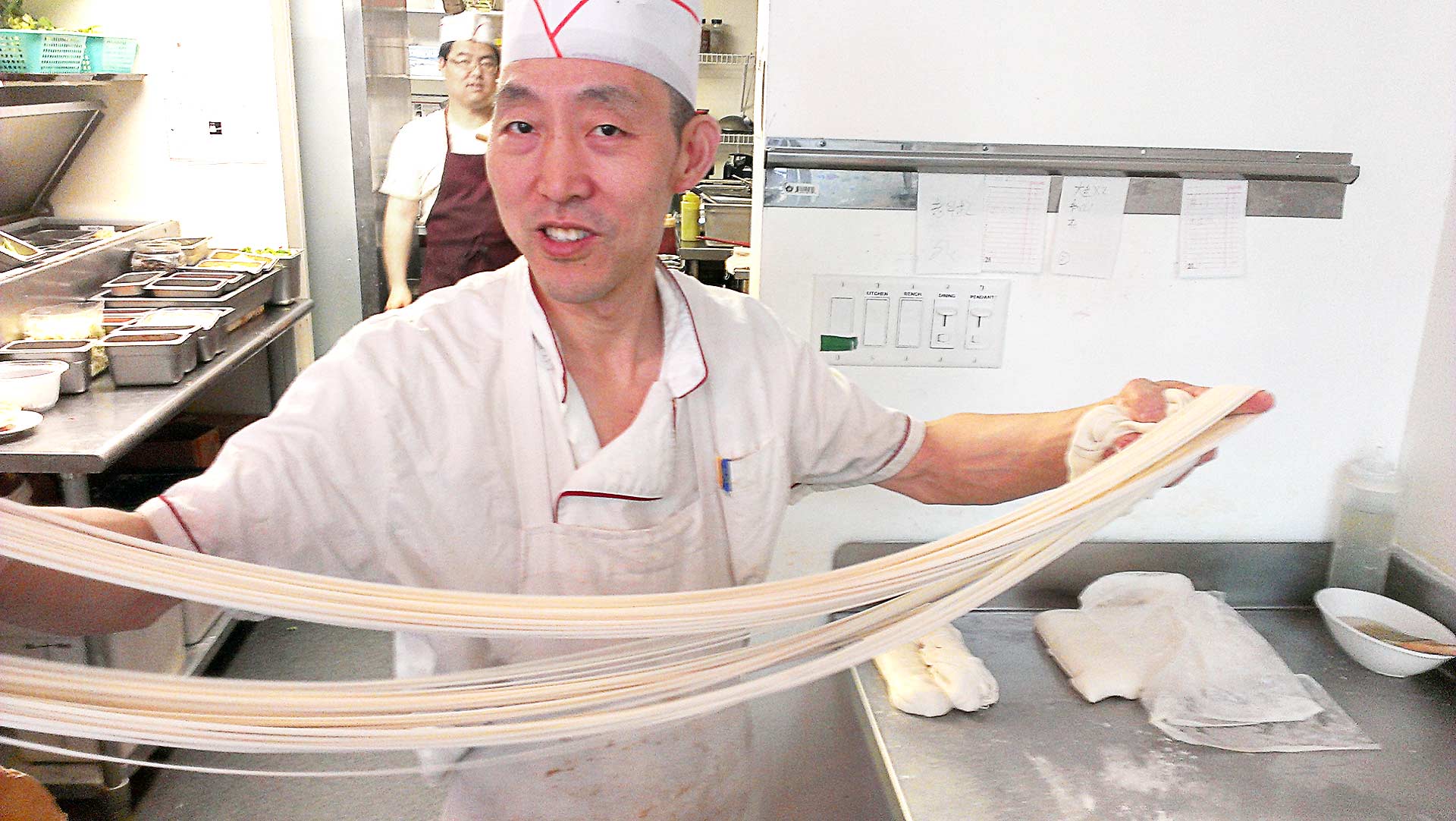 Despite the level of customer traffic, the restaurant's three employees, including the hostess, still managed to deliver friendly and timely service above and beyond what was required. They often took the time to explain dishes as best they could, and this quality level was well reflected in the food as well. This was especially the case with the Flavored Cold Noodles with Beef & Cucumber with a side of Green Onion Pancake, both in presentation and taste.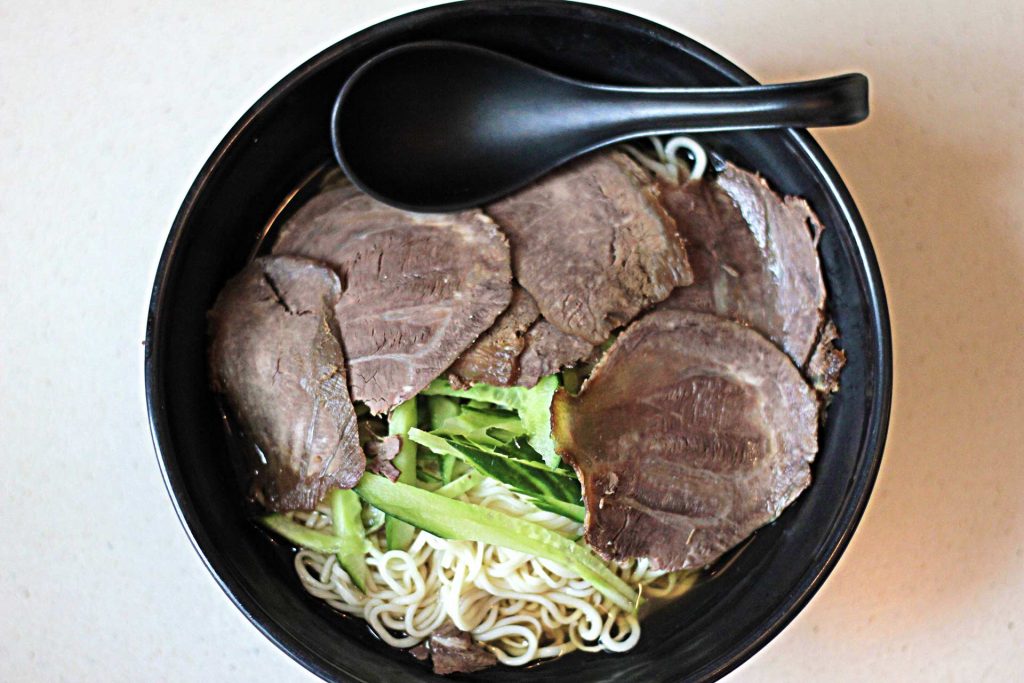 The Flavored Cold Noodles with Beef & Cucumber is one of many handmade noodle options on the menu. As I witnessed, the technique used to make the noodles is unique and fascinating. Out of a single ball of dough, the chef prepared the handmade dragged noodles by stretching, pulling, and twisting the dough until it magically transformed into what seemed to be one endless noodle.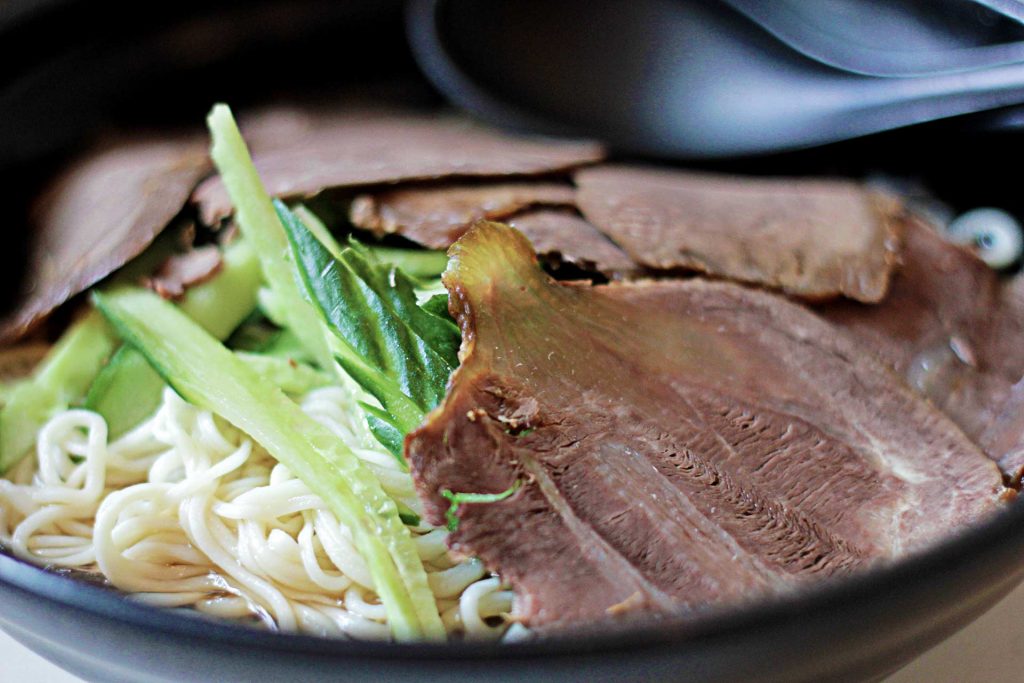 Served chilled, the dragged noodles were accompanied by thin slices of cucumber and slabs of circular beef.
The thickly sliced pieces of beef accentuated the handmade noodles and cool cucumbers with every coarse, fibrously textured bite.
For meat known to be high in fat, the beef tasted a lot leaner than I expected.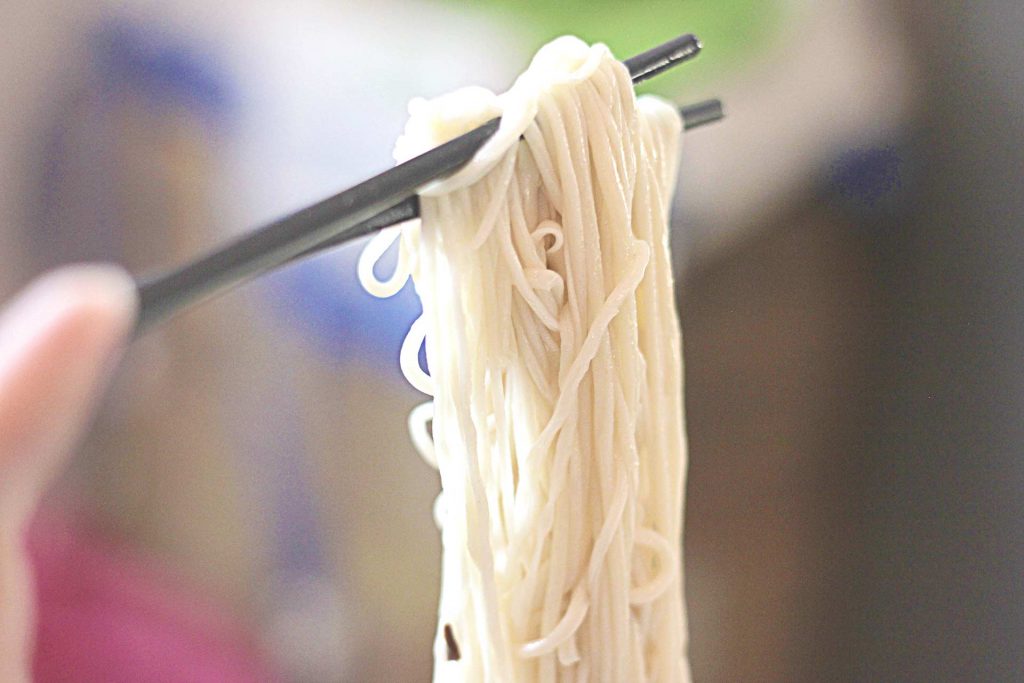 The cold chunky noodles offered a smooth, stringy, gluten-like texture in my mouth – almost like cold spaghetti noodles, but better. These wet noodles swam on top of a mildly salted cucumber and beef broth. This broth, instead of assaulting my taste buds, merely sat at the back of my throat to bring out the flavours of the rest of the dish. Despite it being a cold dish, the Flavored Cold Noodles with Beef & Cucumber was positively satisfying, especially on a warm day. And the generous portion was enough for two as I wasn't able to finish the entire meal.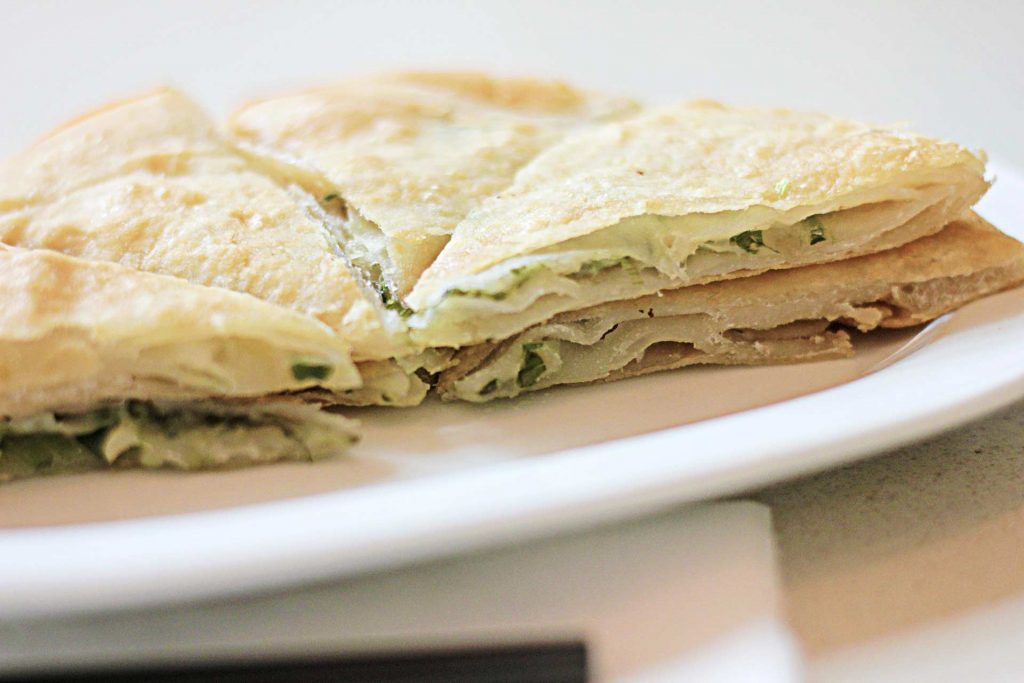 On the side, the warm Green Onion Pancake complemented the chilled noodles, playing off as a cross between a dessert and a snack. Made from dough, it was folded with minced scallions and broiled with an oily consistency. Sliced into eight halves, the pancake's flaky outer crust crumbled at the touch while the soft, moist inner layers stretched and folded away. Flecks of scallion within the pancake, in combination with the strong aromatic onions, offered a savoury taste. With every bite, the only thing that was left was excess flour and the crispy remains of the crust on my fingertips, ready to be licked off.
Both handmade dishes paired well together as they offered both a cool and warm savoury experience, definitely waking you and your taste buds up. However, being located near a busy Skytrain station also means the North Noodle House receives a revolving door of customers. So, expect to order food to go or bring a friend and devour the dishes over a conversation with others.
Restaurant: North Noodle House
Featured Dish Name: Flavored Cold Noodles Beef & Cucumber
Dish Type: Noodles
Available For: All Day
Dish Price: $9.95
Flavour Profile: Savoury
Served: Cold
Portion Size: Large