The Sweet and Savoury Pancakes for your Late-Night Breakfast Cravings
For a '50s feel in East Vancouver, there's no better place to travel back in time than Lucy's Eastside Diner. This cozy joint is open 24 hours a day, seven days a week, and serves up typical diner fare (think burgers, milkshakes, and all-day breakfast). It's decked out with vinyl booths, checkered floors, and old-school signage. All that's missing is a jukebox.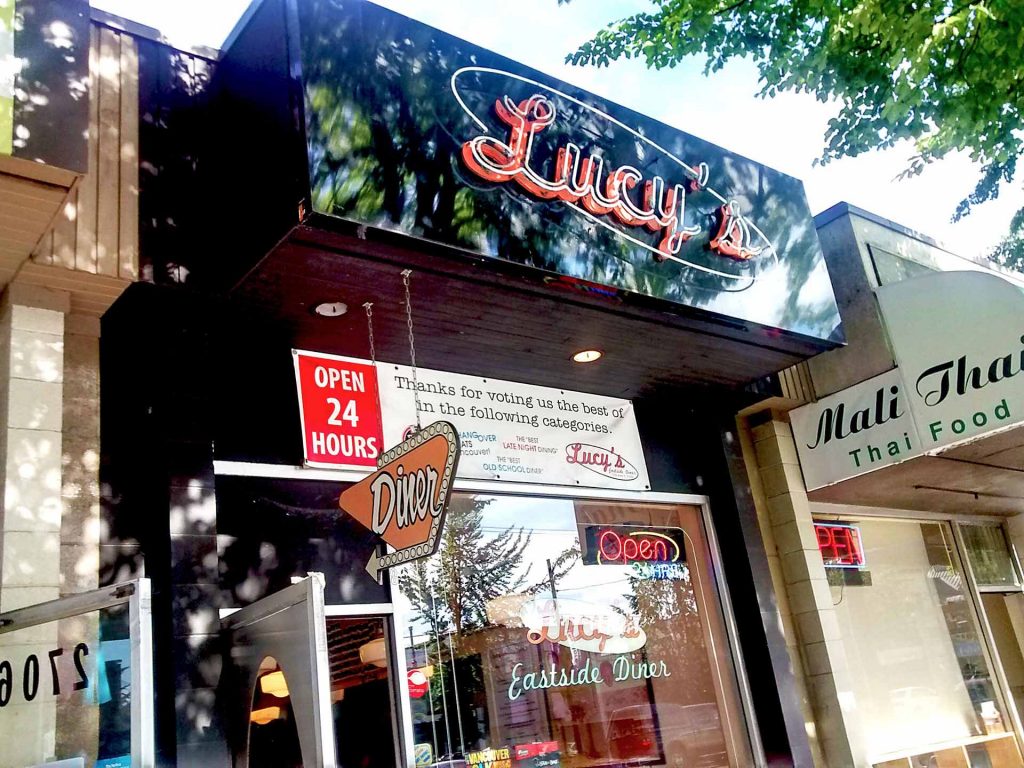 But the one thing Lucy's isn't missing? Flavour. Especially when it comes to some of their specialty items like the Pulled Pork Pancakes. The Pulled Pork Pancakes are the perfect late-night order. They combine the sweet comfort of pancakes, savoury tang of pulled pork, and incomprehensible appeal of being able to order breakfast any time of day.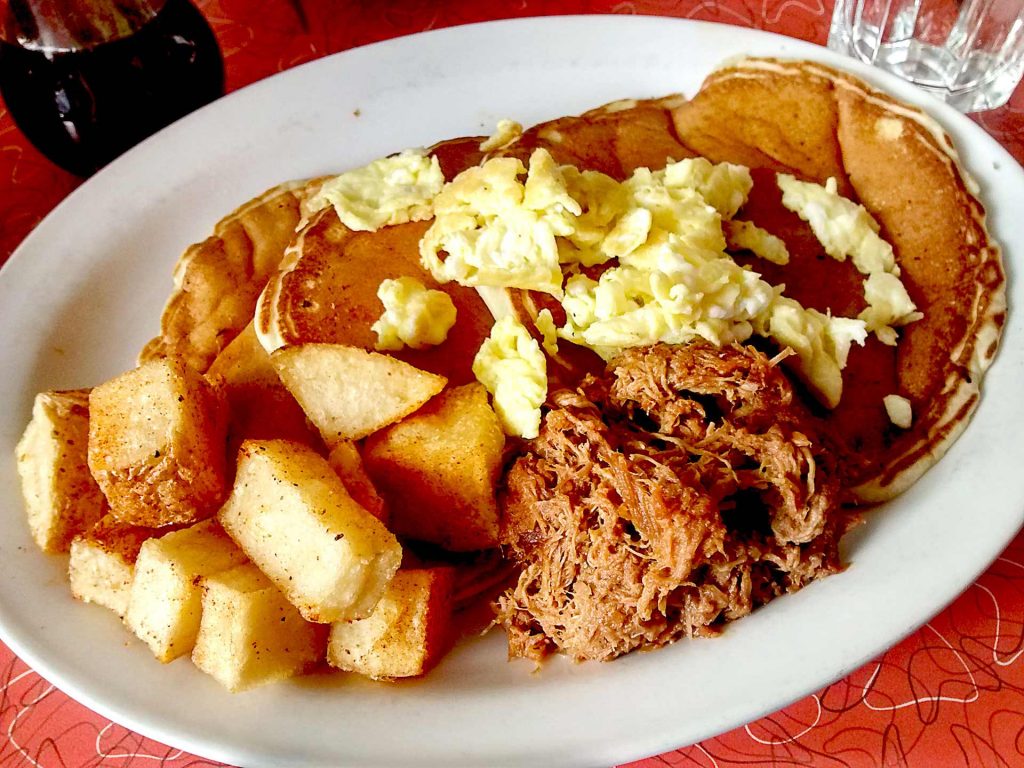 The best part about these pancakes? Not only do they come with a scoop of pulled pork on the side, but they even have pulled pork cooked right into them.
The first few bites are all about the pancake: familiar, fluffy, and deliciously sweet. But then, you get to the pork and wonder how this moist, flavourful meat pairs so well with the syrup-soaked pancake it's housed in.
Lots of dishes combine savoury and sweet, but I would venture none do so as successfully as Pulled Pork Pancakes.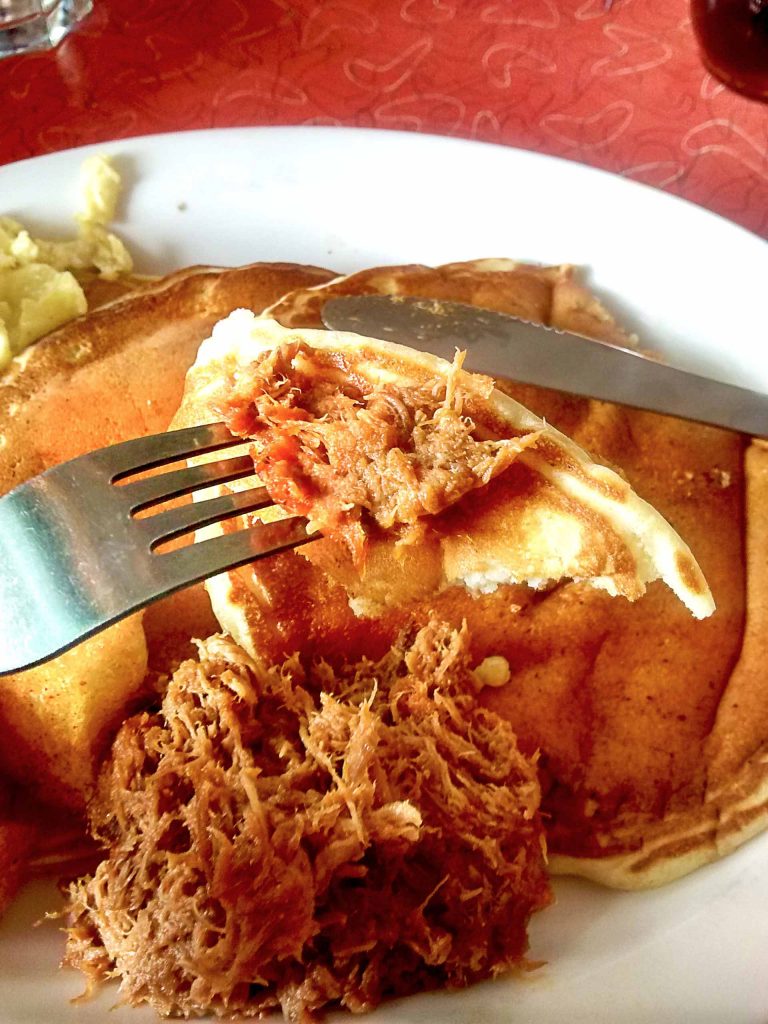 Besides the pancakes and side of pulled pork, this dish also comes with hashbrowns and eggs – all for less than $10! The eggs are standard and made to order, though the menu suggests ordering them fried. The hashbrowns, however, were a bit disappointing. On my latest visit, the hashbrowns were hard and stale, as if they'd been cooked in the morning and left out all day. But even stale hashbrowns couldn't detract from the highlight of the dish: pancakes with pulled pork right in the batter.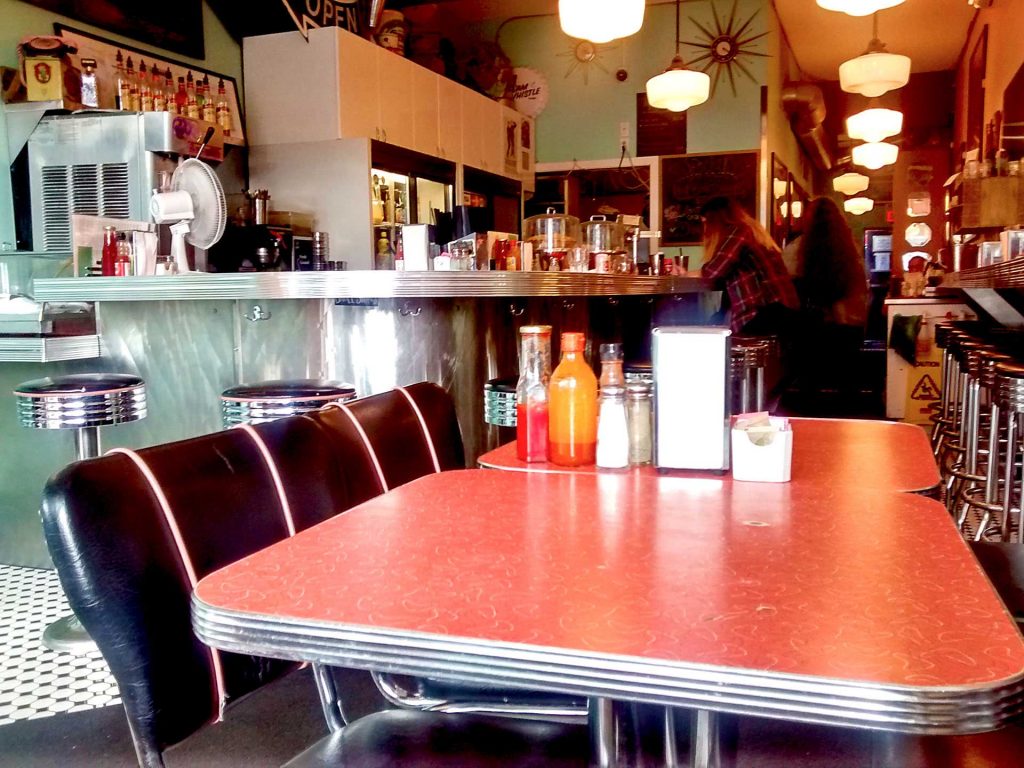 With delicious food, low prices, and unbeatable hours, Lucy's Eastside Diner is a no-brainer for an East Van food fuel-up. The portions are large and they offer something on the menu for everyone. Even my vegan dining mate found a sandwich that satisfied. The service is friendly but the space is small and can fill up quickly. The retro vibe at Lucy's appeals to diners of all ages. During my latest visit, high-schoolers shared milkshakes at the countertop, a young family took over a booth at the back, and an elderly couple dined on the tiny patio. This shows a nostalgia-inducing family-run restaurant with amazing food is always a winning combination.
Restaurant: Lucy's Eastside Diner
Featured Dish Name: Pulled Pork Pancakes
Dish Type: Pancake/Waffle/Crepe
Available For: All Day
Dish Price: $9.50
Flavour Profile: Sweet
Served: Hot
Portion Size: Large