The Tastiest Sesame Fries for Late-Night Sharing
With The Naam's mismatched furniture, cramped seating, and less-than-reliable service, first-time visitors may be wondering how this Kitsilano treasure has stayed open for almost 50 years. But ask anyone in the always-present line out the door and they'll tell you the secret: delicious natural foods at reasonable prices being served at all hours of the day.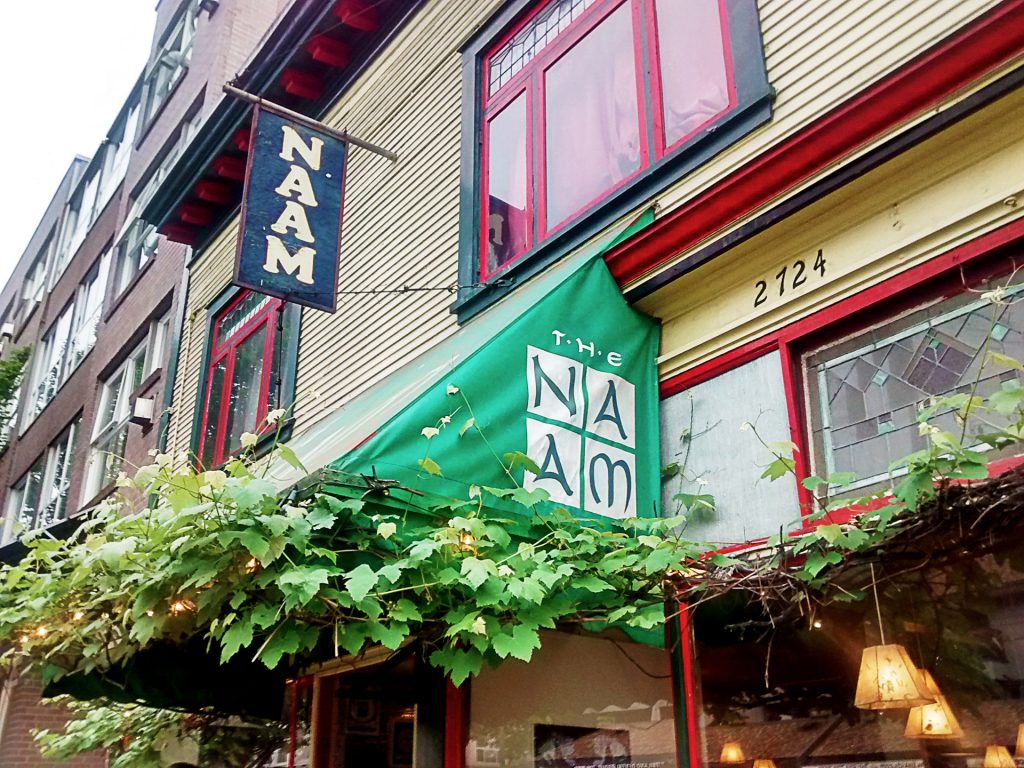 Once you do manage to secure a table, you'll find that the atmosphere changes from cramped to comfortable. What looked shabby at first appearance is actually the foundation of the homey, relaxed atmosphere The Naam seamlessly projects. Even the servers, clad in street clothes, are quickly forgiven for forgetting to fill a water glass or bring the bill, as you can chalk it up to the quirks of a family-run restaurant. This casual vibe is further complemented by the rotating display of local art for sale on the walls and the nightly live music.
But you shouldn't just come here for the atmosphere; you should come for the food. The Naam proudly serves vegan and vegetarian fare 24 hours a day, seven days a week (except Christmas Day). They strive to use organic and local ingredients whenever possible. And even non-vegetarians, like myself, can find plenty to salivate over. There are mountainous rice bowls stacked high with seasonal veggies, an aromatic curry of the day, fresh fruit pies, and – my favourite – the Sesame Fries with Miso Gravy.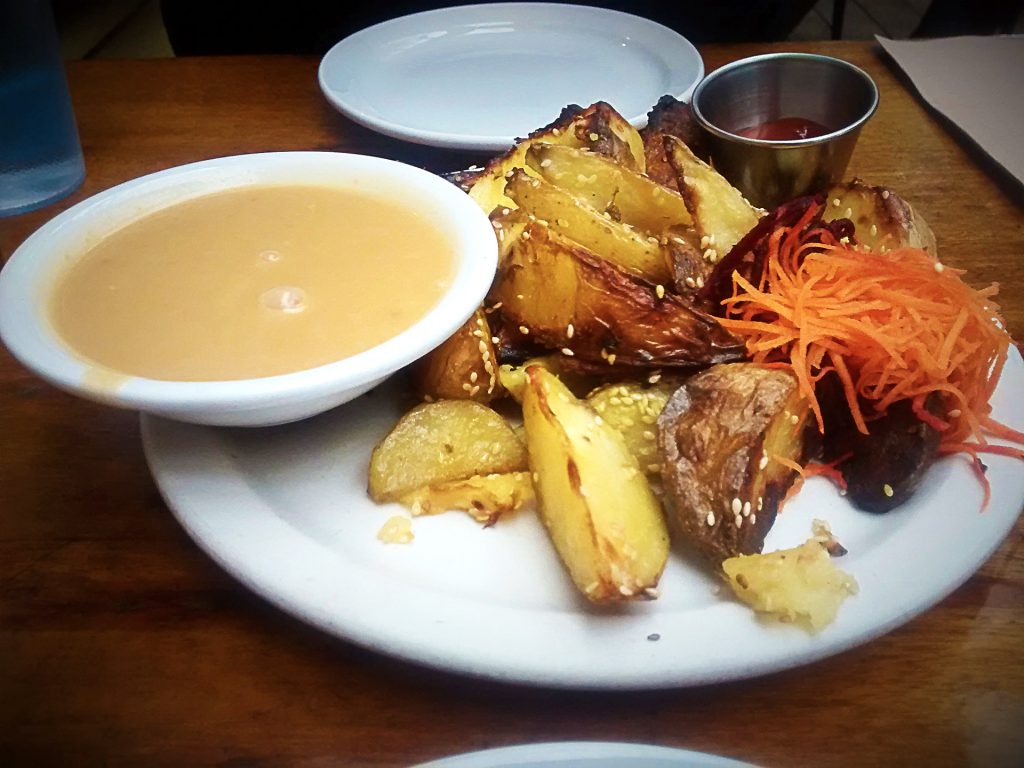 For just $5.95, you'll receive a heaping plate of thick-cut baked potato wedges covered in sesame seeds with a side of shredded carrots and beets. These are not your fast food fries. These fries are made from hand-cut Yukon Gold potatoes from the Fraser Valley and are packed with flavour. Each fry is perfectly baked for a crunchy outside and soft, delicious inside.
The sesame seeds take these potato wedges to another level by adding a toasted flavour and delicious crunch.
Pair them with The Naam's signature Miso Gravy for a slightly sweet addition to your savoury plate.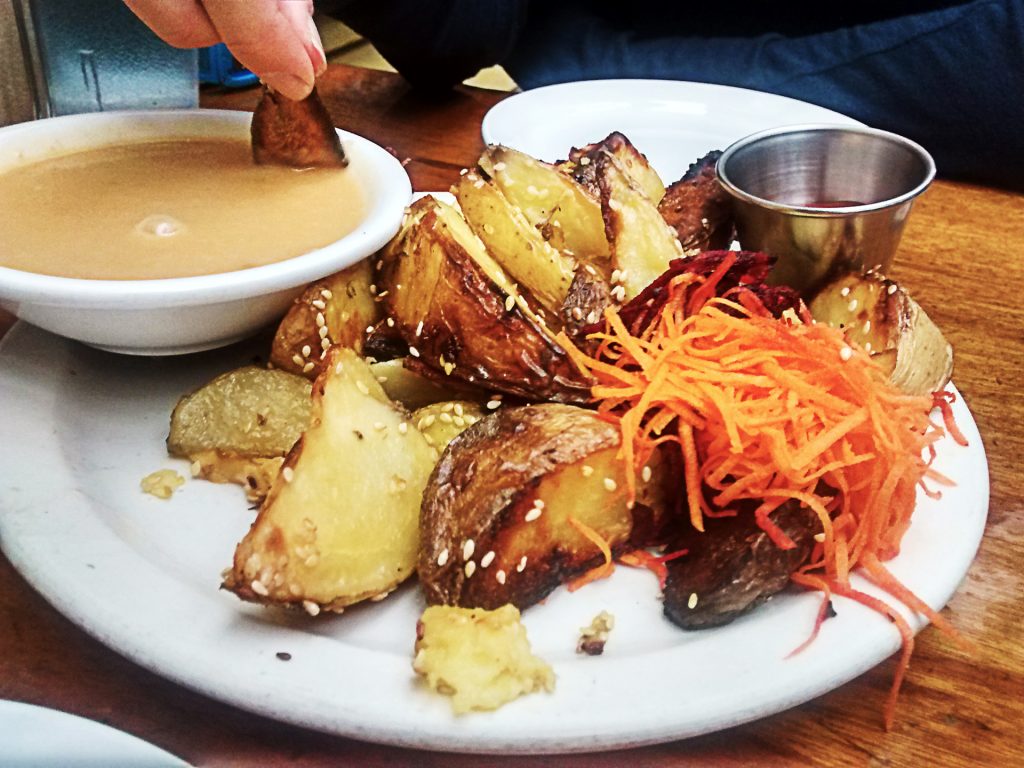 At first glance, the Miso Gravy would be avoided; a cloudy thin mixture in an off-grey colour is not what you would think to pair with fries. But after a cautionary dip, you'll find the tangy sauce perfectly complements the sesame fries, taking them from a heavy plate of carbs to a flavour-rich late-night snack. And if you love the Miso Gravy as much as I do, you can buy it bottled directly from The Naam or many other local retailers.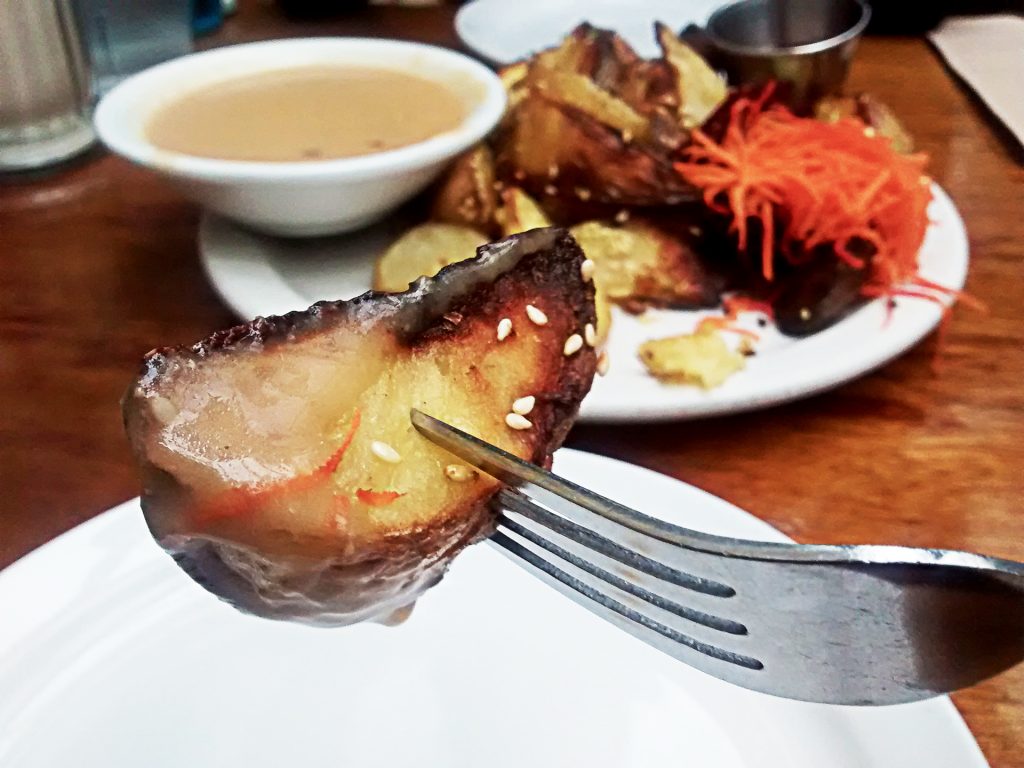 Even though I'm not a fry girl, I go out of my way to order the sesame fries when I'm at The Naam. They work perfectly as a shared appetizer for the table or on their own as a quick late-night snack. The portion size is generous, often to the point where my friends and I are unable to finish our entrées because we licked the plate of fries clean. But if you do have room for an entrée, let me suggest the always-tasty Thai Dragon Bowl.
If you find yourself in the Kitsilano area craving something hearty and healthy (or as healthy as fries can be), head over to 4th and Macdonald to enjoy the relaxed vibe and delicious wholesome food at The Naam. Order an extra serving of Sesame Fries for me!
Restaurant: The Naam
Featured Dish Name: Sesame Fries
Dish Type: Antipasti/Tapas/Snack
Available For: All Day
Dish Price: $5.95
Flavour Profile: Savoury
Served: Hot
Portion Size: Small