The Soft Bavarian Pretzel To Fuel Your Next Brewery Tour
The one thing that Vancouver is definitely not short of is microbreweries. With over 50 breweries in the Lower Mainland, everyone needs to do a brewery tour through Vancouver at least once! I myself have been on many, so as an expert in this area, I can't stress enough the importance of good food to go with your beer. My favourite food to keep me going during a brewery tour? The Pretzel Board from 33 Acres Brewing Co. in Mount Pleasant.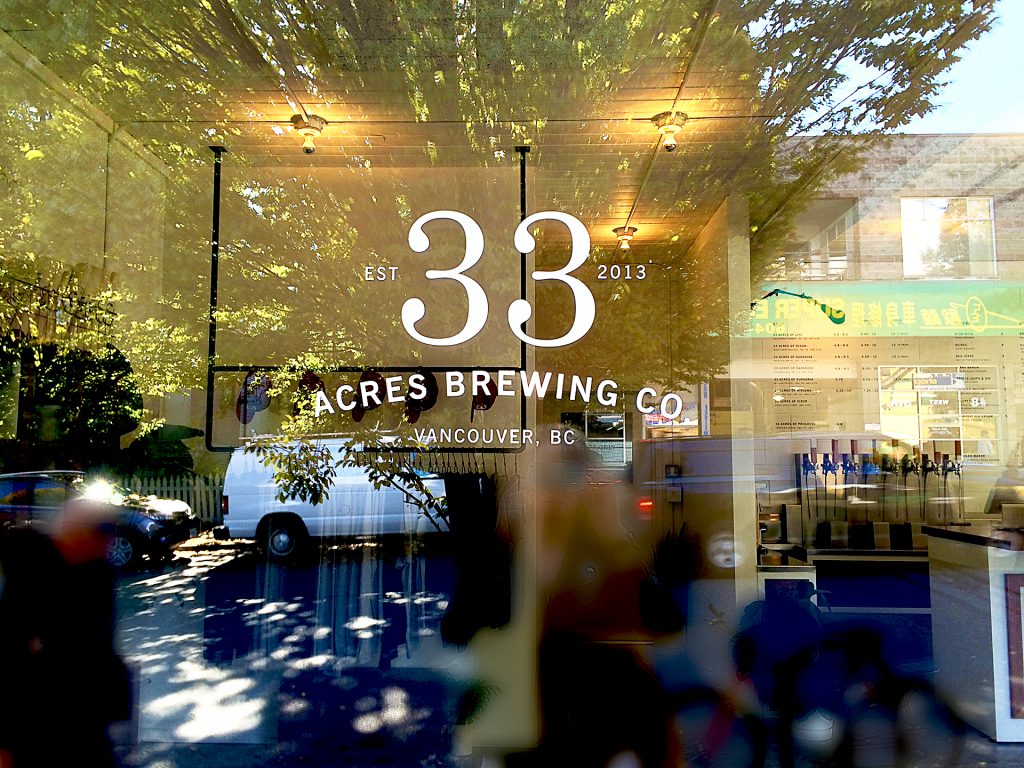 Most breweries offer some kind of food or snack, which is great. However, they specialize in fermenting malted barley and starch, and not necessarily in roasting a chicken to perfection. With my German heritage, I prefer a solid and hearty meal to counterbalance the boozy brews. On the other hand, beer is pretty filling, so you don't want a huge meal to go with it.
The Pretzel Board from 33 Acres offers the perfect amount of food and pairs nicely with a crisp lager. The board comes with a fresh pretzel and their famous farmer sausage, topped off with pickles and sweet mustard on the side. All of it sits nicely on a wooden board.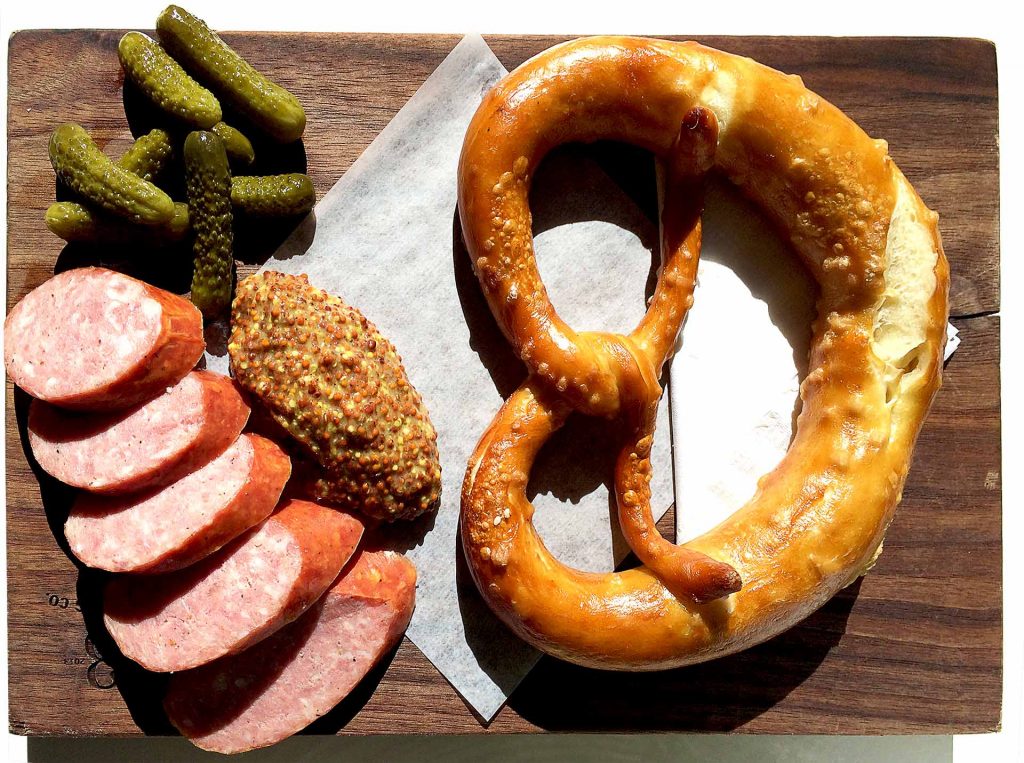 The best part of the board is definitely the pretzel! Perfectly golden, slightly crisp on the outside, and beautifully soft on the inside, it's a true experience of textures. I like to enjoy my pretzel almost pure. But, occasionally I'll dip it into the sweet mustard.
It's that mix of textures that makes eating this pretzel a special experience.
Pretzels are a staple for a Bavarian girl like me. So, upon moving here, I was hunting for a pretzel that would compare to the ones back in Germany. I discovered very different interpretations to what a pretzel is. Some had completely different shapes, while some were too soft or covered in oil. The pretzel at 33 Acres is still softer than what I am used to but it's the closest I could find to a traditional Bavarian pretzel. And I have to say, I quite like the softer texture now!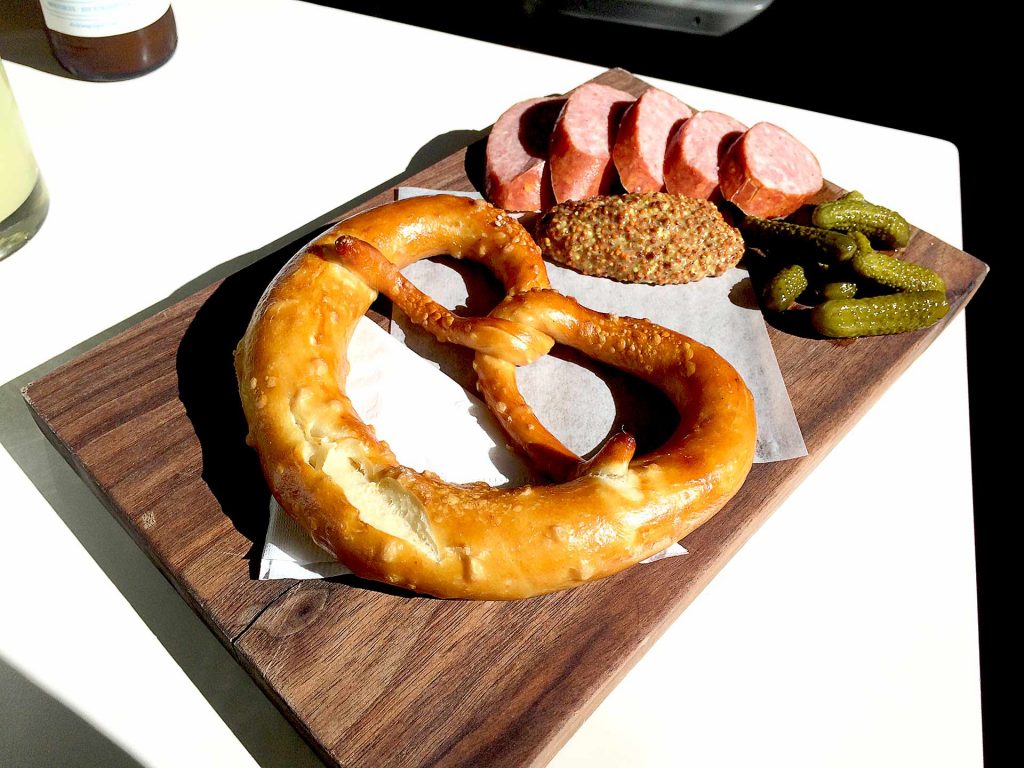 The juicy farmer sausage that's part of the board is the perfect companion to the pretzel. It's cut up into big slices, and biting into the cured pork meat, you'll discover its delectable savoury flavour. Alongside the pretzel and the sausage, the board comes with a few miniature pickles. Their tangy taste and nice crunch add to the dish and give it a fresh twist.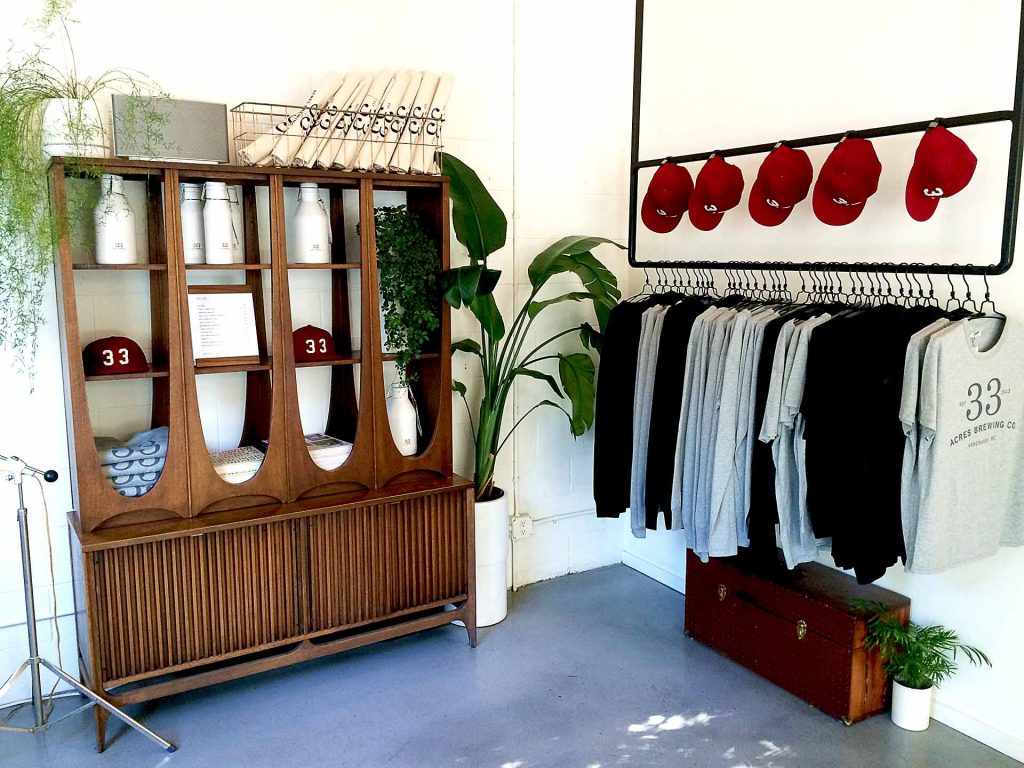 The Pretzel Board at 33 Acres is a true comfort snack that will keep you going as you sample more of the amazing craft beer Vancouver offers. You can enjoy all of that in a very hip atmosphere. I would describe the ambience at 33 Acres as minimalist with a comfy touch. The room is fairly small with a few small tables and one longer big table in the middle. The color palette features white, black and beige, which makes the room very bright. Big windows support that bright and airy feel as well. Finally, a few well-placed plants and cacti terrariums give the space a personal and homey feel.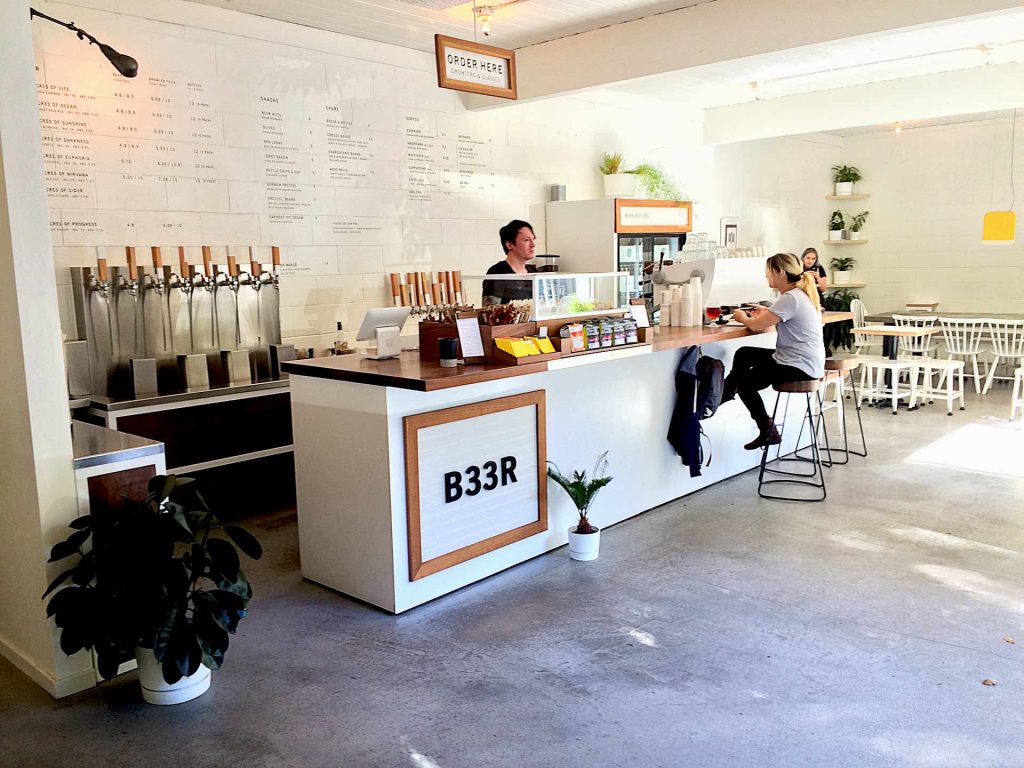 The staff at 33 Acres are incredibly friendly and courteous. They also absolutely understand their beers, as well as the food and coffee they sell. They're always happy to assist you with any questions or food restrictions. So, go ahead and start your next brewery tour at 33 Acres.
Restaurant: 33 Acres Brewing Company
Featured Dish Name: Pretzel Board
Dish Type: Platter
Available For: All Day
Dish Price: $7.00
Flavour Profile: Savoury
Served: Cold
Portion Size: For Share