The Healthy Raw Curry Burger Filled With A Sweet Surprise
One day, as I was exploring Commercial Drive with a friend, I saw Eternal Abundance All Organic Grocer and Vegan Cafe across the street. Right then, I knew then I had to put this place on my restaurant checklist! More recently, I stood right under the signboard, ready to step in and cure a growling stomach. I didn't know yet that a raw Curry Burger would be the perfect remedy for my hunger pangs.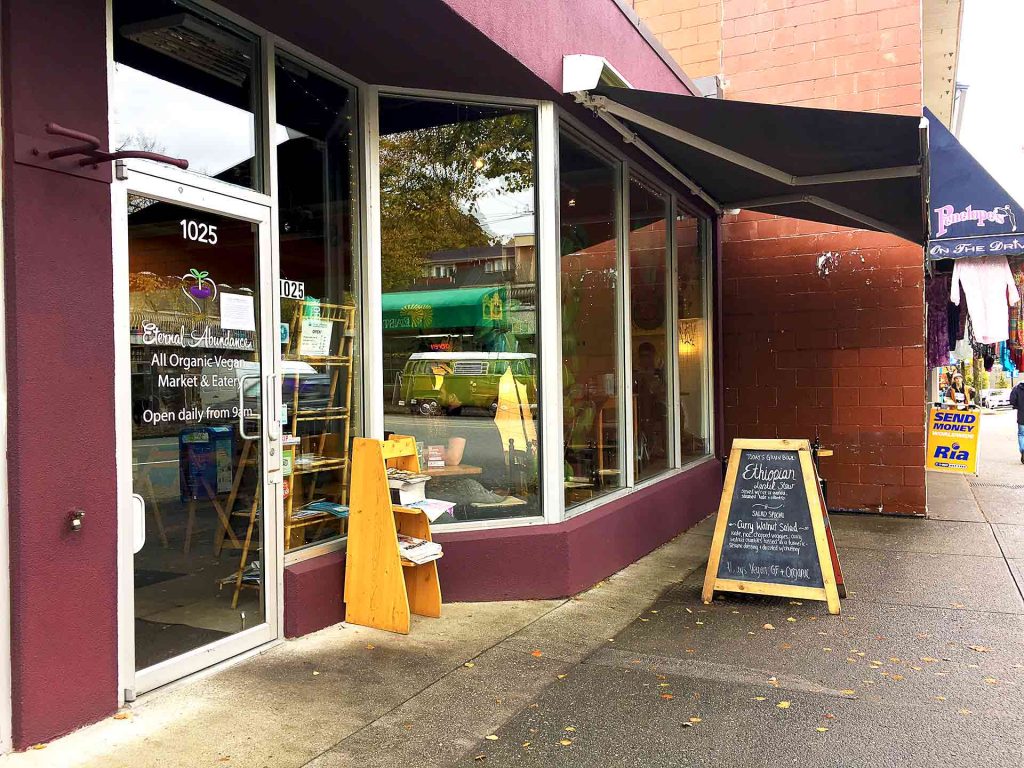 Walking into Eternal Abundance, I saw a small section of the cafe filled with diners and a display of vegan and raw vegan desserts. As I walked to the counter to get the menu, I also noticed a small area for produce and healthy items in jars. What caught my eye on the menu, however, was the selection of raw vegan burgers, especially the Curry Burger.
All Eternal Abundance burgers come with raw hummus, veggies, sauce, and creamy hemp-garlic dressing as base ingredients, with a mini slaw on the side. What made me decide on the Curry Burger at Eternal Abundance was the raisin chutney. A mildly spiced almond-sunflower patty served with raisin chutney? This I was very curious to try!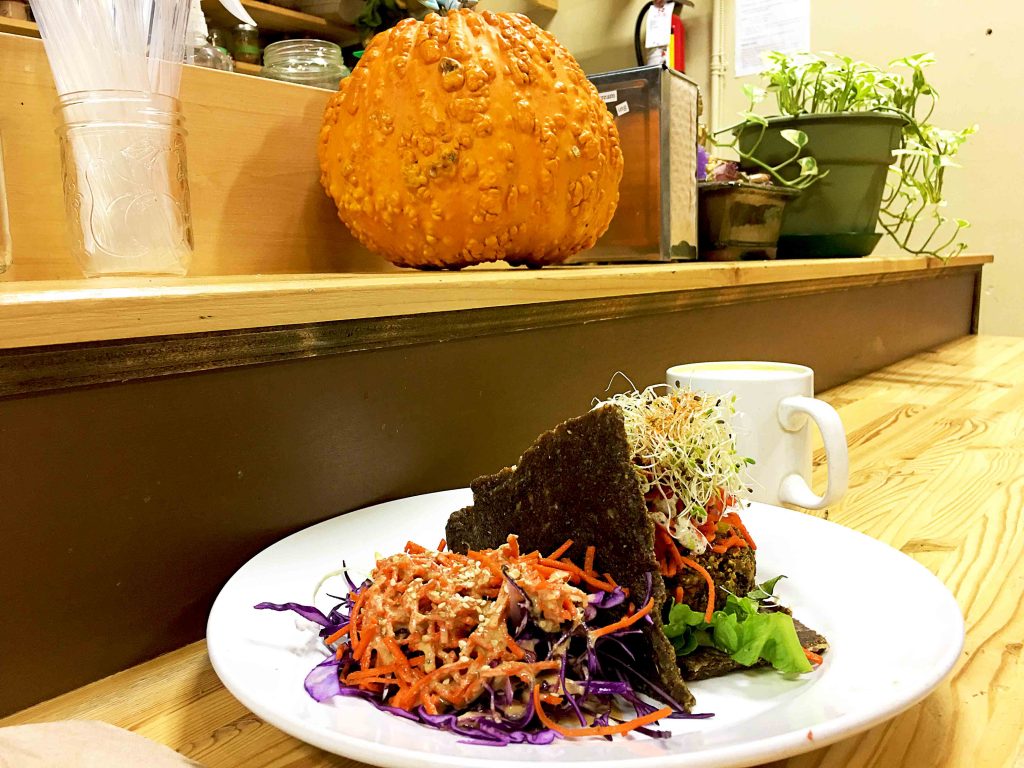 A server headed over with a plate heaping with food that looked vivid and colourful! A thin slice of onion bread separated the miso-ginger slaw with finesse. On the flipside of the bread was the almond-sunflower curry patty, topped with a layer of shredded carrots, raisin chutney, and hemp-garlic dressing. Sprouts garnished the Curry Burger.
The mini slaw was this vibrant shredded purple cabbage and carrot mix topped with miso-ginger dressing, which gelled harmoniously with the salad. I'd prefer a milder version of it though, as the ginger bordered on being a little overpowering. But, I love how this dressing broke the stereotype of using mayonnaise in burgers and slaws.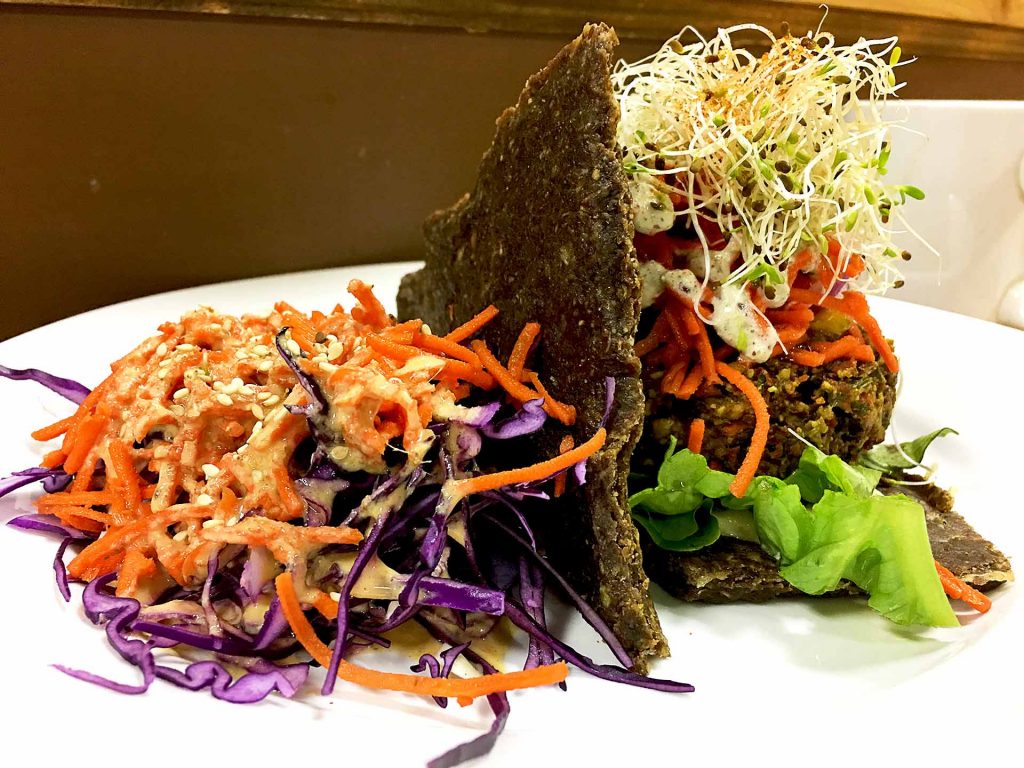 After enjoying my delicious, raw veggie salad, it was time to check the burger out! At Eternal Abundance, you can choose between collard leaves as your burger "bread" or onion bread. Their onion bread consists of blended, dehydrated, and pressed sunflower seeds, flax seeds, onion, and olive oil. Both the collard leaves and onion bread are great low-carb and nutritious options, but the onion bread is slightly more nutrition dense and heavy.
I broke into the bread and contrary to what I expected, it turned out to be a thin, soft, and slightly moist slice, similar to a flattened date bar. Only, the onion bread is savoury with onions. I bit into it and quite liked the chewiness and subtle spiciness of it.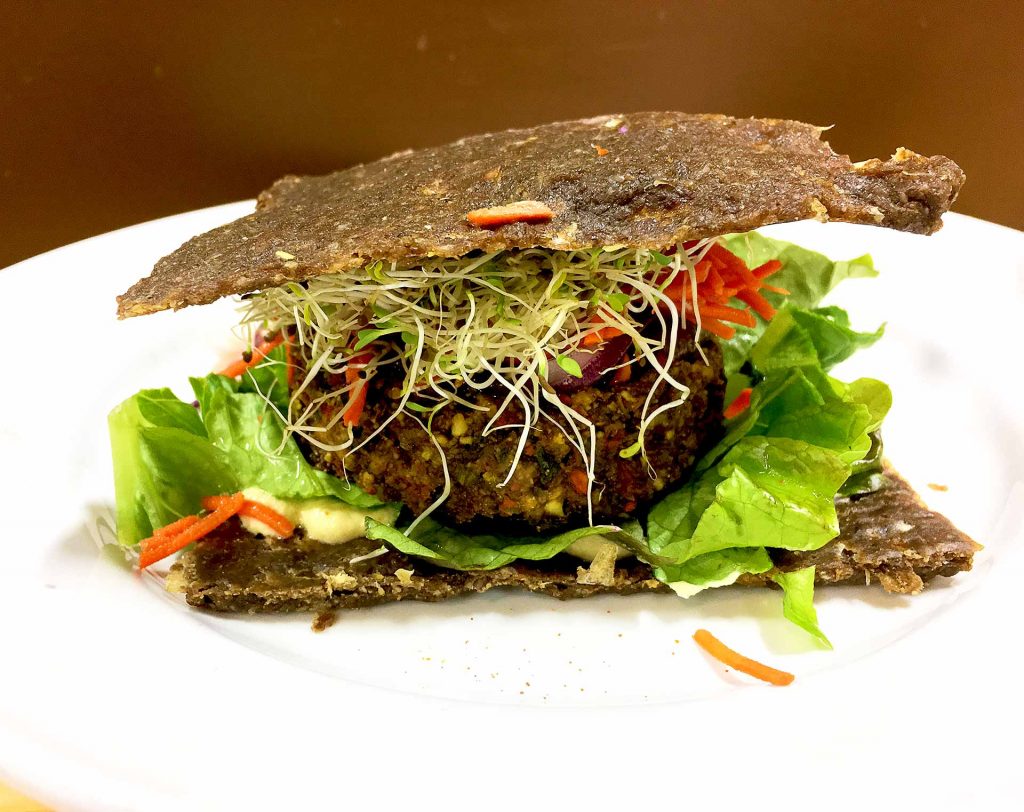 On my second bite, I savoured the onion bread with the rest of the burger and…
Wowzers! Each and every ingredient of the Curry Burger blended together so well! This raw burger had just the right amount of sweet and almost tangy raisin chutney oozing out, which I would say was the star ingredient.
I found the patty to be a little dry. But, this made sense, as the chutney's flavour richly completed the burger and complemented each element of it. This was such a rawfully delicious burger! It made me so full that I couldn't finish my last few bites. I also sipped on a Turmeric Tea Latte, which added to my fullness.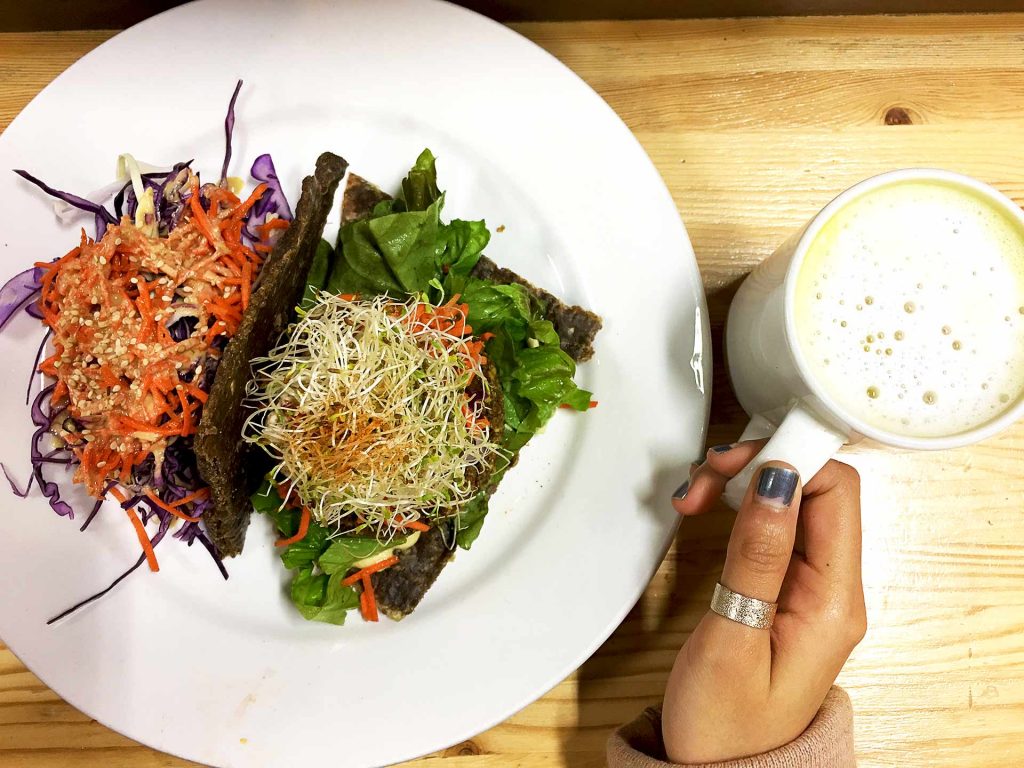 Eternal Abundance Cafe's raw Curry Burger is literally jam packed with real nutrition while being unbelievably satiating. It's a great healthy option if you want something savoury with a zing of sweetness in there!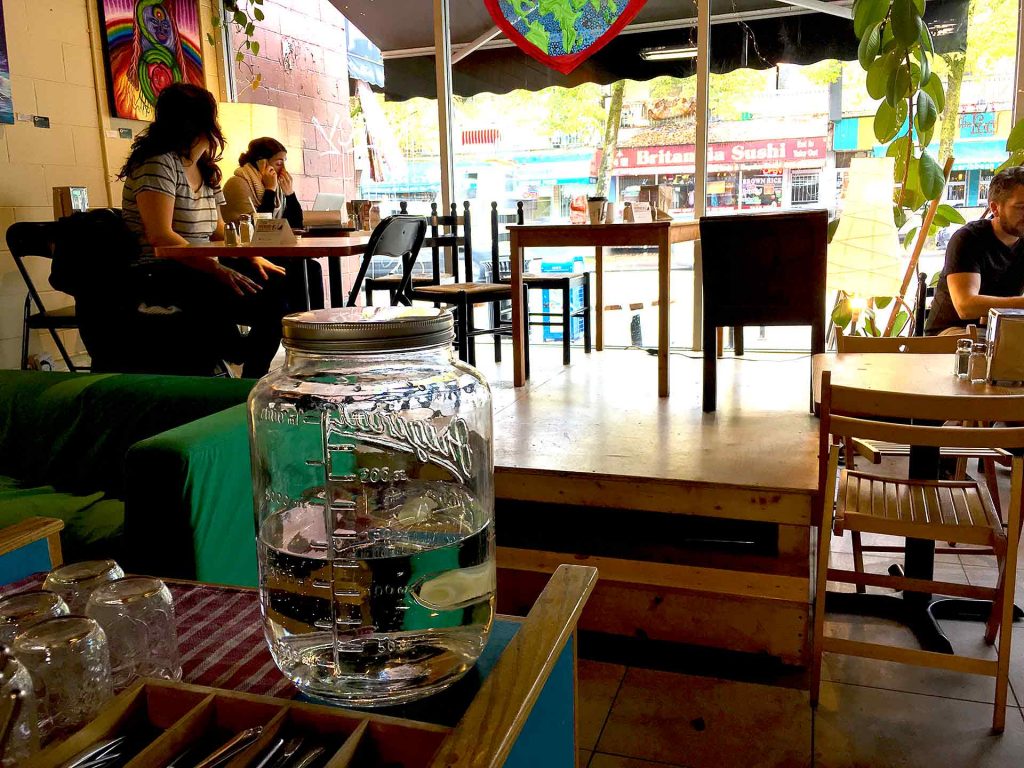 The atmosphere at Eternal Abundance wasn't what I expected. Though the space wasn't crowded, it was a bit too tiny for me to relax. However, don't let this fool you, as the food really brings you to life! If you feel like eating at home, have Skip the Dishes or Door Dash deliver your meal. Next time I'm at Eternal Abundance, I plan to try their desserts, especially their raw vegan ice cream sandwiches.
Restaurant: Eternal Abundance Café
Featured Dish Name: Curry Burger on Onion Bread
Dish Type: Burger/Sandwich/Wrap
Available For: All Day
Dish Price: $11.50
Flavour Profile: Curry
Served: Hot
Portion Size: Large