The Perfectly Stacked BLT for a Carb-Lover's Craving
Meeting on the eastern borders of Gastown made me nervous about my commute. I rarely set foot in that territory. But I knew two things: one, the area is not in its greatest glory, and two, East Hastings is a promising destination for different. That being said, I couldn't help but notice my walking dialed into a hurried pace, and I began questioning my sense of direction. Lost + Found Cafe, you were worth the trip, because I'm still craving your sandwiches.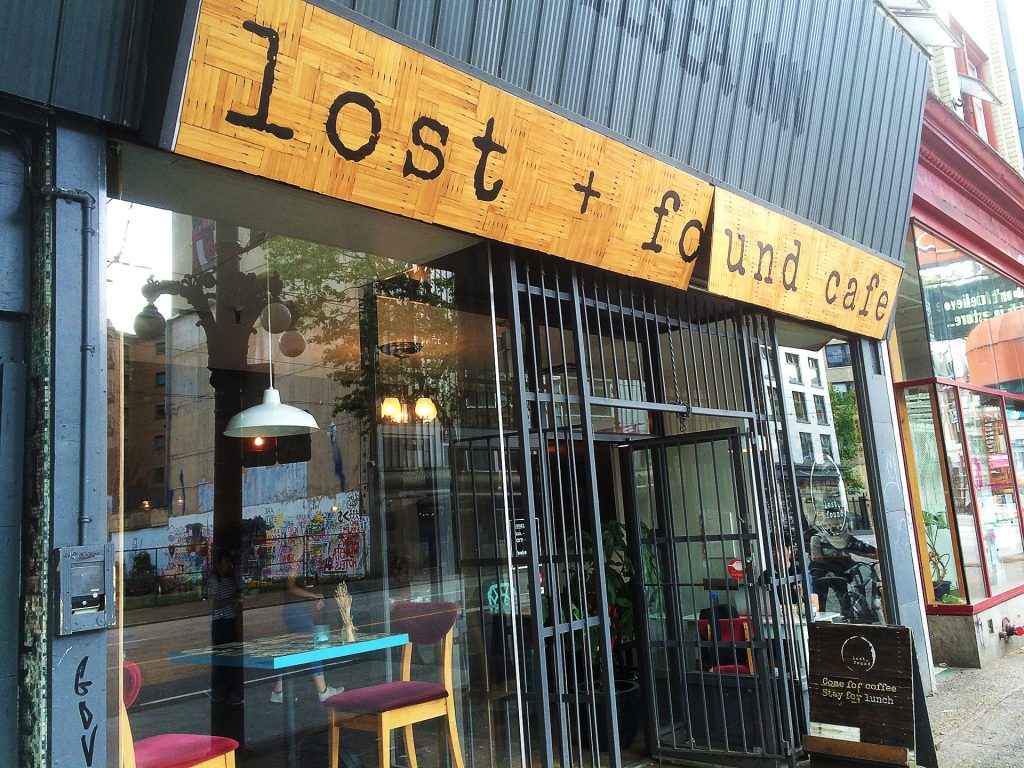 Although hidden in East Vancouver, Lost + Found is featured on The Vancouver Sun, the It's To Die For Best Lunch Spot List and even CTV. Lost + Found serves the cookie-cutter menu of most independent cafés in Vancouver, though they do have an attractive salad selection. It was, in retrospect, easy to conclude that everything – from their breakfast items to eclectic drinks – is worth trying.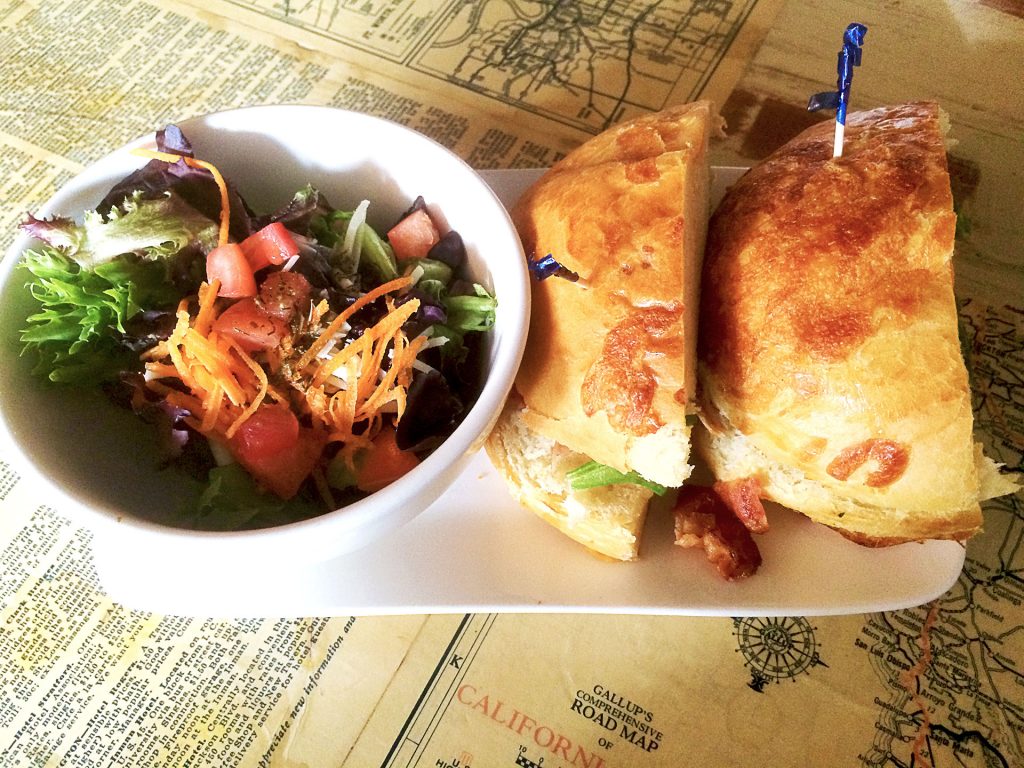 I was craving a dash of sodium, so the BLT seemed a fitting sandwich choice for me. I was told it was the popular pick besides the Stacked Veg Sandwich. Before I dug into my BLT, I took a bite out of my friend's Curry Apricot Chicken Sandwich and fell in love with the consistency of both sandwiches.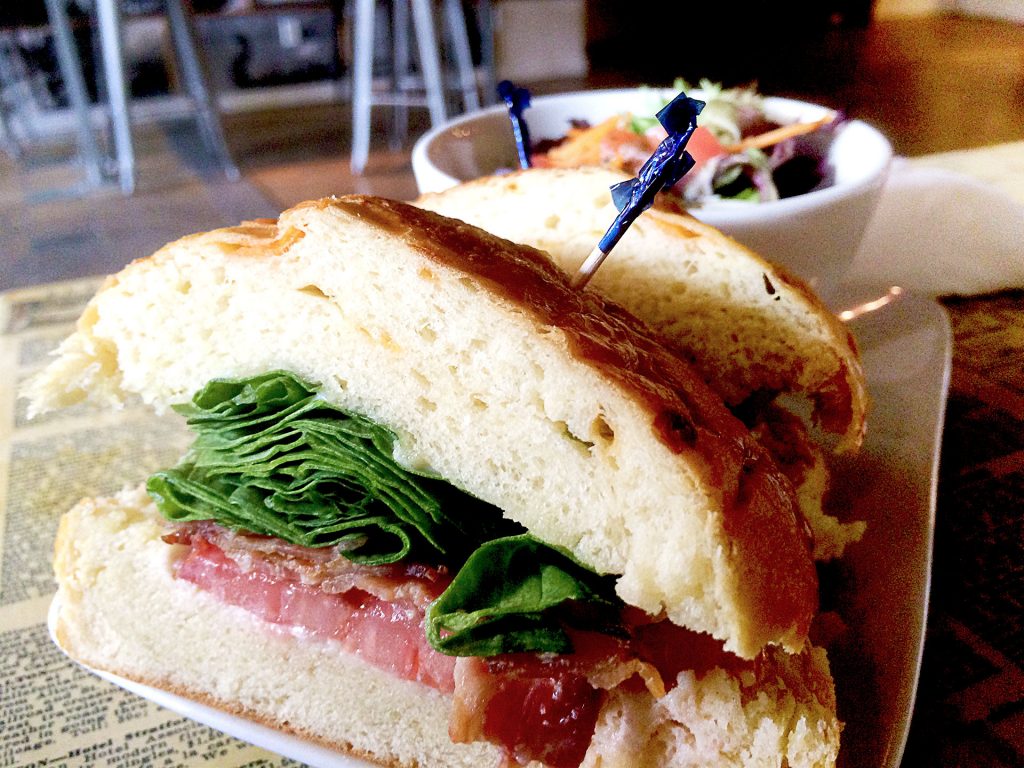 My BLT was gorgeous to the eyes. The colours matched those of a traditional BLT. The layers of thinly sliced bacon contrasted with the greens, which turned out to be spinach. A diffused spread of pesto aioli barely peeked out along with the tomatoes. The BLT was cut in half, just the way I like my sandwiches. This revealed the dense fibre of the warm golden bun, foreshadowing its delectable chewiness and flavour.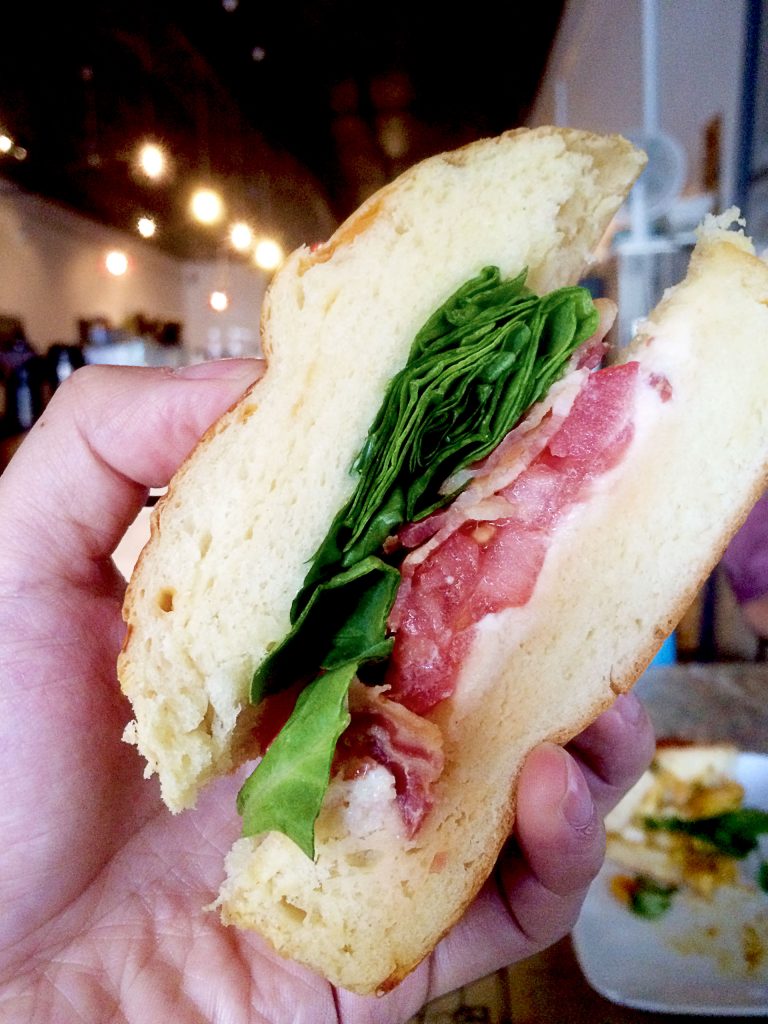 When ordering a sandwich at Lost + Found, you can choose which bun you want. Staff make the dough daily in store, and I don't think anyone can go wrong with the Cheddar Onion Garlic Bun. This bun had minimum airiness, but just enough for the gluten to pull apart with a mouthwatering bounce. I felt invited to play with my food and witnessed bread fibres tear in harmony by the hundreds between my fingers.
The flavour trio of garlic, onion, and cheddar nested over the glossy surface. And with every bite, they defined savoury to every corner of my palate. The pungency of the garlic and onion doubled in aroma, anchored by the sharp but light taste of cheddar that had my tongue swirling for the next bite.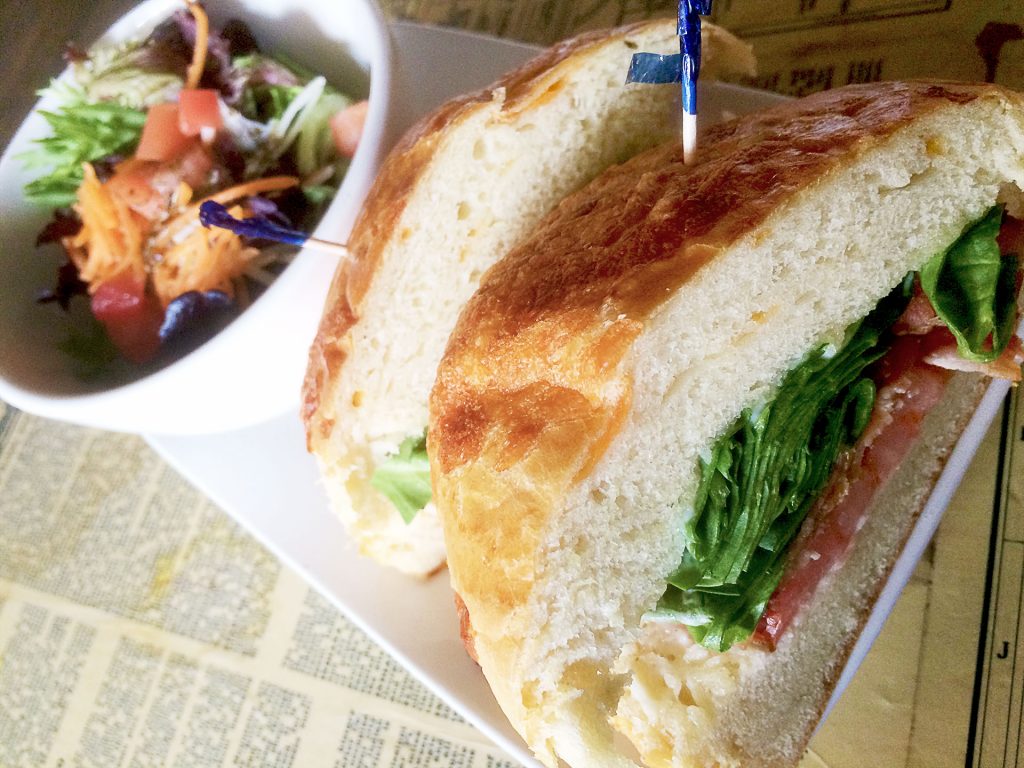 I enjoyed how all the ingredients in between filed into one conglomerated stack. The bacon was alright, but I overlooked the typical saltiness and chewiness thanks to the generous portion. And for the record, I'd take spinach over lettuce any day. The sandwich came with a side salad of mixed greens, lettuce, diced tomatoes, and sliced carrots in a vinaigrette dressing topped with parmesan.
Lost + Found is a comfortable place for working on a laptop or lounging with a good book. The venue is spacious and sometimes hosts events for up to 150 people. The seats at the back take you away from the traffic noise, while the tables are dispersed so you're not cramped in. With high ceilings, philanthropic messages, and old-age decoration and art, Lost + Found is a low-key getaway from the hustle and bustle of the city. They even project movies on their back wall – a plus for those needing a break from their laptop screen. I got a glimpse of Catch Me If You Can and Sleepy Hollow.
Hee Sue, the current owner of Lost & Found, was so excited when she took over. She loves the location and is all about pleasant service. What I like about her is she's always searching for ways to make new pastries and dishes. One of her projects is practicing croissants in hopes of the perfect recipe. She's a kind one, as is her staff. And I look forward to seeing her at her café again. I would've never known how tantalizing Lost + Found's buns are given the location and my expectation. A lucky find.
Restaurant: Lost + Found Café
Featured Dish Name: BLT
Dish Type: Burger/Sandwich/Wrap
Available For: All Day
Dish Price: $9.00
Flavour Profile: Savoury
Served: Hot
Portion Size: Small