The Decadent French Toast to Satisfy Your Morning Sweet Tooth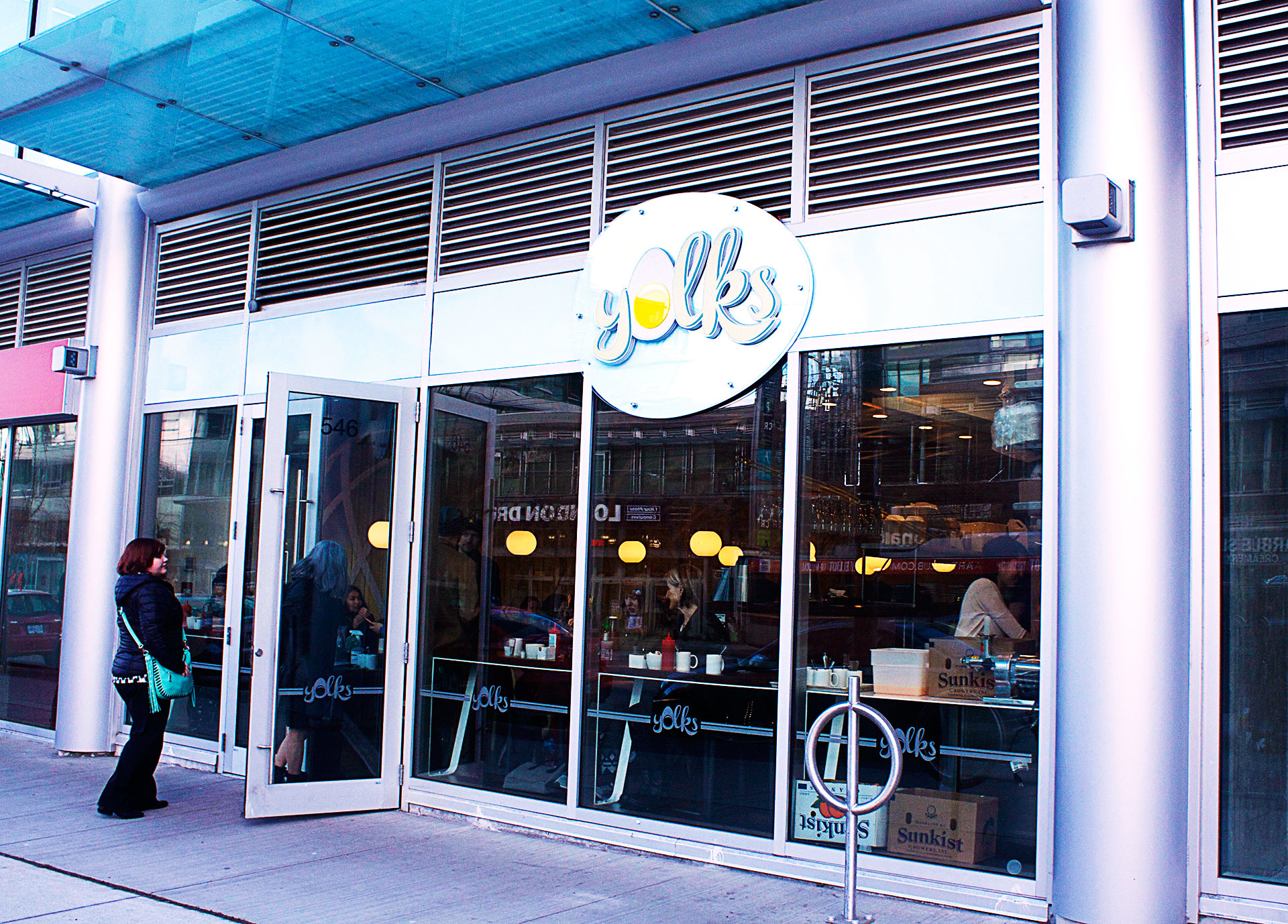 I've always been a sweets-for-breakfast kind of girl. I love savoury sides, such as bacon or hash browns, but I tend to prefer a big pile of sugary goodness as the main attraction. That's why the French toast with bananas, whipped cream, and salted caramel from Yolks Restaurant & Commissary had my name written all over it.
Yolks is an adorable little restaurant where everyone is welcome. Their original location is on East Hastings, and they recently opened up another restaurant on Broadway and Cambie. They even have a food truck. I've been to both restaurant locations, and can confirm that each provides the same comfortable and homey atmosphere.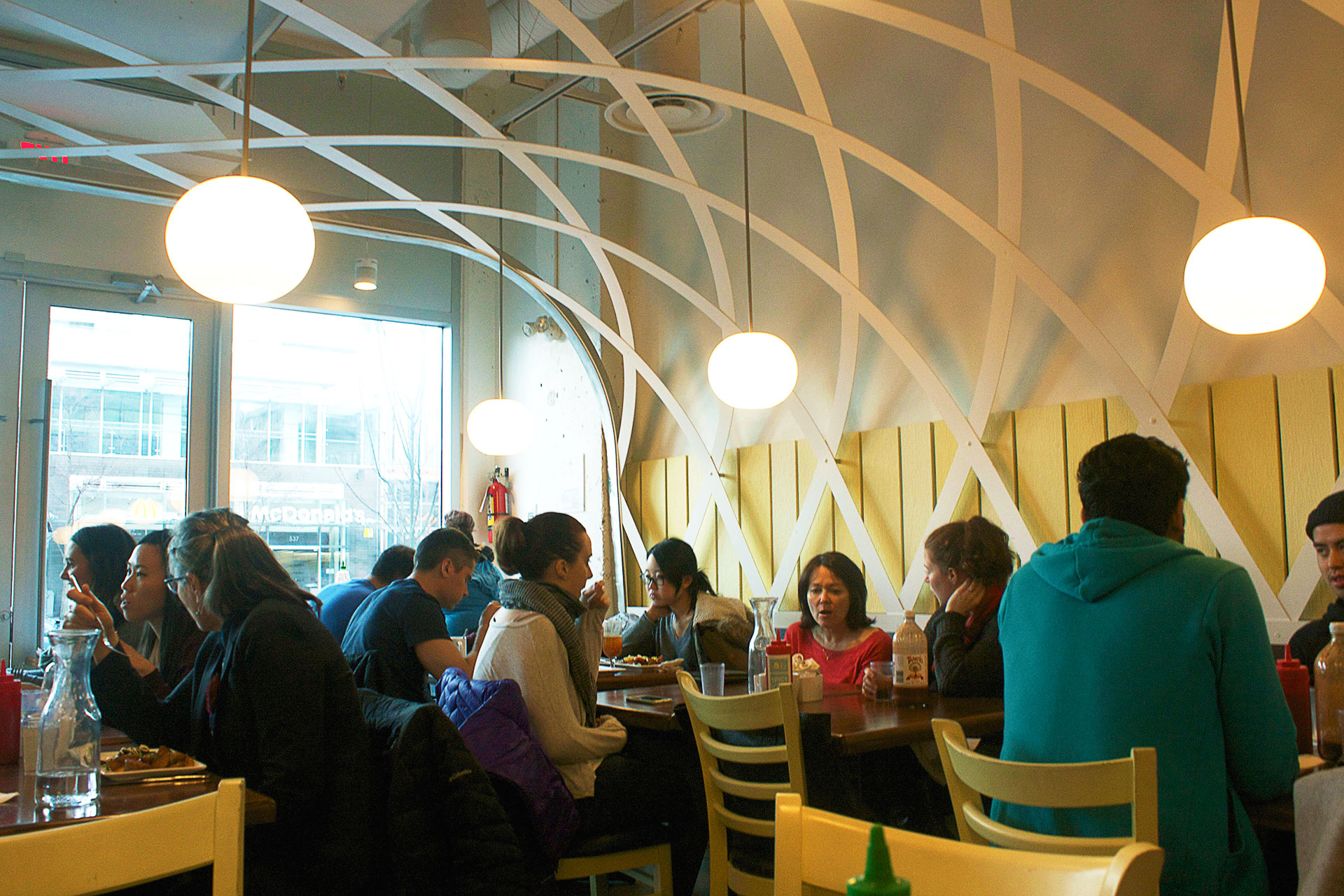 My boyfriend introduced me to this hidden gem after finding it one day by chance. Being a commissary-style restaurant, Yolks is very community oriented, with long tables encouraging conversation with those around you. This cozy communal sentiment was very clear as soon as I stepped through the doors. The place was buzzing with activity, and almost all the tables were filled. Waitresses were running around with plates of delicious-looking food, and the fully visible kitchen was bustling. There is no better way to describe this restaurant than it was alive with activity and enthusiasm.
As I've already mentioned, the dish I was instantly drawn to was the French toast with bananas, whipped cream, and salted caramel. This dish normally comes with walnuts as well, but I'm allergic, so they kindly omitted them. When the meal arrived, I was happily surprised by its build-it-yourself style, with each component separated in it's own little dish.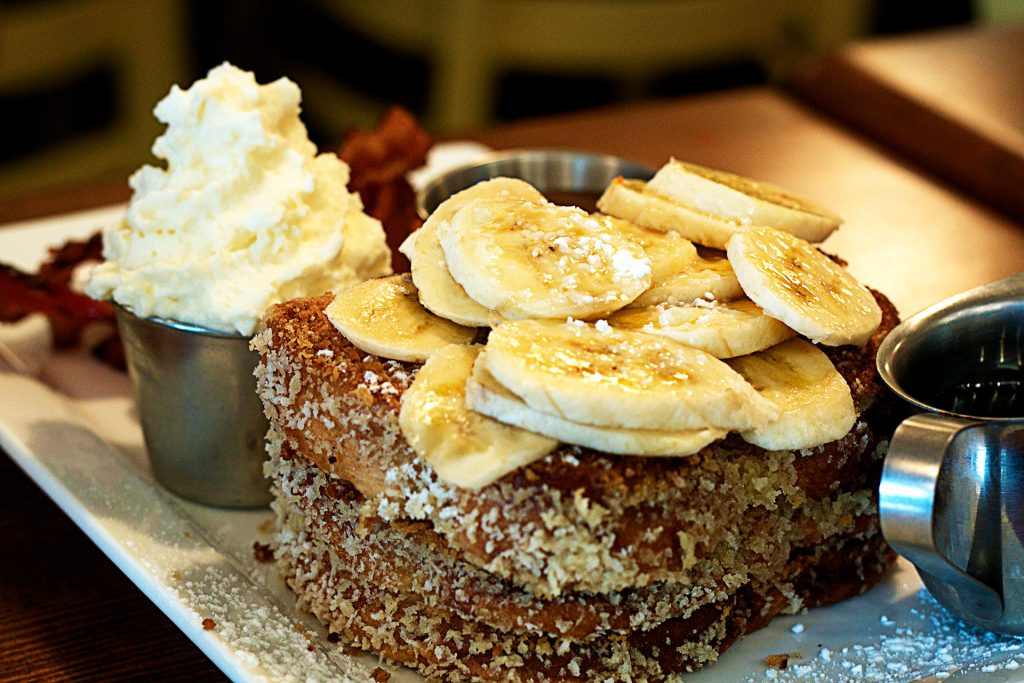 A stack of three symmetrical French toast slices were graciously topped with sweet sliced bananas. This sat next to a generous helping of double smoked bacon, Canadian maple syrup, whipped cream, and salted caramel sauce. After dressing my French toast with a heaping spoonful of whipped cream and a dollop of salted caramel sauce, I dug in, and it was heaven from the first bite.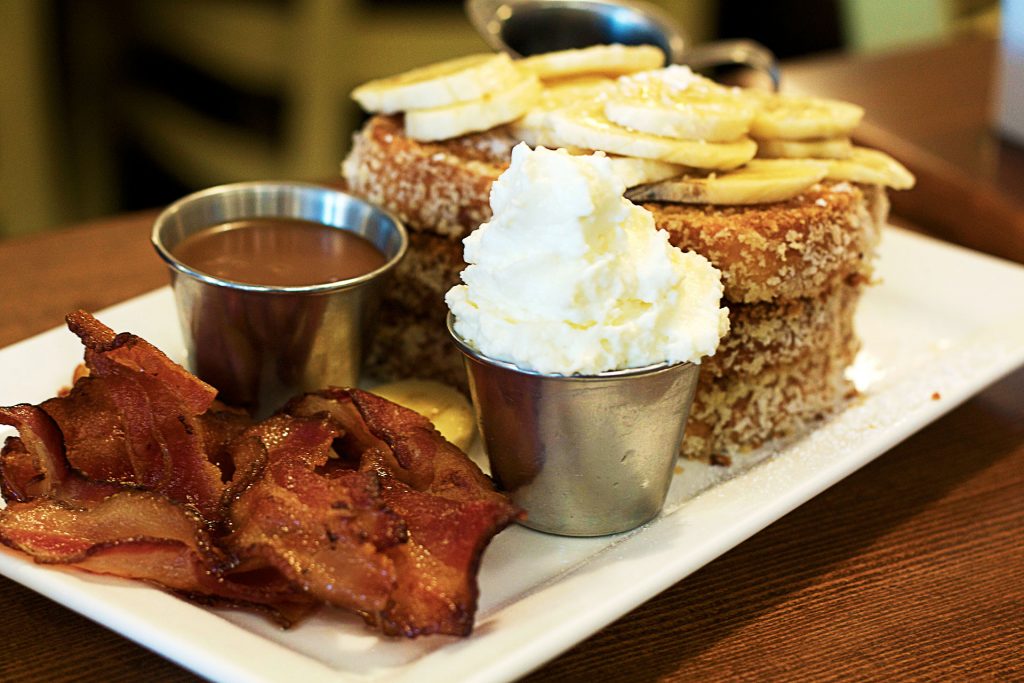 The French toast itself was quite unique, as it was coated in Panko breadcrumbs, giving the exterior a delightful crunch.
The combination of crispy toast, smooth banana, fluffy whipped cream, and gooey salted caramel was palate perfection. Paired with double smoked bacon and house-made Callebaut chocolate milk, it satisfied all of my early morning cravings.
Overall, the meal was quite sweet, but if you aren't so keen on such sweet flavours, they also offer a fresh fruit and mint option. And if you're not in the mood for bacon, you can try their maple ham or English bangers instead.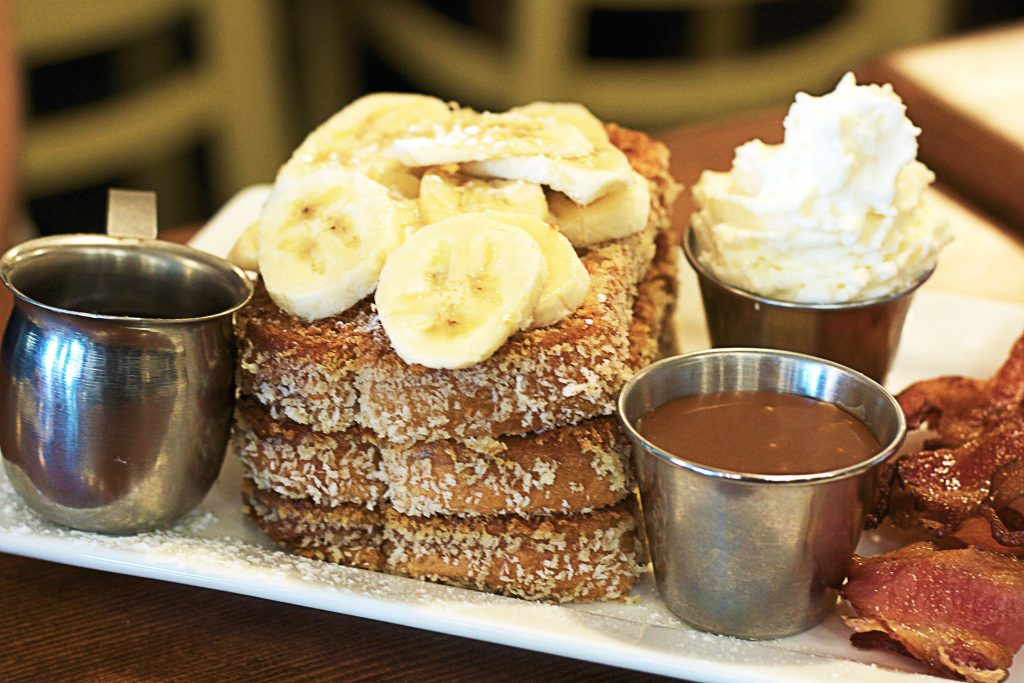 My experience at Yolks Restaurant & Commissary was phenomenal. After devouring this dish two times I can confidently say that it is one of my favourite restaurant meals. I will definitely be going back for more French toast!
Restaurant: Yolks
Featured Dish Name: French Toast with Bananas, Candied Walnuts, Whipped Cream & Salted Caramel
Dish Type: Pancake/Waffle/Crepe
Available For: Brunch
Dish Price: $15.25
Flavour Profile: Sweet
Served: Hot
Portion Size: Large