The Refreshing Rainbow Sushi Roll Packed With Nutrients
AQUA sushi + juice bar is a seemingly simple juice bar. Situated on the quieter side of Olympic Village, it's away from the area's main restaurants and a decent walk away from Main Street SkyTrain station. I first heard about AQUA when I casually searched for places that delivered. To my surprise, there was actually a healthy food bar with delivery! With various healthy options, AQUA's expanding menu includes an array of vegetarian, vegan, and low-carb options, as well brown rice sushi rolls like their Aqua roll.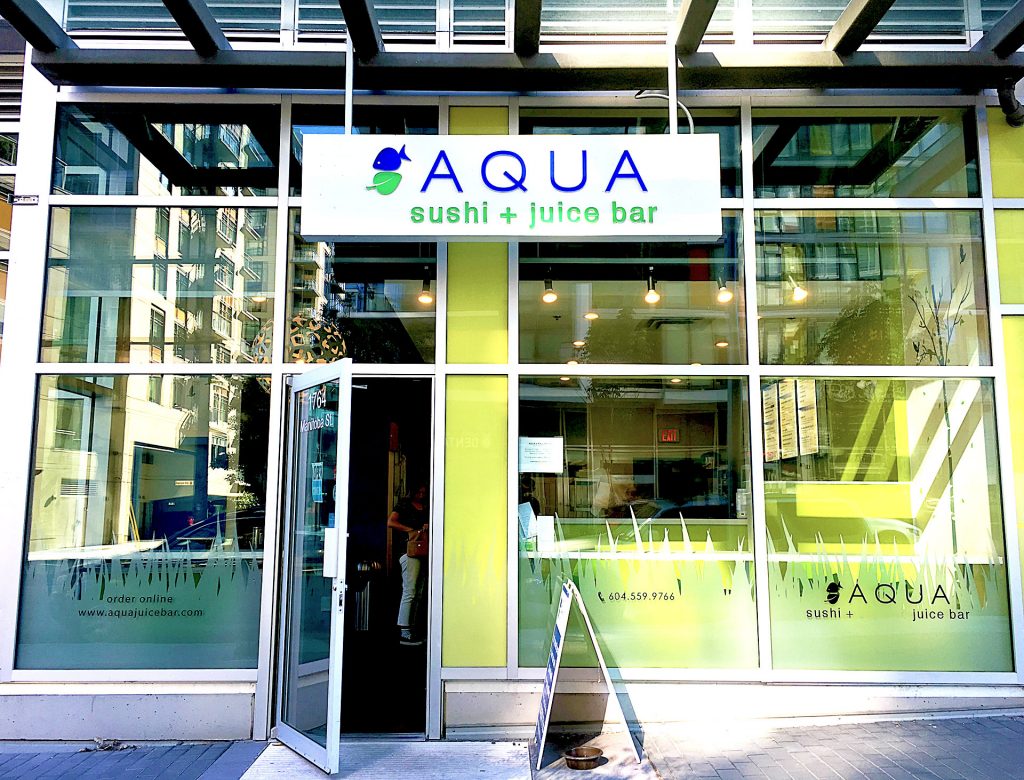 I walked into this small but vibrant looking juice bar on a relatively hot day. The place looked more like a takeout joint, but I didn't mind sitting in. I quite enjoyed the white and green decor. Painted birds and trees adorned the white walls, while green walls and green furniture accented this. And the lighting centrepiece was so pretty!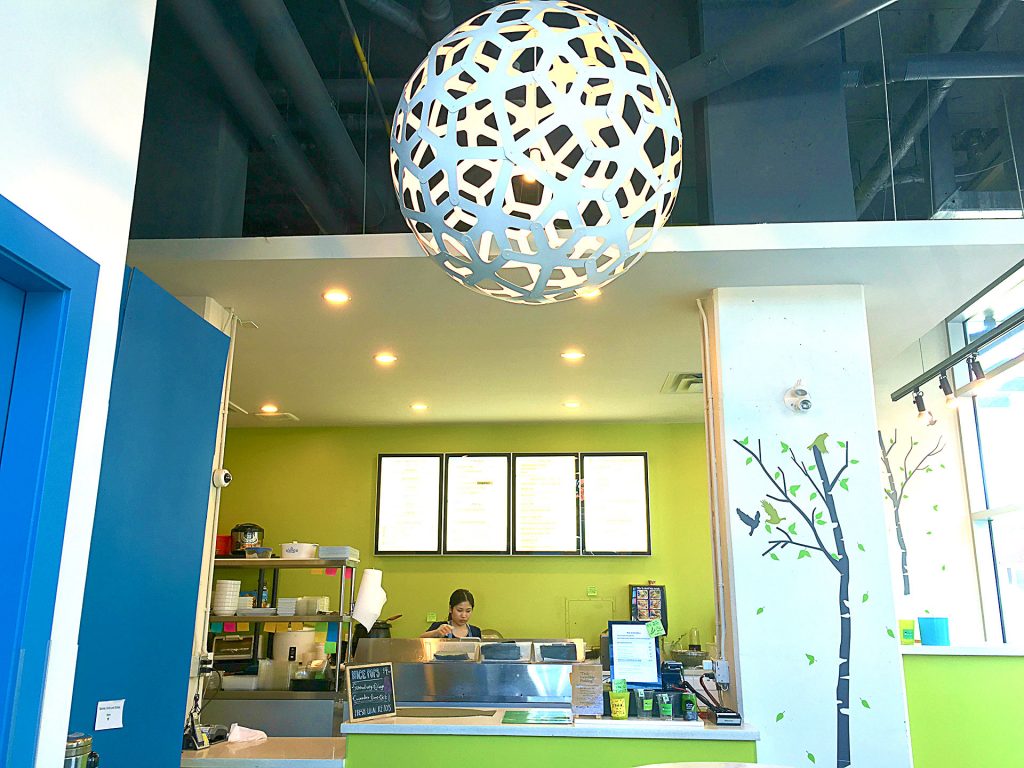 As I sat facing one of the big windows, looking at my menu, I noticed AQUA had Ocean Wise seafood. What does that mean? They make ethical and responsible choices in buying sustainable seafood that ensures the health of our oceans. Isn't that great?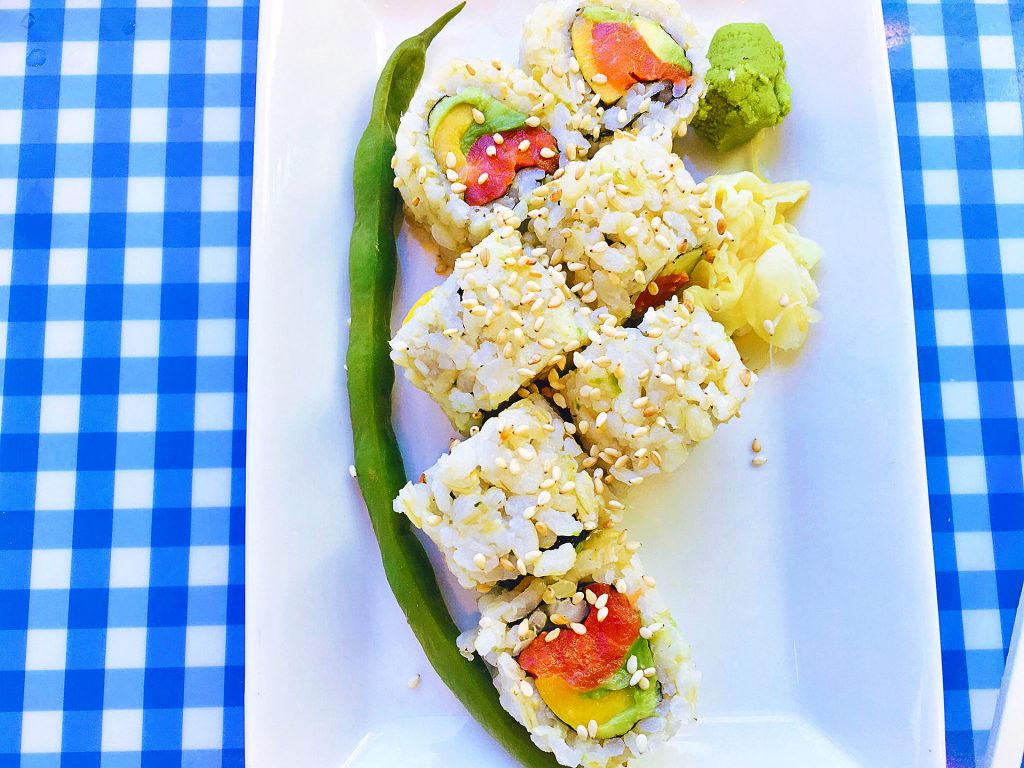 I ordered the Aqua Roll and got eight pretty rainbow pieces of sushi filled with Ocean Wise wild salmon, mango, and avocado. Normally, there's a green bean inside as well, but I asked for this on the side. As some of you may have seen, my Instagram is full of rainbow-like meals. And this sushi fit right in – it looked so refreshing already!
I took my first bite and knew the rest would be gone soon. But I like to enjoy my food, eating slowly and mindfully, savouring every texture and taste. The cool creaminess of the avocado complemented the juicy pieces of wild salmon. And don't even get me started on the mango.
The fragrance of the fresh mango brought in a sweet tropical feel, and the flavour enhanced the roll's vibrancy with such zest! Gosh, it was good!
Taking my time with this meal made me feel all the more satisfied. You have to try it! It beats gobbling down food mindlessly. Trust me, you'll feel the difference.
What I really loved about the Aqua Roll was how the ingredients were so different yet blended together in symphony. Some may argue fruit in sushi is absurd. But, I think otherwise. Let me tell you again, mango in sushi can be such a juicy addition! If you haven't tried it, you should!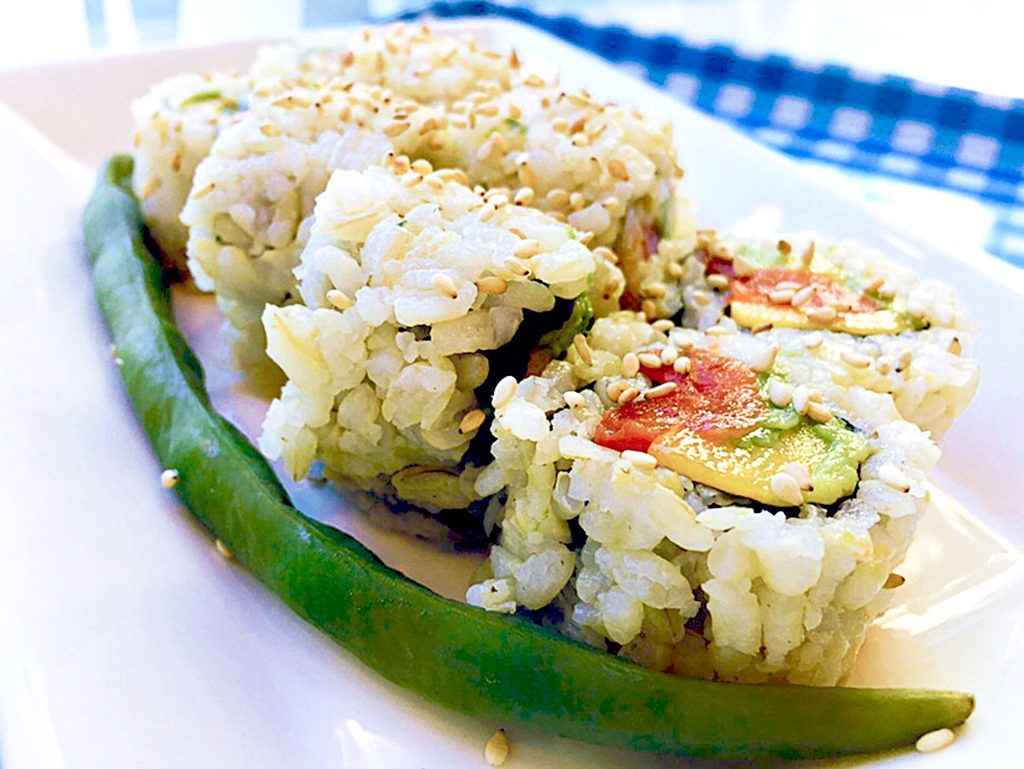 Another thing I loved about this roll was that the sushi chef paid more attention to the filling than the rice.  Many sushi bars and restaurants focus so much on serving huge rolls with a ton of rice, crazy toppings, and unhealthy ingredients like mayo, cream cheese, and deep-fried everything. They typically carb load you and give you unwanted fats too. But, AQUA sushi + juice bar knows how to balance out the ratio of carbs to proteins and fat (depending on what you get). Some rolls have more greens, which are always a bonus for your body, without compromising on the taste factor.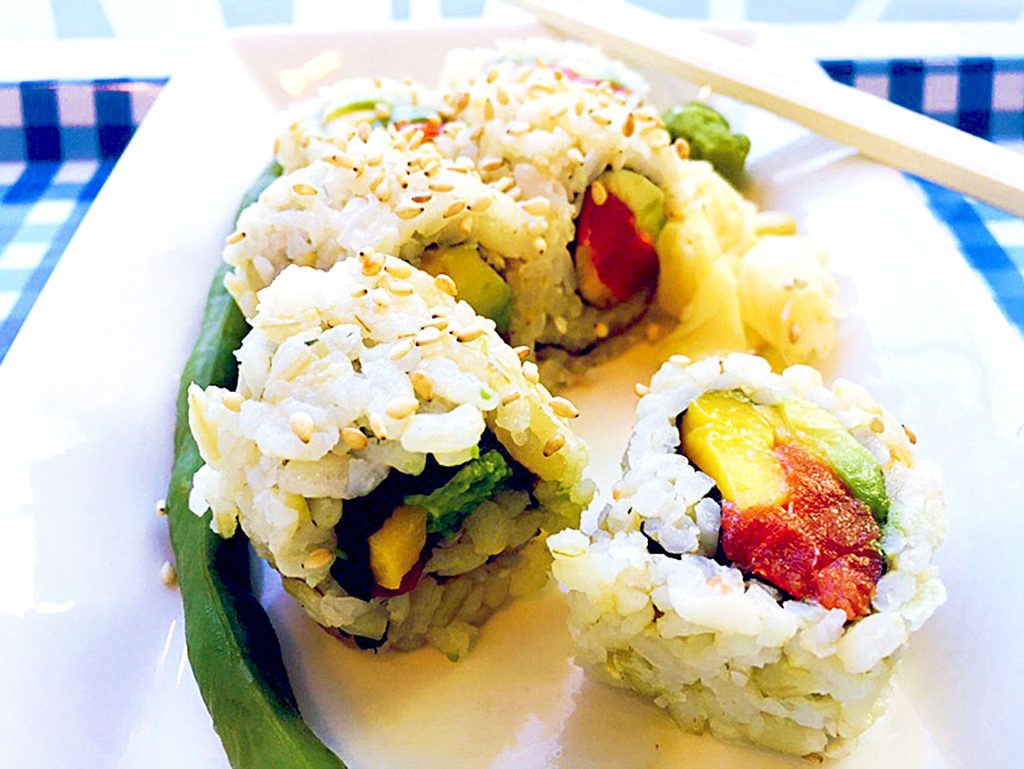 With the Aqua Roll, what you essentially get is a great balance of carbohydrates, protein, and fats (macronutrients). The green bean also adds some micronutrients. While not authentic, the roll has a simplicity to its ingredients that enhances the taste even more. And if you want a little more mango (like I did), just ask the staff. They're accommodating and flexible with add-ons.
The staff at AQUA are pleasant, humble, and kind. I first spoke to the owner at the YVR food fest, where I couldn't get enough of their hydrating watermelon juice. Friendly, helpful, and great to talk to, he seemed passionate about taking care of the restaurant and proud of what they represent. Next time, I want to visit AQUA and take my food to go to the nearby park and enjoy the view even more!
Restaurant: AQUA I Sushi + Juice Bar
Featured Dish Name: Aqua Roll
Dish Type: Sushi
Available For: All Day
Dish Price: $5.50
Flavour Profile: Sweet
Served: Cold
Portion Size: Small