The Traditional Pad Thai that Brings You Home to Thailand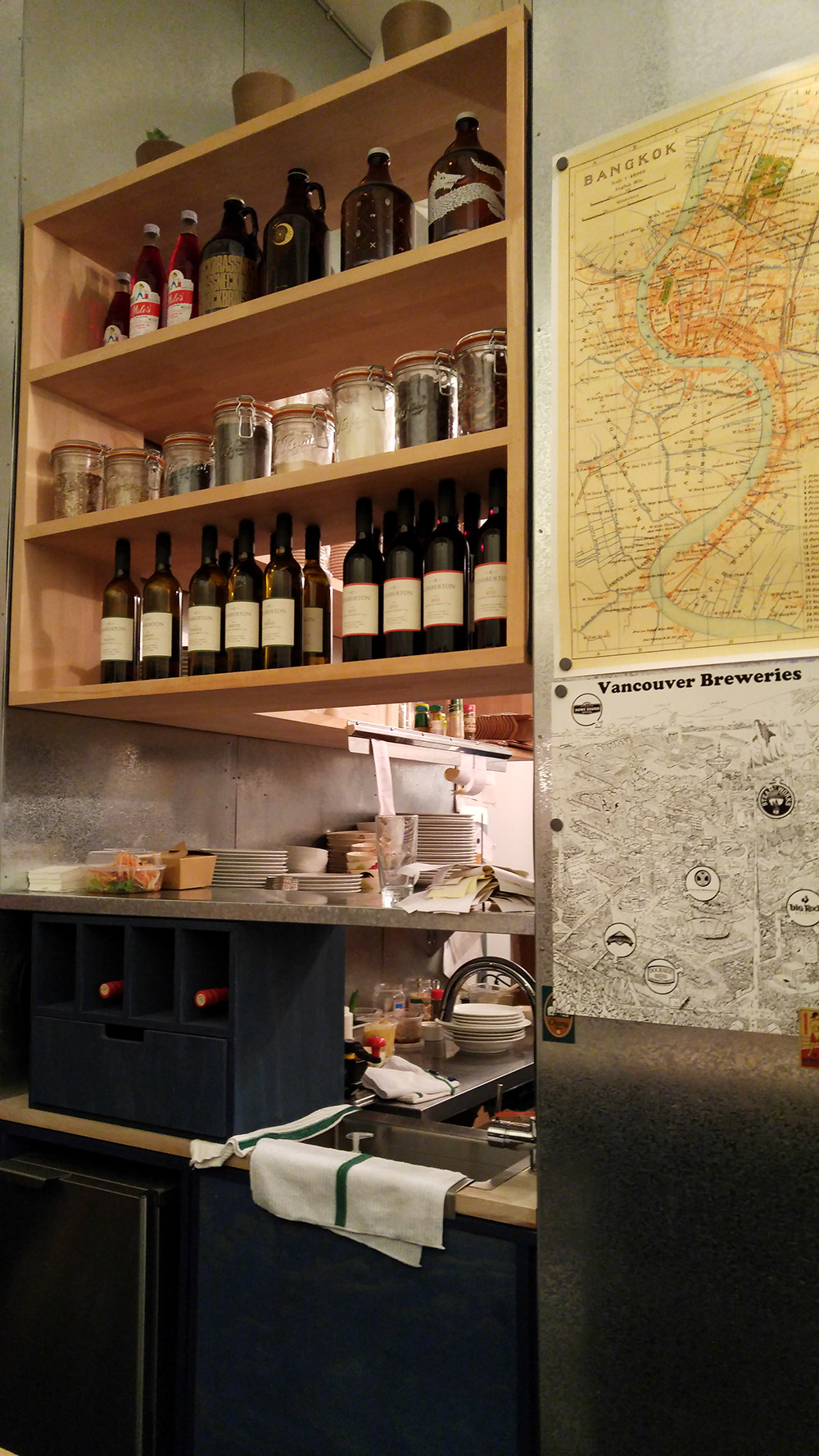 Did you know that pad thai isn't native to Thailand? Pad thai is really nothing more than a regular noodle dish that's also known as kway teow pad thai – "kway teow" meaning rice noodles in Chinese. Why is pad thai so popular in Thailand then? It's likely some early settlers from China brought fried rice noodle recipes over to Thailand, and after adding pure Thai flavours and textures, the recipes were transformed into today's popular pad thai.
Located on bustling Commercial Drive, Kin Kao serves authentic Thai food in an urban and hip environment. With a maximum capacity of 25 people, Kin Kao creates a cozy, funky, yet romantic setting for customers to enjoy their food. You can choose to sit at the bar or a table. But no matter where you sit, pay attention to the décor and furniture – it's very unique!
When I visited Kin Kao, the space was clean, and the customer service was welcoming. The restaurant was relatively difficult to find as the name was in small print on the window. However, parking was very convenient, with metered parking out front or free parking in the nearby residential areas. You can also easily get to Kin Kao by public transit.
At a Thai restaurant, I always try their pad thai first, as that's a way to judge how good the restaurant is. Pad thai is a traditional stir-fried rice noodle dish often served as street food or at casual local eateries in Thailand. At Kin Kao, their pad thai did not disappoint.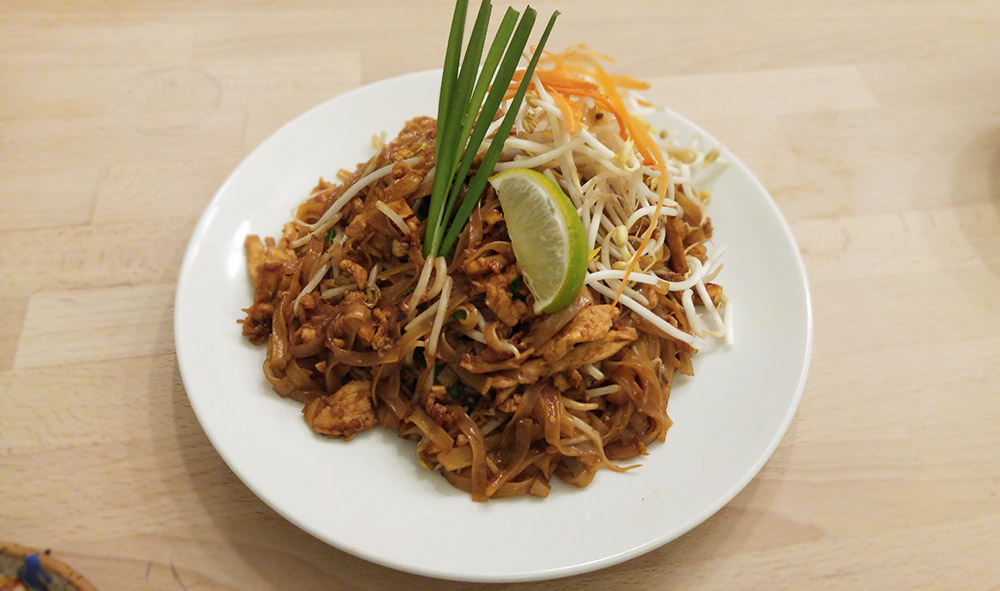 It was served with marinated firm tofu, rice noodles, bean sprouts, Chinese chives, crushed peanuts, fish sauce, ground dried chili, egg, tamarind sauce, and a choice of prawns, chicken, or deep fried tofu. I chose chicken and I was so glad I did! You also get to pick how spicy you want your pad thai to be. As much as I wanted to be adventurous, I picked mild as I didn't want the spiciness to overcome the flavours of the other ingredients. (I just made an excuse to cover up the fact that I can't handle spicy foods – oops!).
When the pad thai arrived, the presentation was very appealing. It was simple but also comforting. It reminded me of a home-cooked meal. The garnishing of lime and chives added a pop of colour to the dish, and its size made it easily shareable by two people. I'd recommend sharing the dish so you can try other items on the menu or, if you're hungry, you can have it all!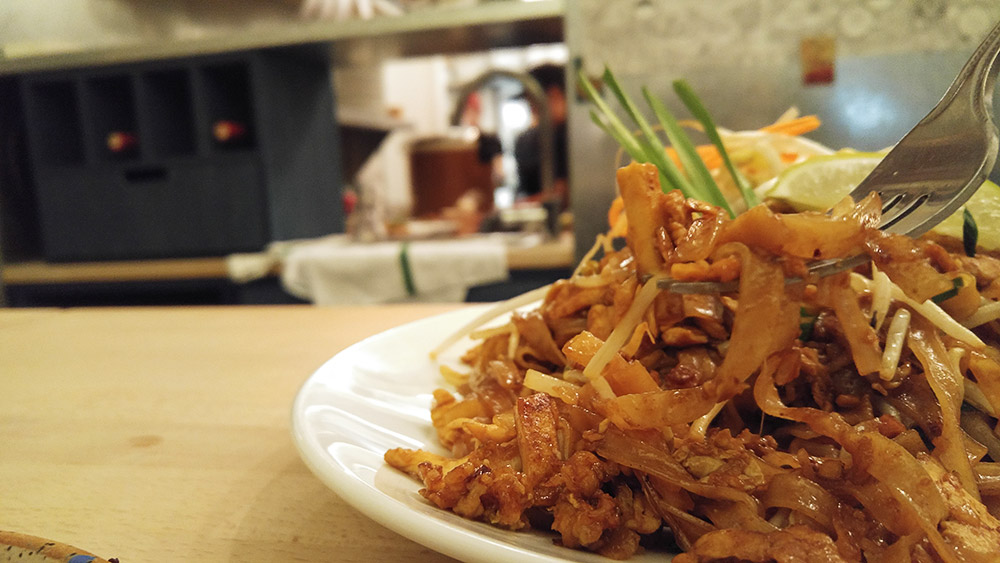 So how does this dish relate to my category? At first, I contemplated whether I should use this dish for my food blog. After taking a few bites, I said to myself that I have to blog about it. The chicken was moist, well seasoned, and had a sweet taste to it. It worked very well with other ingredients like the tofu, bean sprouts, and, oh yes, the noodles. The crushed peanuts also added another dimension to this dish. A word of advice for you: Mix everything up first before you dig in. Trust me. Do it.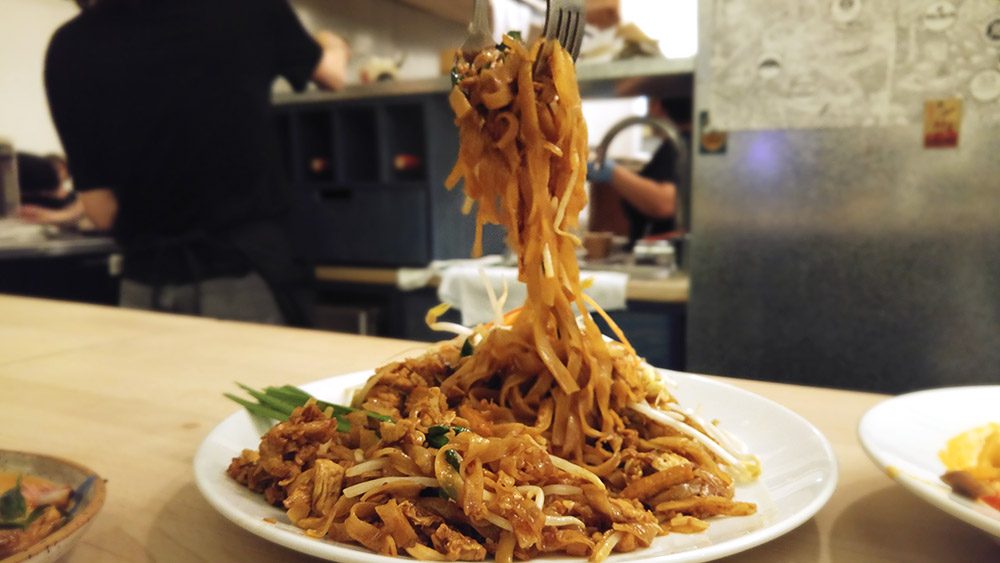 At Kin Kao, their pad thai was definitely different.
The ingredients were fresh, and flavours were on point, well balanced, and true to its origins.
To complement the pad thai, I ordered the Thai iced tea, which went so well with the dish. Kin Kao also serves local craft beer, which is also a nice complement to their flavourful dishes. The pad thai was $16, which is, yes, more expensive than other places. But, with the hip ambience, convenient location, attentive service, and unique recipes, it's definitely worth a try.
Kin Kao is open for lunch and dinner, so if you're around the area, I hope you'll try it. At least I know I'll be going back to try their other dishes.
Restaurant: Kin Kao Thai Kitchen
Featured Dish Name: Pad Thai
Dish Type: Noodles
Available For: All Day
Dish Price: $16.00
Flavour Profile: Savoury
Served: Hot
Portion Size: Large