The Mesmerizing Cocktail that Tickles Your Inner Nerd
The Storm Crow Tavern happens to be one of my favourite places to go to. A geek's dream, the entire restaurant is a monument to all things sci-fi and fantasy. Plastered on the walls are pictures and posters from movies and great film franchises such as Star Trek, Star Wars, Harry Potter, and Lord of the Rings. Memorabilia hangs on the walls and sits on shelves. Books are everywhere, and the menu even references dungeons and dragons. And the best part? A big shelf filled with board games you can play while enjoying a drink or meal. They even host movie nights and trivia on some Wednesdays! As the only bar that prides themselves as the only nerd bar in town, the place gets quite busy and loud, but it's a fun spot to hang out and geek out with a group of friends.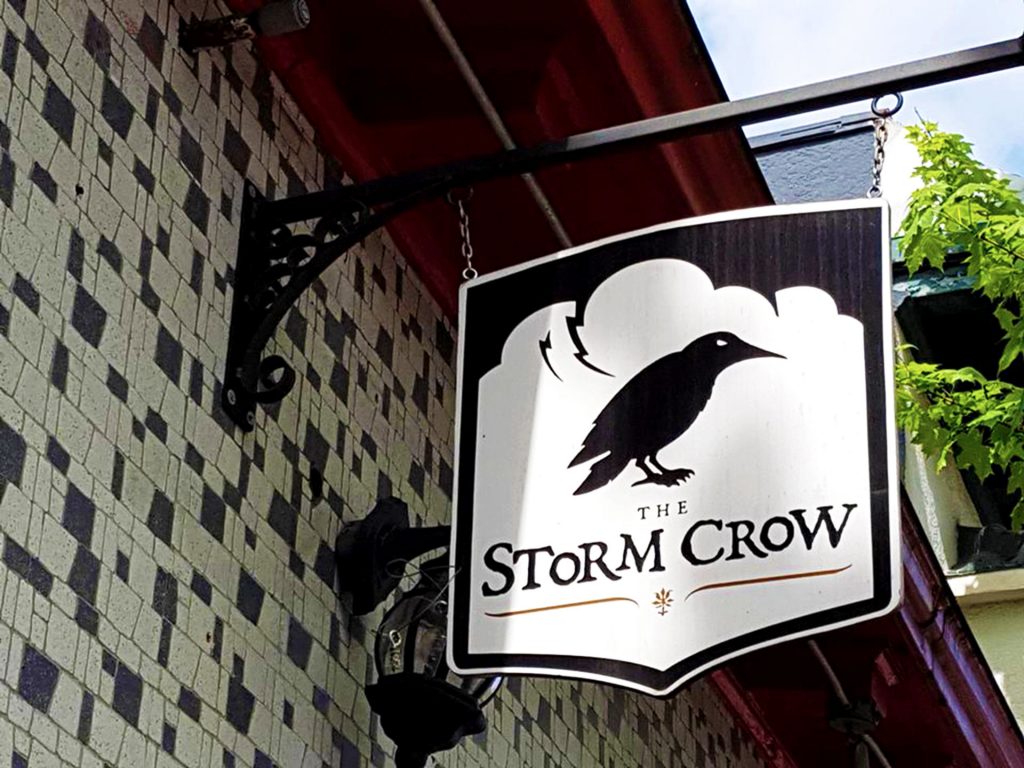 My favourite drink at the Storm Crow is the Romulan Ale, which comes from the Star Trek franchise (for those, like me, who didn't know). It was easy for me to miss this drink completely in the Storm Crow Tavern's Book of Booze because it was listed on the top of the page in a dark grey box. Luckily, I was sitting near the bar, because if I didn't see the bartender make a Romulan Ale I wouldn't have known to order it.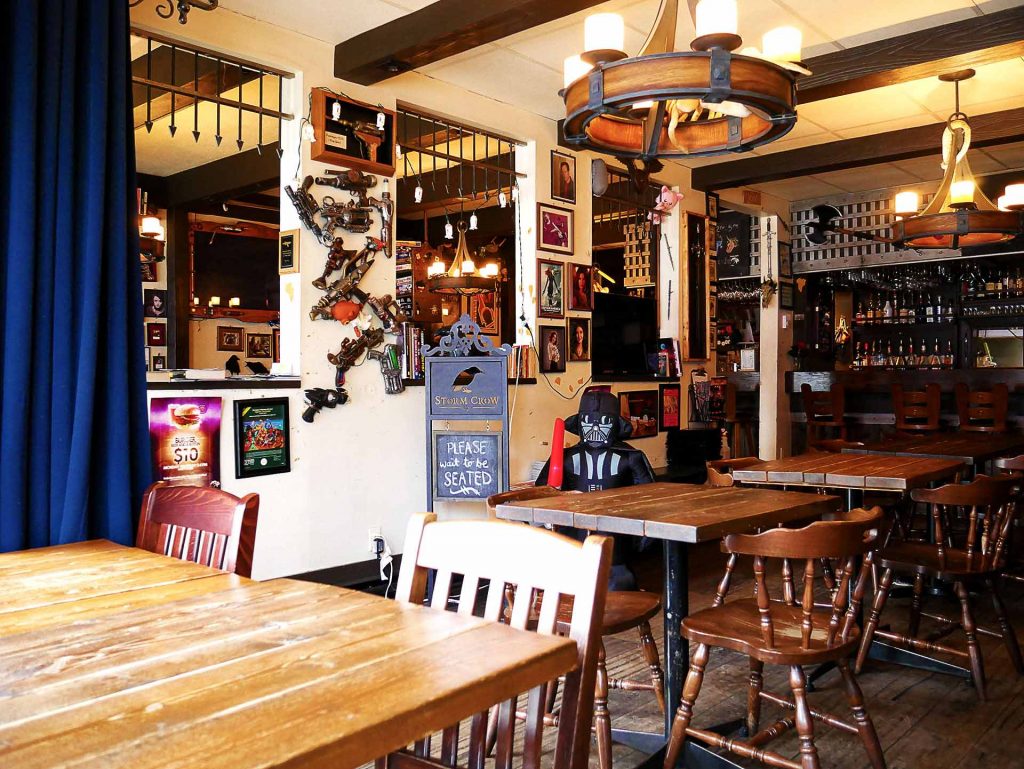 The colour of paradise's ocean, the Romulan Ale was such a pretty drink that made everyone (including me) stop and stare at it.
Smoke rose from the top of the drink to create a cool effect. And my first sip of the drink made me imagine myself sitting on a sun-soaked beach in the summer.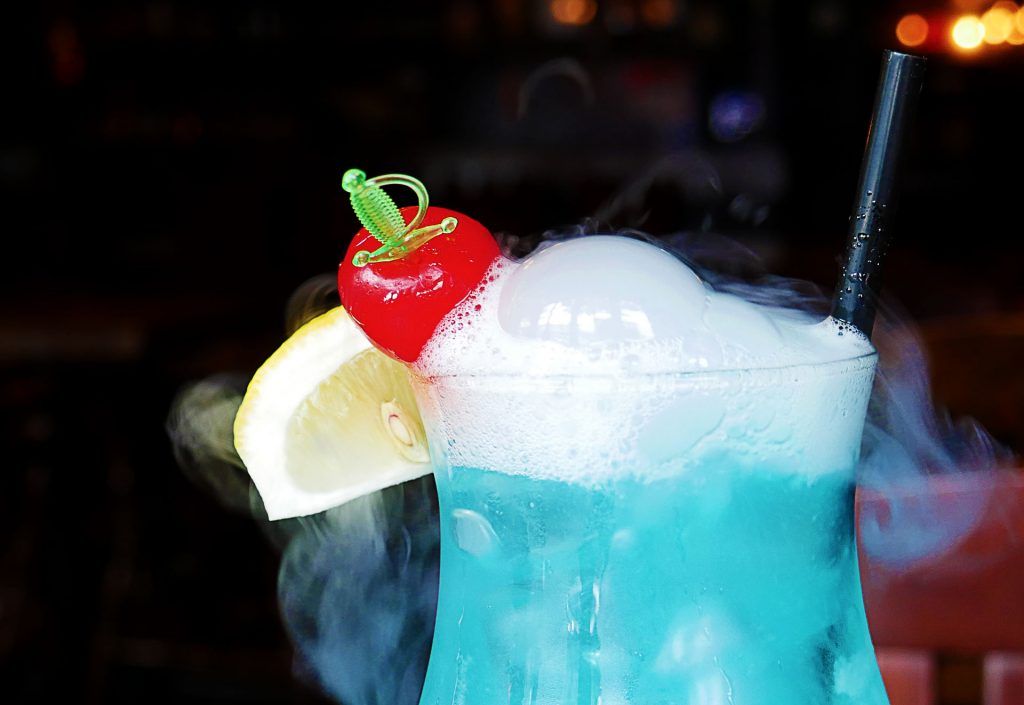 Made with blue curacao, peach schnapps, vodka, lemonade, dry ice, and "dilithium crystals," the Romulan Ale was garnished with a lemon wedge and maraschino cherry. For those who don't know, dilithium crystals aren't actually an ingredient, but just another Star Trek reference, showing how beautifully geeky the Storm Crow Tavern is. The drink was citrusy and tart with lots of lemon flavours. It was sweet too, but not in a sugar-coma-candy way. Because it's so delicious and easy to drink, the Romulan Ale is the type of drink my friends and I would call dangerous. It's like drinking lemonade, which makes it easy to have more than you realize.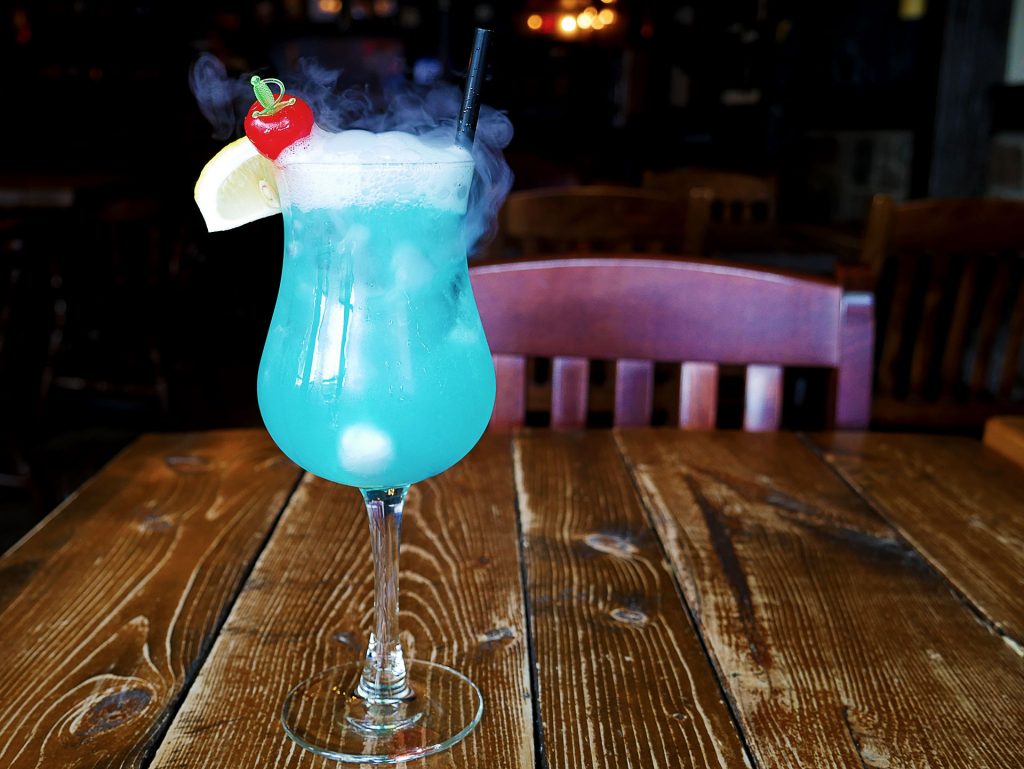 If you enjoy delicious cocktails and all things geeky, then the Storm Crow Tavern should be your number one place to check out next. As soon as you walk through the door, you can sense that this is where people come to have a good time. On top of the warm atmosphere, the staff too are friendly. Just make sure you get there a bit early, because tables fill up fast.
Guest Blogger
Chelsea Franz
Restaurant: Storm Crow Tavern
Featured Dish Name: Romulan Ale
Dish Type: Beer/Cocktail
Available For: All Day
Dish Price: $9.00
Flavour Profile: Sweet
Served: Cold
Portion Size: Small