A Classic Diner Burger with a Creative Modern Vibe
Fable Diner is a perfect place if you're looking for a good burger and breakfast all day long. Interestingly enough, the space has held a diner since 1949, but Fable Diner is a more recent, modern addition to the Mount Pleasant neighbourhood that maintains the heritage of the space. As a sister restaurant to Fable Kitchen in Kitsilano, Fable Diner is a more casual, 86-seater, diner-style restaurant that also delivers the "farm to table" concept.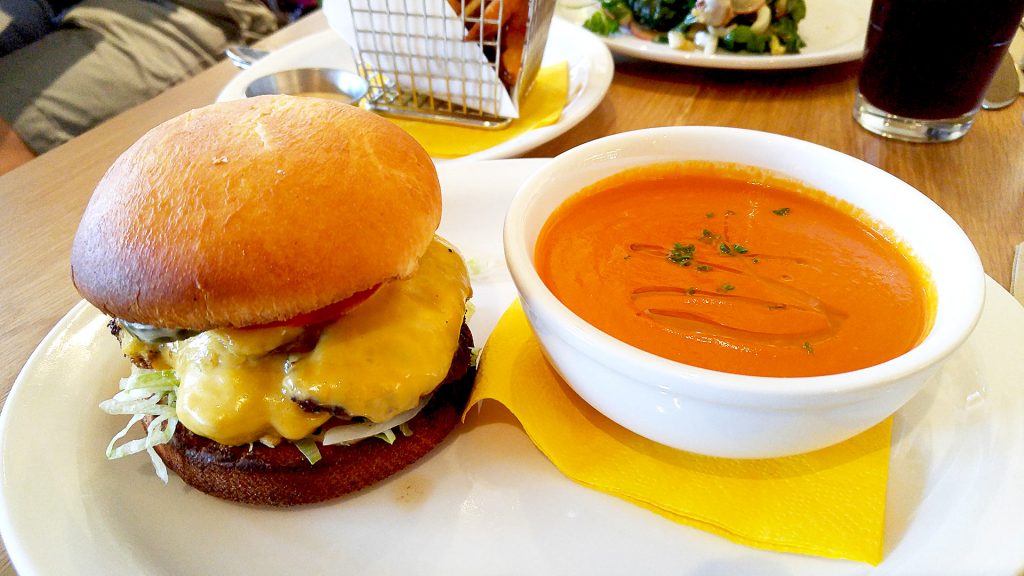 The FD burger is Fable Diner's signature dish, so I had to try it! When the burger arrived, it looked so appetizing and tempted me with its meaty aromas. My mouth was watering already. The FD burger had two 6oz beef patties topped with melted, oozing cheese. This was sandwiched between a lightly toasted bun with a generous amount of Fable sauce, some pickles, iceberg lettuce, and perfectly sliced tomatoes. I wanted to keep my burger simple, so the only topping I added was the cheese. But I also had the option to add kimchi, cola onions, bacon, and mush (yes, mush). That wasn't all. I was also able to choose my side dish: fries, soup or salad. Decisions, decisions, decisions! I went with the tomato soup so I could try out another item on their menu.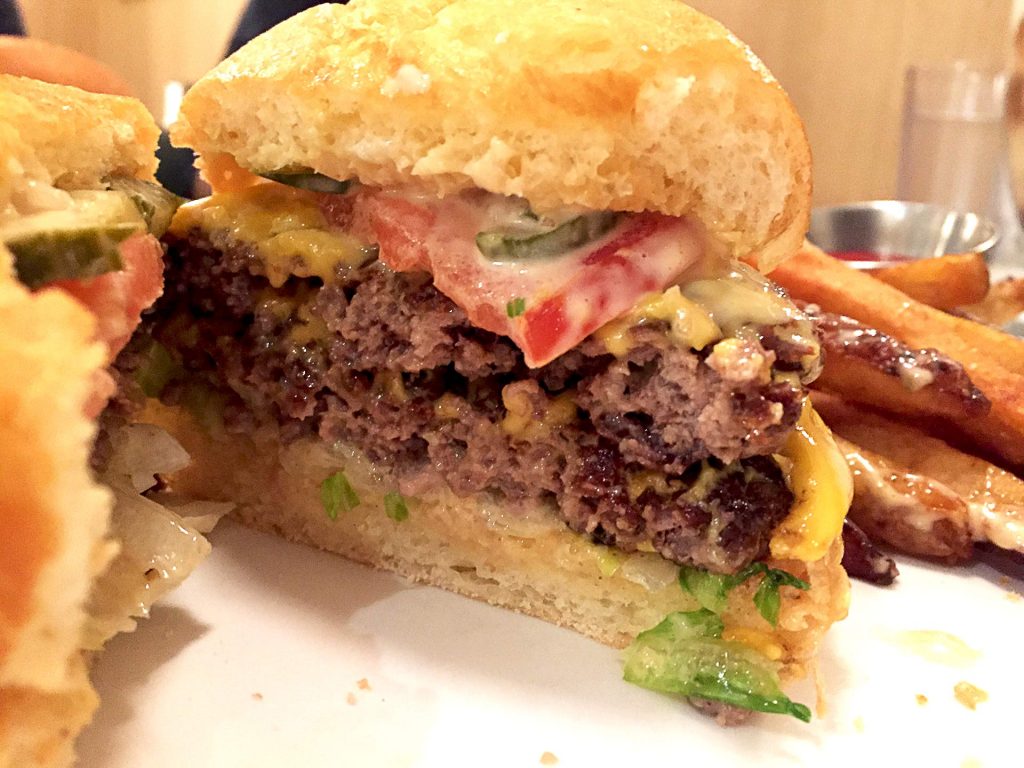 I only have two words for the FD burger: SO GOOD! The beef patties were lovely – not too thick, perfectly pink in the middle, juicy, and well seasoned.
The Fable sauce, which reminded me of thousand island dressing, was spread on the burger in ideal amounts and tied all the components together. The pickles balanced out the savouriness of the burger and added extra crunch along with the lettuce. The FD burger also had a good ratio of burger to bun in each bite. Most importantly, it was served hot and fresh! You know it's a good burger if you want more of it, and I certainly did!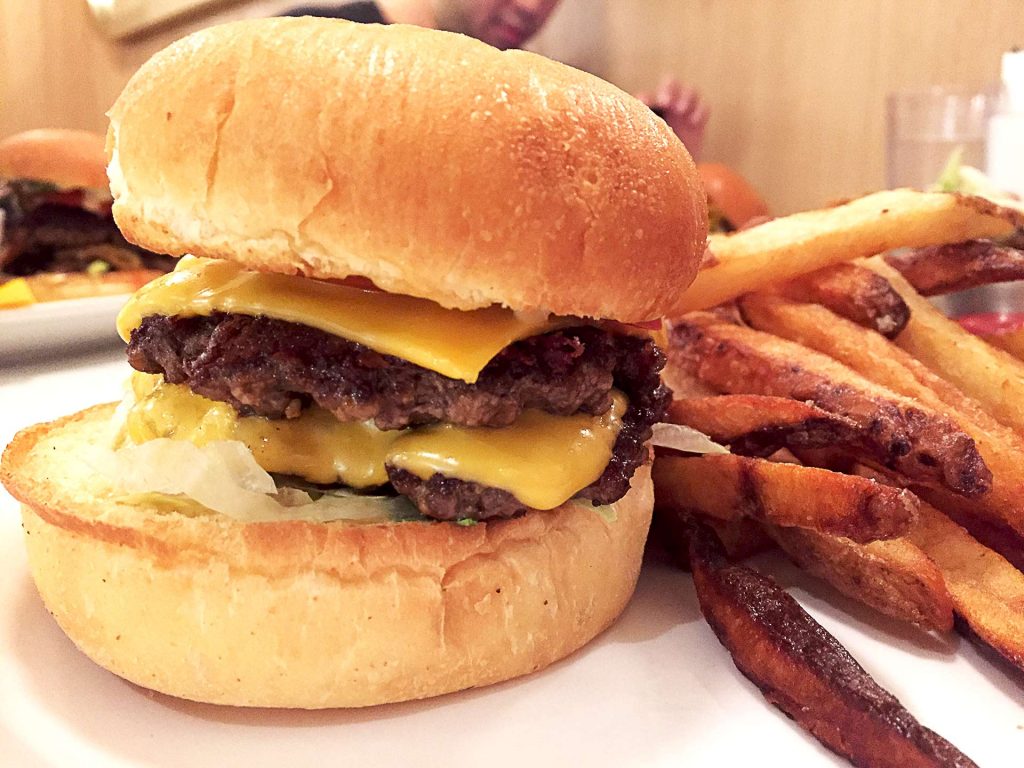 The tomato soup was creamy (too creamy for me), but I think I'll keep it traditional next time and order fries to go with my delicious burger. Fable Diner also serves smoothies, simple meals like hot dogs and grilled cheese, and all-day breakfast! They offer so many choices at a reasonable price too. Pay special attention to their Fable Diner special features of the day. It will surprise you how creative the chefs can get!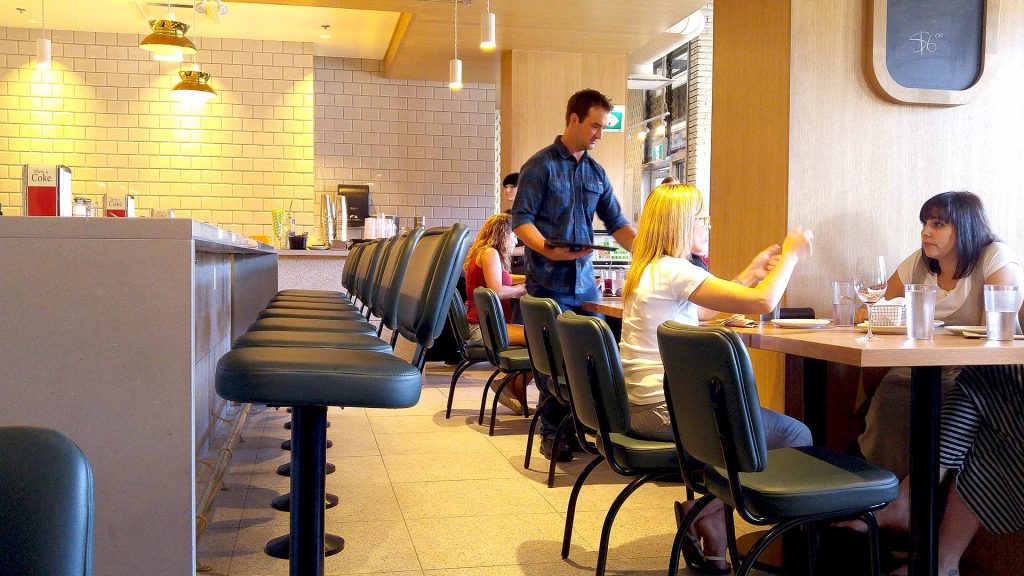 At Fable Diner, the staff were friendly, informative, and provided great service. If you're looking for a retro yet modern vibe, funky food choices, and an elaborate wine and cocktail list, Fable Diner is the place to try. It's a great place to get together with friends, bring a date, have business meeting, or celebrate a special occasion.
Restaurant: Fable Diner
Featured Dish Name: FD Burger
Dish Type: Burger/Sandwich/Wrap
Available For: All Day
Dish Price: $15.00
Flavour Profile: Savoury
Served: Hot
Portion Size: Large